We use affiliate links. If you buy something through the links on this page, we may earn a commission at no cost to you. Learn more.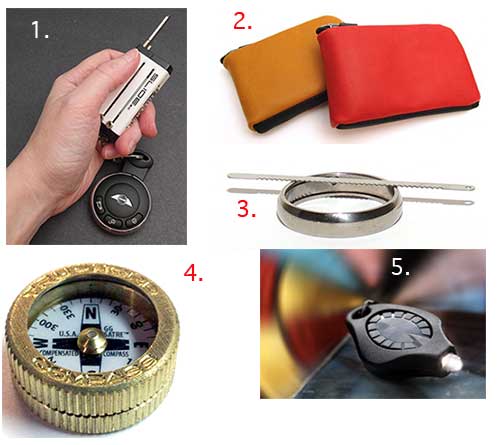 Are you still trying to figure out what to get for that person on your gift list who seems to have everything? Here are five ideas that are sure to please. I own four of the five items myself (I don't have the Titanium escape ring), so I can vouch for the fact that they are useful and enjoyable to use.
1. Keyport Slide 2.0 (price $29 + key blanks) – I love this keychain alternative that let's me keep my keys neat, tidy, and compact. The Keyport has 6 slots that can be used for keys and / or little tools like a flashlight, bottle opener, and a USB flash drive.
2. Waterfield Finn wallets (price $29) – I've been carrying a Waterfield zippered wallet since 2005 and only recently have updated from the Catch wallet to their new Finn wallet. These leather wallets have 2 pockets to keep your cards and bills organized and secured. They feel and look great and last for years.
3. Titanium Escape Ring (price $69 for ring; $8 for the Escape tool) – If you worry about being abducted by bad guys, here's a ring that will help you escape their dastardly clutches. It's a titanium band that hides a sawblade / lock shim that can be used to saw through zipties and open single lock handcuffs.
4. Tru-Nord Compass (price $33.95) – Need some direction in your life? Use one of these made in the USA brass compasses that are made in Minnesota. It might be tiny, but it's not a toy. It's a high quality compass. Tru-Nord sells a pocket version like you see here, a wrist worn version, zipper pull version and a pin-on version.
5. Photon LED keychain flashlight (price $7.95 – $15.95) – These little keychain flashlights might be light weight and tiny, but they sure do put out a bright beam of light. I love how you just squeeze the center to click it on and squeeze again to turn it off. Some versions of the flashlight come in different color bulbs and feature strobe illumination.