We use affiliate links. If you buy something through the links on this page, we may earn a commission at no cost to you. Learn more.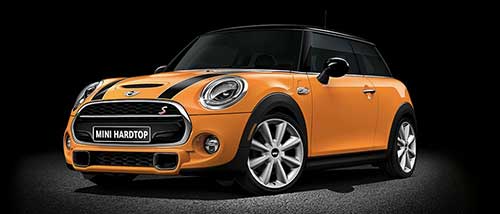 As a current MINI Cooper owner, I was excited to receive an email this morning with details about the new 2014 MINI Cooper Hardtop. This new model has more power under the bonnet and so much new tech that it's insane. The new Twin Power turbo engine allows you to go from 0 to 60mph 2.3 seconds faster than the current Cooper Hardtop. My 2013 MINI Cooper S Hardtop isn't a slouch when it comes to acceleration, so an improvement of more than 2 seconds sounds crazy – but in a good way. It offers 3 driving modes: sport mode, green fuel-efficient mode and a mid-mode that merges sport and green modes into the best of both worlds.
Engine updates are cool, but where the new MINI goes from there is kind of mind blowing. First of all, it has a full color Head Up Display (HUD) that shows speed, navigation and other important info right on your windshield, where your eyes can easily see it without looking away from the road. It also offers parking assistance with automatic parallel parking. You supply the gas and brakes and it uses ultra sonic sensors to guide the car hands-free into the parking spot. Not impressed yet? Ok, how about an LED light ring around the main gauge on the dash that changes color in response to your engine speed, driving mode, audio volume, climate control or interior lighting. Still not wowed? If this optional GPS feature doesn't get your gadgeteer juices flowing, you must be dead. The 2014 MINI Cooper's built in GPS can talk to your transmission. It pinpoints your location, analyzes intersections and curves in the road ahead and then relays the data to your MINI's computer to pre-select gear changes for optimal performance. Whoa. Mind blown. Is my current MINI looking a little boring in comparison? Not at all. I love my MINI. But wow, I can't wait to test drive the new one!