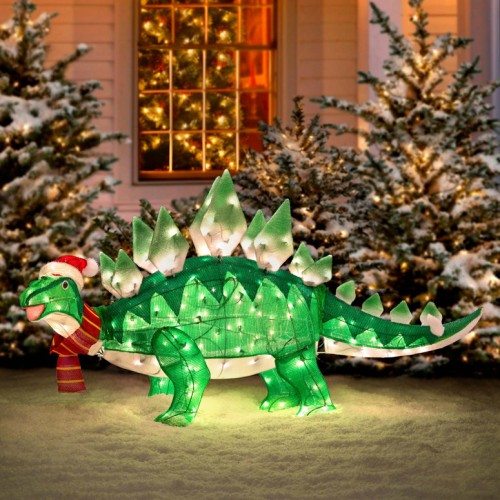 As far as holiday decorations go, I have always been firmly in the anti giant tacky blow-up lawn ornaments camp.  Then I saw this guy and my bah humbug, Grinch-like heart grew three sizes.  This isn't just 5-foot long pre-lit stegosaurus covered in tinsel. No, it's an animated stegosaurus, and he's wearing a santa hat, scarf, and adorable grin.  Sure Santa and Steggie probably never met in real life, but when the stegosaurus is on, he will move his head back and forth in anticipation of Santa's arrival.
The animated holiday Stegosaurus can be ordered through the Improvements catalog online for $139.99.
Some of our links in posts like this one are affiliate links, which means that we may receive a small commission on purchases at no cost to you.