We use affiliate links. If you buy something through the links on this page, we may earn a commission at no cost to you. Learn more.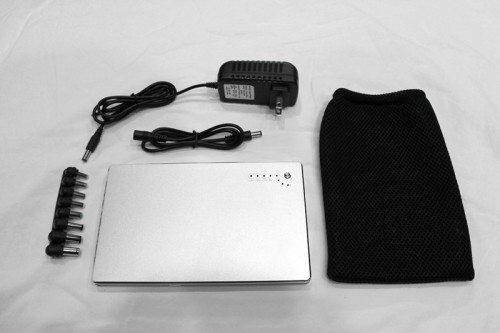 I have become a huge fan of the portable battery backup solutions.  I have reviewed numerous ones here on the Gadgeteer and purchased numerous ones for family members.  In fact I have 3 backup battery solutions right now among the items in my daily gear, so I am a fan.  But all those solutions only work with my portable gadgets like cellphones, tablets, and Bluetooth gear.  I have never had one that was designed to provide my laptop a backup battery because all those other solutions aren't beefy enough to handle a true laptop.  Until now.  Enter the Roving Power Professional Power Pack (herein after referred to as the 'Roving'). So how did the Roving handle it when my laptop battery died? Let's find out!
Initial Thoughts
This is a very solid device.  The aluminum alloy case is very Apple-esque feeling, with rounded/tapered edges so it feels nice in your hand, but it is quite big.  The footprint looks identical to the footprint of my Nexus 7, so this is the biggest power pack I have ever owned.  I can't see me carrying this thing around in my pocket like I do with my other power packs.  The nylon mesh carrying bag is a nice item to have because I can see this thing getting scratched up over time.  A small instruction booklet comes with it, which is good.  But it appears to have been written by a non-English speaking person so it is a little difficult to understand.  The ports are clearly labeled and easy to read, so that's nice. And thank God this one comes with a power supply because I can't imagine having to charge a 20,000 mAh power pack over a computer USB port.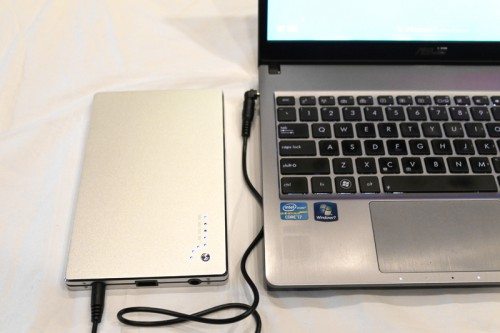 Manufacturer Specs
20,000 mAh Lithium Polymer battery
Good for approximately 1000 battery cycles
Input: 19v/1.2A (adapter included)
Output: 5V/2A USB port for charging USB devices
Output 2: 12V/16V/19V 4A variable output for Laptops
Weight:  1 pound 2 oz.
Size:  7-5/8" x 4-3/4" x 5/8"
Provides 3-6 hours of battery life to a Laptop Computer.
7.5 complete charges (from dead to 100%) to a smart phone, as tested on the iPhone 4S
1.5 complete charges to a 10" tablet, as tested on an iPad 2
2 complete charges to a 7" tablet, as tested Google Nexus 7
NOTE:  There is a disclaimer that says this power pack won't work with any Apple laptops, so sorry to those Apple users out there.  Look elsewhere.  They also say that if this device doesn't work with your laptop you have 30 days to send it back for a refund, which is nice.  Another nice set of features are over-charging, over-discharging, over-load, and short-circuit protection.  You also need to fully discharge the device at least once every 3 months.
As you can see from the picture, when I laid the Roving beside my Nexus 7 (1st gen) they almost occupy the same exact footprint, although the Roving is almost twice as thick.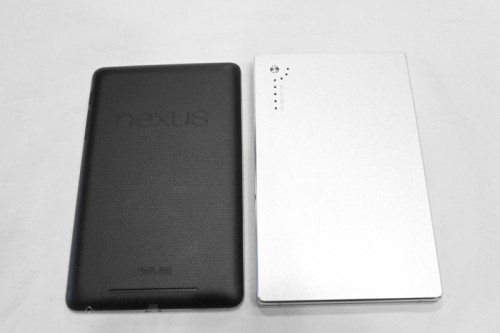 Performance
Well, I must admit that it took me some time to figure out how to get the Roving to work with my laptop. I read the instruction manual numerous times and just didn't understand the confusing instructions. I finally got it, so I will share that with you now.
Basically, when you turn the Roving on, it is ready to charge your cellphone or your tablet as any other portable battery solution would do.  It is also ready to charge any laptop that requires a 12v power source.  To switch this thing to a 16V output source you have to double-press the power button.  Then to switch it again to a 19v output source (which my laptop requires) you double-press the button again.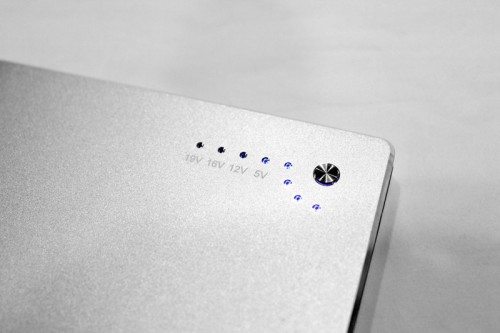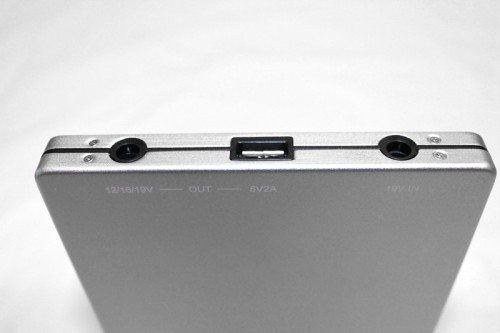 My laptop is an ASUS Windows 7, 3.6 GHz Core i7 processor, with a 5,900 mAh battery.  From completely dead to fully charged it took the Roving 1.5 hours to charge my laptop battery, while I was using it in the office.  So I was performing my daily work of emails, surfing, working with Office docs, listening to music, running 2 monitors, etc.  I did the test again from a completely dead laptop battery but this time left the computer completely shut off and didn't use it while it was charging.  I was expecting that the laptop would be fully charged faster this time because I wasn't using it. And I was wrong.  It took the same amount of time to charge my laptop when it was turned off and I wasn't using it.
I was very pleasantly surprised that the Roving charged my laptop at the same speed that it charges with a power outlet in the wall.  Having the Roving is like walking around with a true power outlet with you.  Very nice!  I should also mention that the Roving got hot as well.  It wasn't burning hot, so I could indeed pick it up, but it was hot no doubt.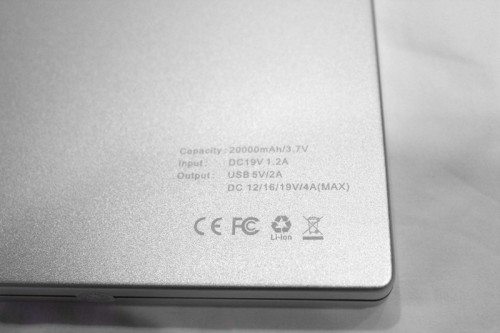 When it came to charging my gadgets with the Roving, I was a little surprised.  As I just mentioned, when I used the Roving to charge my laptop I got the performance that was similar to plugging the laptop into the wall.  But not so with charging my gadgets.  Using the USB port on the Roving I actually got a similar performance to other portable chargers that I have used.  It took 2.5 hrs to charge my Galaxy S4 from dead to fully charged.
The final thing that I should mention in this section is that the Roving comes with multiple adapter tips that you can pick from depending on what kind of laptop power cable connection you have in your laptop.  You pick your tip and attach it to the power cable. The manual showed a diagram of the adapter tips and which tip worked with each brand of laptop.  The tip that was noted as working with ASUS laptops did not work for mine.  I had to use the one marked as "IBM-Lenovo".  Go figure.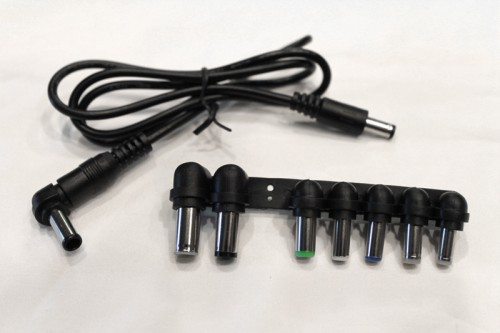 The bottom line
If you are looking for a portable battery for your laptop, the pitiful manual notwithstanding, look no further.  The Roving is a fantastic device for this purpose.  And the 20,000 mAh capacity for me means multiple charges for my laptop.  That's amazing.  The ability to also charge my gadgets using the standard USB port, although average in performance, is just an added benefit to me.   The size is a little large so you won't be carrying this around in your pocket, but that is an easy trade-off for me to gain the benefit of walking around with a power outlet in your bag.
Update 12/18/14
It has been a year with the Roving Power Pack and I still use it daily.  Having 20,000 mAh at your fingertips really does make a difference, and the fact that it charges as fast as a power outlet in the wall is fantastic as well.
It appears that this company is no longer in business and the product is not available through other outlets.
Source: The sample for this review was provided by Roving Power.
Product Information
Price:
$118.97
Manufacturer:
Roving Power
Pros:

The power of an outlet in your pocket
Excellent quality
Hugh capacity

Cons:

Too big to carry in your pocket
It gets really warm