We use affiliate links. If you buy something through the links on this page, we may earn a commission at no cost to you. Learn more.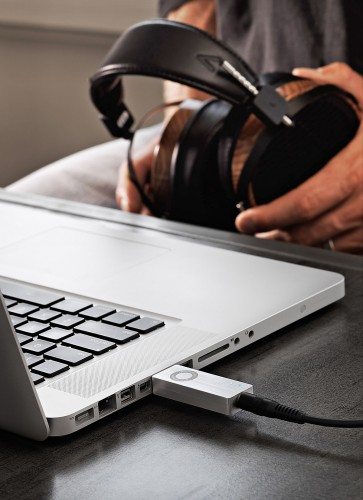 Computers and headphones are replacing the home stereo as the primary source for listening to music. Wireless speakers, Bluetooth, AirPlay, and a host of other technologies have developed and matured as a result. The external digital audio converter (DAC) also belongs in this group as a solution to the problem of lousy audio from desktop and laptop computers. Audioengine has taken the soul of their popular D1 external desktop DAC, improved the components and then crammed it into a new portable USB 24bit DAC called the D3. The D3 is the size of a thumb drive and sends high-quality HD audio from your computer's USB port to headphones or any music system. The USB connection ensures a totally digital signal which completely bypasses the computers cheap sound card resulting in noticeably better sounding audio. The D3 also includes a high-performance headphone amp which can drive power-hungry headphones. It's truly plug-and-play, requiring no software or drivers.
The D3 is ultra-portable and takes up almost no room in a travel bag or backpack. It comes with a carrying case and a 1/4" adapter cable for larger headphones. It will sell for $189 US and be available in time for holiday shopping.