We use affiliate links. If you buy something through the links on this page, we may earn a commission at no cost to you. Learn more.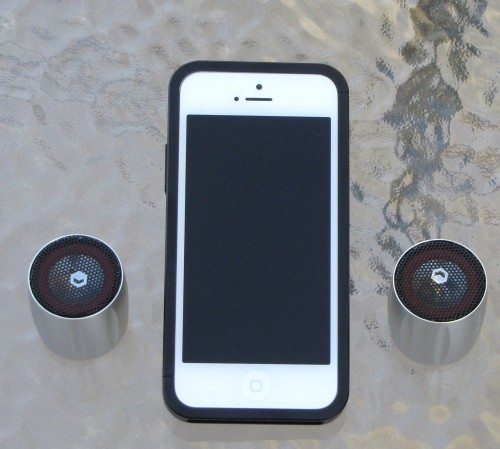 In the world of portable stereo-speaker competition, everyone is looking for that edge, that one thing that will set them apart from the others, the one thing that makes you want to buy their product over the competition. kubxlab is no exception to this, but they have embraced the simplicity of the past with their latest offering, the Earshots Stereo Speakers.
Note: Images can be clicked to view a larger size.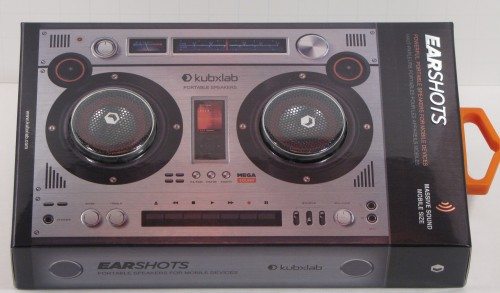 kubxlab Earshots speakers have embraced simplicity by doing away with Bluetooth synching and creating a plug-and-play speaker system. Literally you plug the included 3.5mm plug into the earphone jack of whatever device you want to listen to and plug the other ends of the cord into the Earshots, and you have sound. The listed features from the kubxlabs website are as follows:
Works with any device that has a 3.5 mm jack: Smart Phones, MP3 Players, Tablets, Laptops, Desktops, Portable Gaming
New generation of amplifiers that delivers maximum sound and clarity
Lightweight, small in size, but incredible stereo sound
Aluminum Housing
Up to 5 hrs playback after full charge
Rechargeable Lithium Ion batteries
Weight: 1.4 ounces – Height: 1.5″ – Diameter: 1.3″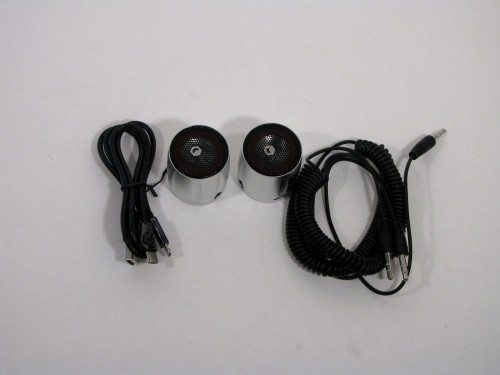 The  box contains:
2 Earshots speakers
1 3.5mm stereo cable with right and left inputs
1 dual USB charging cable (charges both speakers simultaneously)
One nice feature of the 3.5mm stereo cable is the fact that it is a coiled cord, which keeps the cord neat and compact.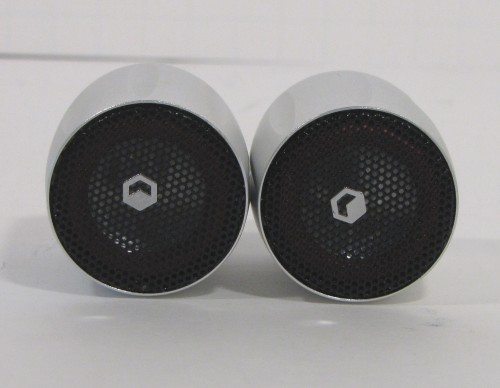 The tops of the Earshots have a black speaker grill covering the speaker.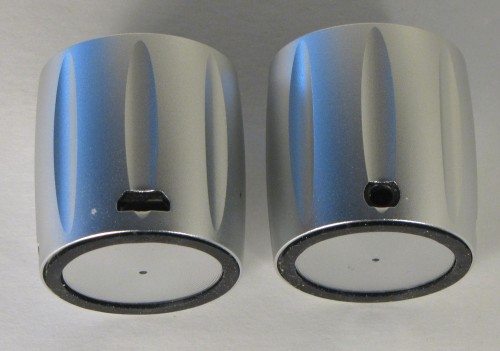 The rear of each Earshots speaker has 2 ports, one for the 3.5mm stereo cable in and one for the USB charging cable. There is no on/off switch on these speakers; they are turned on and off by plugging in the 3.5mm cables into the speakers. (They do not have to be plugged into the music device to be turned on.) I guess that can be a blessing or a curs, depending on your memory. I did have some issues with plugging the 3.5mm jack into one of the speakers; it felt like it was getting caught on something that was stopping me from plugging it in.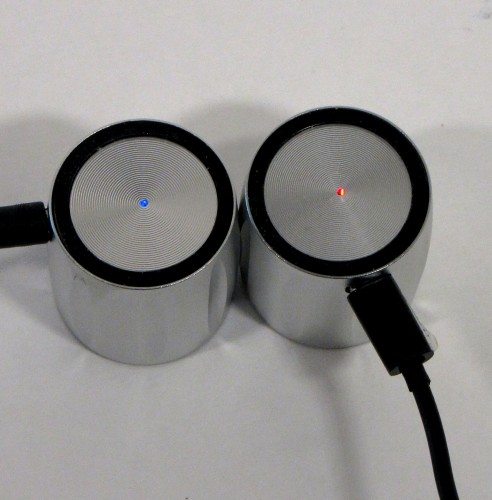 The bottom of the Earshots have LED lights that shows red when the Earshots are being charged and blue when the 3.5mm jack is plugged in. I did try charging and plugging in the 3.5mm cable at the same time, and the LED color seemed to be pinkish. I do not know if doing this will affect the speakers in any way, but I did not notice any changes in sound quality when I did it.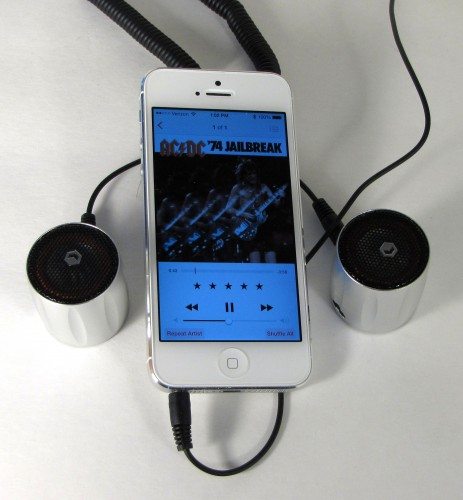 My first impressions of these tiny speakers was "hey these things are small", but having been surprised in the past, I did not let the size influence my judgement.
It is suggested that you charge the Earshots for about three hours before you use them, so I did. For testing purposes, I used my iPad and my iPhone 5, but as I mentioned before, you can use any device with a 3.5mm-out jack. After plugging in all the cords, I started my musical tour to evaluate the speakers and their sound.  To me they sounded kind of flat, no real depth or separation of sounds. I am not saying the sound was not relatively clear, but they sounded like small speakers. I ran through a series of musical selections and genres and also tried tweaking the EQ settings for my iPad and iPhone, but I did not notice any great sound improvements. To be honest, I wanted these speakers to sound kickass just because I love the thought of plug-and-play speakers, but in reality they just sound ordinary at best. I did try the Earshots for watching movies and videos on my iPad, and they are a lot better than the built-in speaker.  For that matter, they are actually better than the built-in speakers on my iPhone 5 as well. I do like the build materials of these speakers (aluminum), the size and the simple operation, but the sound does not do it for me.
So whats my bottom line on the kubxlab Earshots speakers? If I were asked to spend $49.95 for a set of these, I would have to pass. Don't get me wrong – they don't sound terrible, and as I said I love the simple use of these speakers. But at that price and considering what is available in the market today, I would expect better sound.