We use affiliate links. If you buy something through the links on this page, we may earn a commission at no cost to you. Learn more.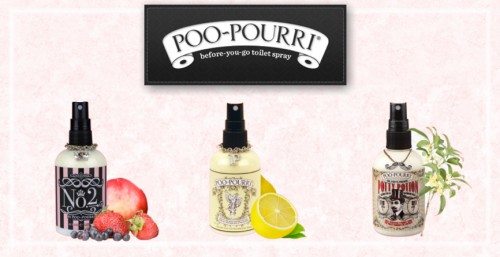 We all know poo happens, but did you know it doesn't have to stink?  Yep, you heard me right, you can have stink-less #2 too by pre-treating your loo with a product called Poo~Pourri.  One of our most advanced senses, our sense of smell, isn't fooled by covering up poo odor with fragrance.   Poo~Pourri doesn't just cover it up, it creates a barrier for it.  The magic of Poo~Pourri lies in its use of essential oils.  Spritzed as a pre-treatment mist in the toilet bowl, the oils form a topical blockade for foul aromas.  Trap those smelly suckers beneath the water in the bowl and flush them straight away.  The all natural oils are infused with quite agreeable odors such as Lemongrass, Jasmine, Eucalyptus, and Blood Orange, over 20 different scents in all.  The product is receiving positive reviews, and customers are reporting it is poo~rrific.  It's not an aerosol, and there are no harsh chemicals involved, so not to worry about the occasional splash.  If the shared bathroom at your workplace is in a location nearest you, I say increase your sense of serenity and avoid the daily threat of malodorous poo~roma wafting near your desk.  Give holiday gifts of Poo~Pourri to all co-workers.
Excellent uses even if you're not single:
Public restrooms
Poorly located bathrooms (kitchen)
The shared bathroom at a party
Portable lavatories
The significant other's bathroom
Passenger Aircraft restrooms
Being that it's a practical product made in the USA and there is a stink-free guarantee, I think it's time to expand our olfactory options in the bathroom.  Poo~Pourri comes in 100 and 200-use bottles but be aware their shipping system is currently constipated with new orders.  The "New to Poo" package starts at $9.95 plus shipping.  Maybe the name makes you giggle, and maybe it's awkward to talk about, but let's face it – we all do it.