We use affiliate links. If you buy something through the links on this page, we may earn a commission at no cost to you. Learn more.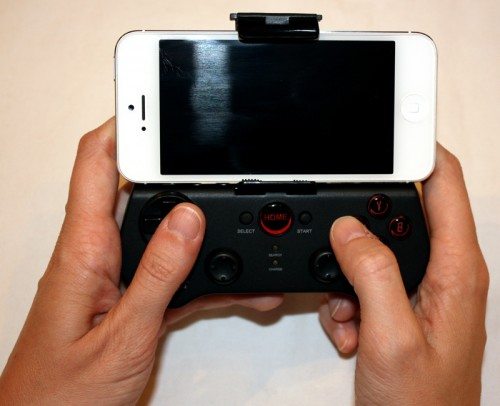 I find it difficult to play games on my phone with on-screen joysticks and buttons. My fingers move around on the screen, and I start pressing the wrong button or moving the wrong direction. Since I grew up with a physical controller in my hand, perhaps that is why I just can't get the knack for the touch screen. I've really wanted to start playing more RPG games on my phone, but have been put off by the controls. Thankfully, LoveCases, who carries all sorts of iPhone 4S accessories and more, sent me the iPega PG-9017 Bluetooth Controller to try out.  (Keep reading, Android users.  This device works for you, too.)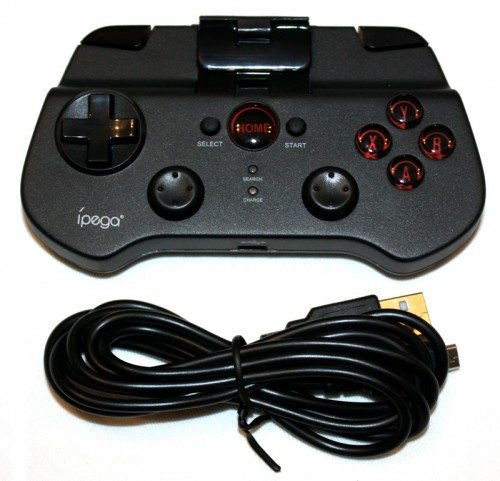 Inside the box is the controller, USB charging cable, and an instruction sheet. The controller is very lightweight, and the cable is quite long compared to other recharging cables I've used. The instructions are helpful but could be better – there's no explanation of what games are compatible with this device other than a few examples.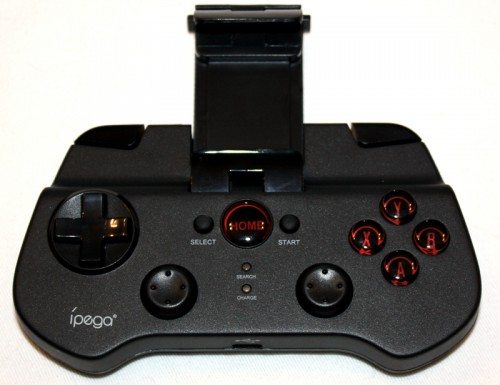 I like the feel of the controller in my hands. Having small hands like I do, it is easy to grip each side. If you have large hands though, this might feel very small and hard to hold comfortably. A rounded grip area on the back would be ideal. Each button is pressable with little effort, and the joysticks feel smooth when in use. The battery life was very adequate. I only had to charge it once during my testing.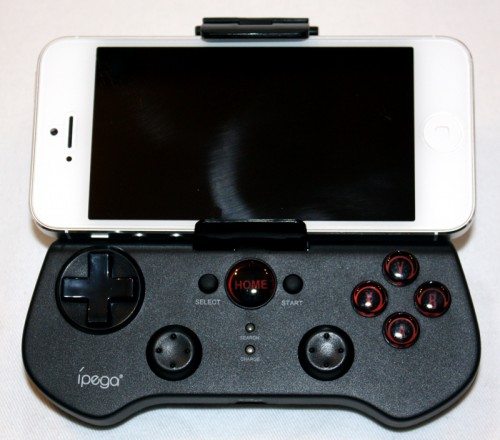 The controller has a stand for holding your smartphone while in use. This only works for games that support landscape mode. I was able to use my iPhone with my case on it and had no problems, but the larger screens may not fit with a case on. When fully extended, it should fit a phone less than 3.5 inches wide.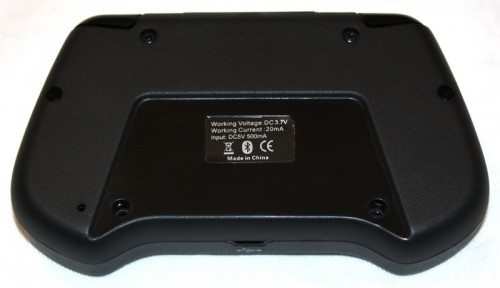 The back is made of plastic with no grip, which makes it harder to hold for those who have larger hands. The only port on the controller is a microUSB charging port in the bottom.
Once it was fully charged, I tried connecting it to my iPad, iPhone, and Galaxy Tab 7 tablet. Once you figure out which mode you want, you hold down one of the four letter buttons and then press the home button. It should then be visible to your device to pair.


I had a hard time finding games that were compatible with this controller on my iPhone. Only iCade-compatible games work; however, most that I tried did not. Temple Run was the most popular game that I found that worked. After trying several games, I gave up because none of them worked with the controller. It would be great if iPega would have a list of games that were compatible with iOS. If you are looking to use this with an iPad or iPhone, I would definitely not recommend this controller.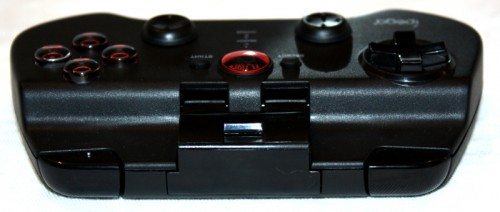 With my husband's Android tablet, however, there were many more games available. I first tried Zenonia 4 (my favorite RPG for mobile devices), and it worked just fine. There was only a slight delay in the response rate. For a controller this cheap, that is not too shabby. This controller can also be used for game emulators, which to me, would be the biggest reason to buy it. There is also a mode that allows you to use the joysticks like a mouse, but it doesn't work well. It's faster to just touch the icon on the screen.
Overall, this controller does not work well with iOS devices due to the minimal game compatibility.  If you have an Android device, this may work for you – if you are looking for a cheap controller for your games and if you are okay with a slight delay in the response time. I worry that over time, the part that holds the phone will break off due to the light plastic used, but so far it has held up well. My search for a good controller will continue, and I will give this to my husband to use with his Android tablet.

Product Information
Price:
£29.95 or about $48.00
Manufacturer:
ipega
Retailer:
LoveCases
Requirements:

- Android 2.3 and above or IOS 4.3 and above
- Bluetooth compatible device

Pros:

- Good fit in my hands
- Cheap price tag

Cons:

- Only iCade compatible games work with the iOS systems
- Slight delay in reaction time on Android systems