We use affiliate links. If you buy something through the links on this page, we may earn a commission at no cost to you. Learn more.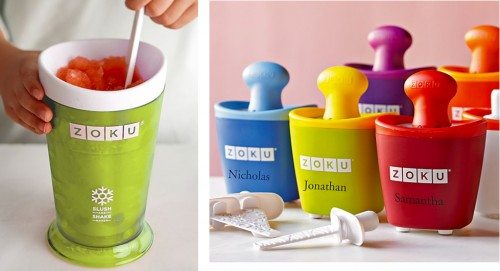 Several years ago, we told you about the Zoku Quick Pop Maker, a kitchen gadget for making your own popsicles.  That Zoku made three popsicles at a time and a maximum of 9 popsicles per session before needing to go back into the freezer.  If you live alone or if perhaps you have a hungry horde, you may find a Single Pop Maker per person works better for you.  Just like their bigger brother, the individual molds can make 3 pops before needing to go back to the freezer.  They're available in blue, green, orange, purple, or red for $24.95 each.  You can have them personalized with a monogram or name for $7 each (when purchased from Williams-Sonoma only).
If you prefer slushie drinks, you want the Slush and Shake Maker.  Just as with the pop makers, you keep the core in the freezer until you need it.  You can make two 8oz drinks before you need to refreeze the core.  It's also available in blue, green, orange, red, or purple; it's $19.95.
Both the Zoku Single Pop Maker and the Zoku Slush and Shake Maker are available through Williams-Sonoma online.  The original Zoku Quick Pop Maker is still available at Williams-Sonoma online; it's $49.95.  You can also purchase these products directly from the Zoku store.