We use affiliate links. If you buy something through the links on this page, we may earn a commission at no cost to you. Learn more.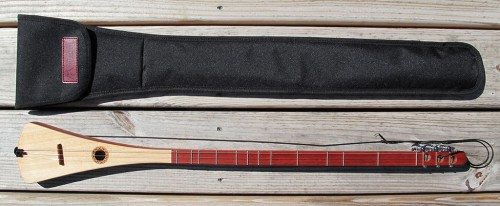 I have a problem that you might share. I love music and enjoy creating my own songs, but I'm not very good at playing any instrument. I get all excited about learing to play something and then get frustrated when it takes too long to master it. If only there was an instrument that you could play without knowing anything about music and that no matter what you played on it, it sounded good. If only… Guess what? There is such an instrumet. It's The McNally Strumstick. Let's take it for a strum.
Note: Images can be clicked to view a larger size.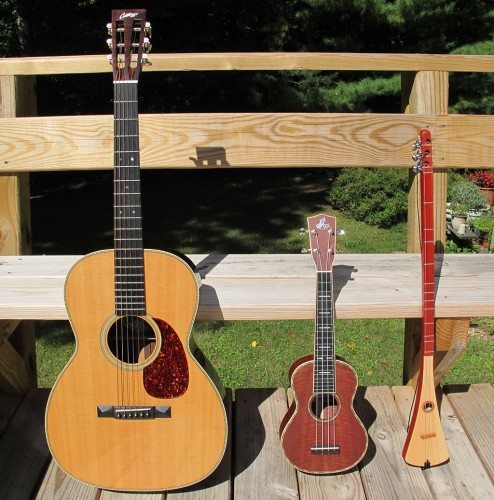 Before I get into the review, let me give you a little background on my musical ability or lack thereof 🙂 I started out on guitar when I was 12 years old or so. I had a couple lessons over the years (maybe a dozen in total), but always found it easier to learn on my own from tablature books, DVDs and tapes. For some reason, I put the guitar away and didn't play it for years and years. Then one day I discovered a video of Jake Shimabukuro playing the ukulele on Youtube. I instantly fell in love with the instrument. I have a total of 6 ukes right now but haven't played with them much in the past couple of years. Fast forward to today. I've been feeling the urge to get back into music and decided to try an instrument that I've long wondered about – The McNally Strumstick. Going from a guitar with 6 strings, to a ukulele with 4 strings, to a Strumstick with only 3 strings, I figured it would have to be a lot easier to play.


The Strumstick is made in the USA and sounds sort of like the cross between a guitar and a banjo. It definitely has a little bit of a twang to it. Strumsticks are available in several sizes and with different woods. I'll be reviewing the G Strumstick with a Spruce top and Maple back. It has a total length end to end of 29.5 inches, is 4 inches at the widest point and is a little over an inch thick.
The construction and finish of this instrument is very nice. Yes, it's a simple instrument, but doesn't feel or look cheap.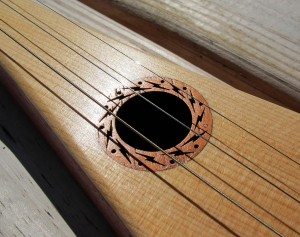 The only custom option with my instrument is a decorative rosette around the sound hole. You can choose between a variety of decorative reosettes or just stick with a plain sound hole if you want to save a few bucks. Other add-ons that you can get are a built in pickup, a case, stands, etc.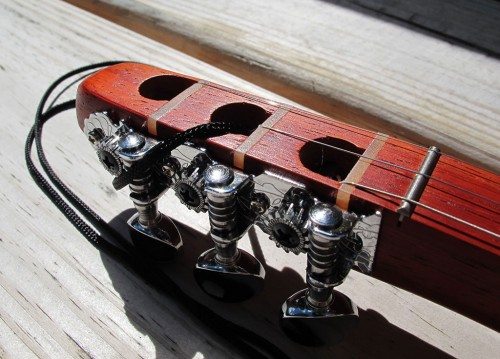 The Strumstick features open geared tuners with some type of hard plastic material added to the bottom edge of each string hole to keep the tightened strings from gouging the wood.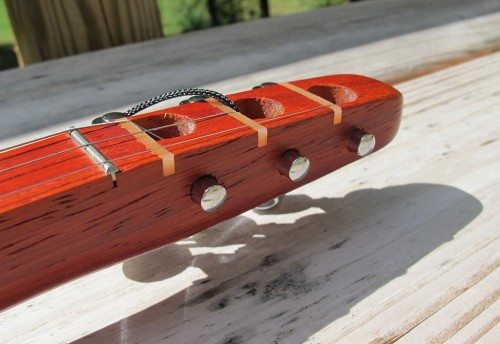 Although I've yet to need to change the strings, it doesn't appear to be any more difficult than changing the strings on a guitar or ukulele.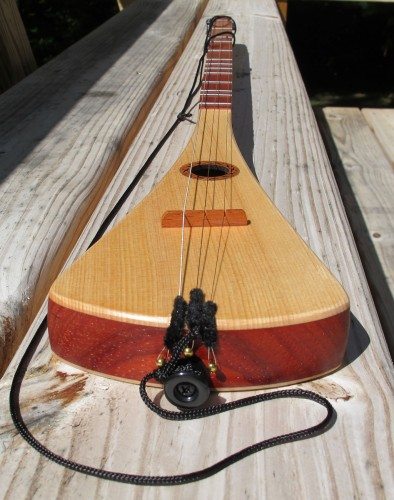 Small brass nails in the tail provide a hook for the ends of the strings. A strap button is also attached to the tail and a simple adjustable cord strap is included with the instrument. If you've played stringed instruments before but never used a strap (like me), you'll have to get used to using one with the Strumstick. That's the only problem I noticed with this instrument. Due to its very narrow body, it can feel awkward to hold when you first start playing it.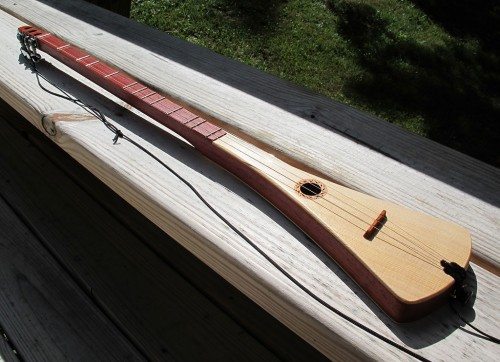 If you're familiar with other stringed instruments, you might be wondering about the odd fret placement on the Strumstick. This instrument is based on the mountain dulcimer, which shares the same fret layout. Both instruments use a diatonic scale. Even if you haven't heard that term before, you've probably heard of Do Re Mi Fa So La Ti Do. Those are the 8 notes that make up the diatonic scale. All you really need to know though is that when you're playing the Strumstick, you can't play a wrong note. Whatever you play ends up sounding good. That's what makes it fun to play even for complete beginners.
Here's a simple song I made up in just a couple of minutes just just one finger to fret notes. It can't get any easier than that. I do a little finger picking and then a little strumming so you can see what the instrument sounds like.
I know that tune isn't mind blowing or anything, but the fact that anyone can pick up this instrument and make pleasing sounding music right away is wonderful. You can play very simple tunes or complex rhythms and melodies. Just because it has 3 strings doesn't mean that you can't do cool things with it. Just visit YouTube and search on Strumstick to see what some of the more experience players are able to do.
In addition to being easy to play, you can find all sorts of free sheet music to use with the Strumstick by searching for dulcimer tablature. All you have to do is just convert the tablature so that the strings order is reversed. Where the dulcimer's 1st string is at the bottom of the TAB lines, the Strumstick 1st string is at the top.
The Strumstick is a great starter instrument for kids who are interested in music.  It's perfect for smaller hands because the neck is narrow and they will be able to quickly make music without the frustration that comes with trying to learn a guitar or other multi-stringed instrument. Adults will like it for the same reasons.  If you ever dreamed about learning to play an instrument but were too intimidated to get started, consider The McNally Strumstick.

Product Information
Price:
$169 - $565 depending on size, wood and add-ons
Manufacturer:
McNally
Pros:

Simple to play
Portable
Fun

Cons:

Can feel awkward to hold in the beginning due to narrow body