We use affiliate links. If you buy something through the links on this page, we may earn a commission at no cost to you. Learn more.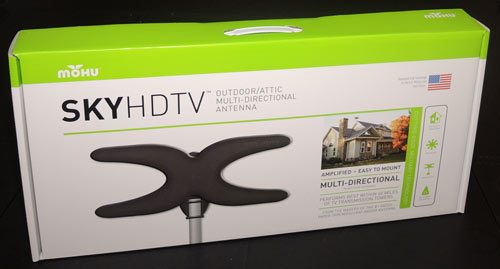 Our family has been cable-less for a long time now. We cut the cord on cable TV years ago, and ninety percent of the time we are completely satisfied streaming our content from Amazon, Netflix, Hulu, or the affiliates themselves. But there are definitely those occasions when I wish I could watch sports events live and in high definition. We make do by crashing in on friends or family during a Seahawks game or the finals of the US Open. It certainly would be convenient to have that programming in-house without the need of a service provider. Fortunately, local stations still broadcast their content over-the-air (OTA), and with the Sky HDTV Antenna from Mohu, you can pick up their signals relatively far off the beaten path.
The Mohu Sky HDTV Antenna is definitely not your grandfather's rabbit ears. The Sky is relatively small, powerful, and according to the Mohu website, "unique". It has the ability to provide uncompressed HD broadcast signals to multiple televisions. It has a range of 60 miles and is engineered to be mounted in an attic, under an eve, or above a roof line. The Sky is powered/amplified and multidirectional, allowing you to orient it at whatever angle and direction works best for you.
In the box: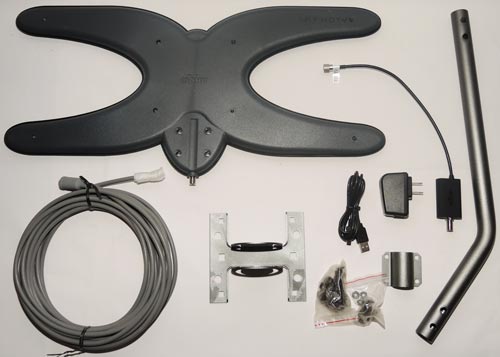 The Mohu Sky Antenna
30 ft high-performance coaxial cable
3 ft USB cable
USB power injector
Power Cube
Antenna mount and hardware
Mounting tube and hardware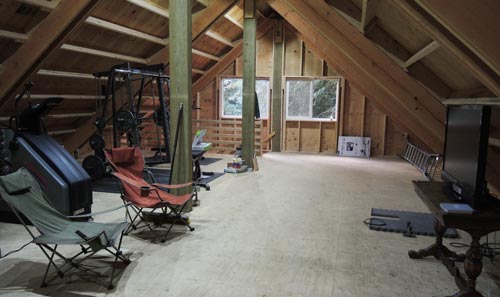 I am (slowly) creating a man-cave above our garage where I can workout and hangout, watch TV, etc. Our garage is detached and a good distance from our house. At the moment there is no connectivity to the building, so I cannot stream shows from the internet. Plus I sometimes enjoy working out to live sporting events, so internet streaming, in this case, is not ideal.  Sky HDTV antenna is potentially a great solution for me to make this happen, hopefully enabling me to pick up our local HD channels streamed OTA.
Features:
A completely new take on the traditional roof top / attic mounted antenna
Multidirectional: Does not have to be pointed
Based on technology developed for the US Military
Antenna mounting kit included
Includes 30 ft. high-performance cable
Dual powering options: USB or power cube
CleanPeak™ filter technology provides low noise, state-of-the-art amplification
60 mile range
1 year parts and labor warranty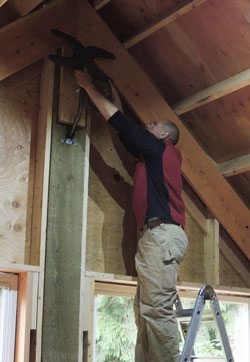 Installing the Sky HDTV antenna was a snap – definitely in my tech-handyman wheelhouse ;). The only tools I needed were a phillips screwdriver, crescent wrench, and Bosch impact driver. A nice feature of this antenna is that it can be installed in your attic, out of the weather and elements. Fortunately for me, installing this in my garage did not require me to climb up into our dusty, dirty attic and crawl around on my belly. And as I mentioned earlier, if you are not up for a confined space entry into your attic, you can mount it on your roof like a classic TV antenna.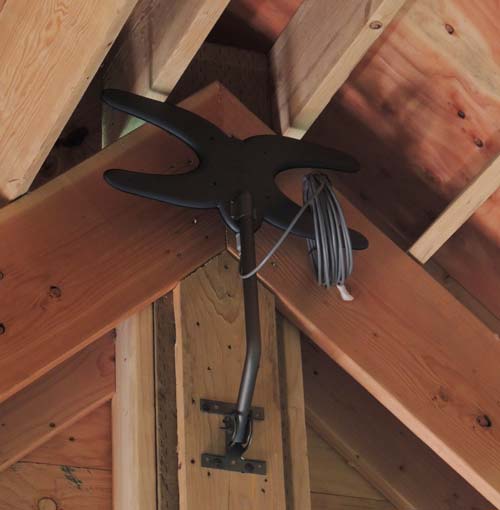 Once installed, the only real effort is running the coaxial cable to where you have your TV. For me, this was relatively easy since I had open joists and no walls or floors to fish the cable through. If I was doing the same in our home, I would need to run the cable from the attic through two floors of living space – definitely a hassle.

The Sky features a "tightly integrated", low-noise, state-of-the-art digital amplifier to increase the signal range and improve the quality of the HD broadcast signals. The amplifier is powered via a USB port or with the included power cube. Since my several years-old HDTV did not have a powered USB port, I had to use the power cube to plug the digital amplifier into a power strip.
The Sky is able to provide HDTV signal to two televisions simultaneously. So, instead of connecting the amplifier directly to a single TV, you can connect it to a splitter and then run cables to both televisions.
Once everything is installed, connected, and plugged in, you have your HDTV search for available channels. In my case, my TV found 15 channels, of which 2-3 were Spanish-speaking, a half dozen were shopping or info-related, and 5 or 6 were what I was really looking for. In reality I did not need the Sky HDTV antenna with its 60 mile range; the Mohu Leaf indoor or Leaf Ultimate Amplified HDTV Antennas would have worked just fine for me, being just 15 miles outside of Seattle.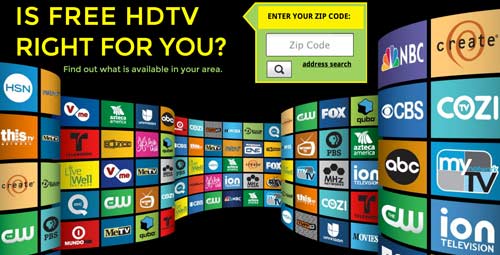 To prevent you from buying more than you really need, Mohu has a web-tool that profiles which antenna will best work for you based on your zip code or address. The tool also lets you know which channels you should be able to receive OTA.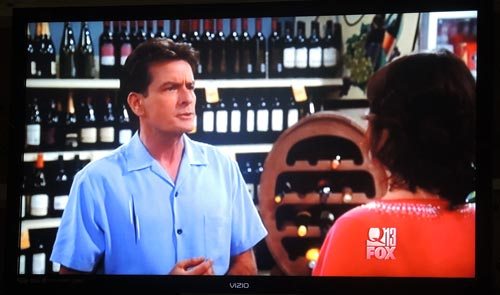 The HD picture quality of the major network channels is very good, but there is picture breakdown (pixillation) every now and then. If you are not a big TV watcher (and can live with a handful of channels), like live TV, do not like paying a cable/satellite TV bill, or for whatever reason digital-TV services are not available, and you are within 60 miles of TV towers, the Mohu OTA antennas are definitely viable options worth considering.

Product Information
Price:
$169.99
Manufacturer:
Mohu
Requirements:
Pros:

- Good build quality
- Excellent HD signal
- Relatively easy to install
- Potential alternative to paid HDTV

Cons:

- Installation could be difficult for some
- Somewhat expensive upfront cost
- Occasional pixillation