We use affiliate links. If you buy something through the links on this page, we may earn a commission at no cost to you. Learn more.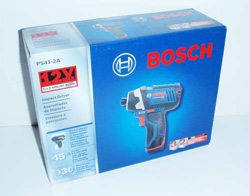 I have wanted an impact hammer/driver for a long time now….for years, if not decades. Several of my construction buddies have them and I have marveled at how effective they are at driving screws and bolts into very dense materials. I have used a standard cordless drill on MANY projects, fighting/stripping countless screws in the process. So, when Julie asked if anyone wanted to review the Bosch PS41-2A 12V Lithium Ion Impact Driver, I jumped at the chance.
Bosch manufactures a large assortment of battery operated hand tools ranging in power and size. The PS41-2A 12V is one of their smallest, most portable, yet powerful tools. Many (as in too many) of the folks I have shown the PS41 to, have called it 'cute'. Yes, men and women alike….to include Julie herself. After using it on a couple of moderately sized projects, I have to say this little guy packs quite a punch :).

Contents:
PS41-2A 12V Impactor
12V Max Litheon Charger


12V Max Litheon Battery

Carrying case
Manual
Features:
Shortest Head Length in Class – 5.4″
High Torque 930 in.-lbs. with Pocket Size Body – Can cover 80% of standard size impact driver applications
Light Weight – only 2 lbs.Highest Speed in Class at 2600 RPM
Fuel Gauge – Easy battery management
LED Light Ring — 3 LEDs illuminate work area for use in dark areas
Variable speed Trigger – For complete control
Ergonomic Soft Grip Handle — For extended comfort and control
Bumpers on Side of Tool — Protect work surface and prevent slipping
Specifications:
Country of Origin: Malaysia
Length: 5.39″
No Load BPM: 0 – 3,100
No Load RPM: 0-2,600
Rating: 12V Max
Torque (in. lbs.): 930
Weight (lbs.): 2.13 lbs.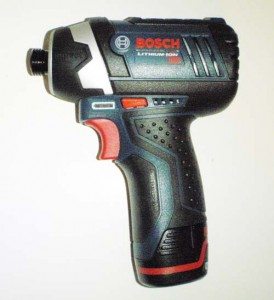 Measuring in at just 7″ tall and 5.4″ wide, the PS41-2A is an ideal size for tight places. But do not be fooled, this tiny impact wrench/hammer can generate a great deal of force. According to Bosch, this 12V tools has 85% more torque than a 18V drill/driver – 930 in.-lbs. of max torque and can accomplish 80% of standard size impact driver applications. It's quick load/release hex drive allows it to be use the latest drill and driver bits.  Its excellent torque rating (for its size) makes it worthy of all but the toughest efforts.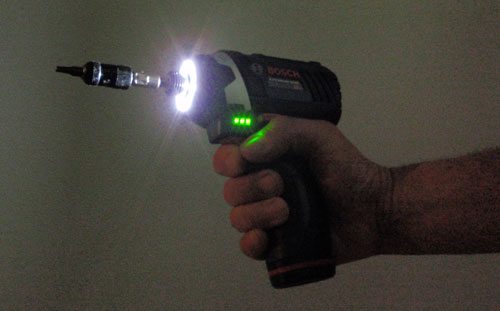 The Bosch PS41-2A 12V lithium ion impact driver is very comfortable to hold and use. At 2.2 lbs, it is 50% lighter than their 18V impact driver,  extremely easy to maneuver and carry around with you. Bosch has engineered some great features in this device; a bright, three LED array that does a stellar job of lighting what you are working on and a small battery indicator (aka Fuel Gauge) display to let you know when the battery is getting low.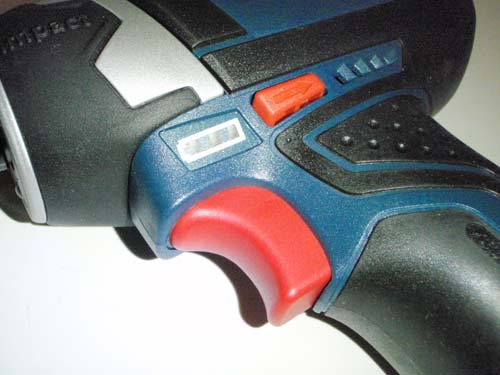 It has a variable speed trigger which allows for great control of how fast/hard the driver is driving. The handle has an 'ergonomic soft grip' for long lasting comfort and relaxed feel. Similar to most drills and impact wrenches, the PS41 has a directional/lock switch as well.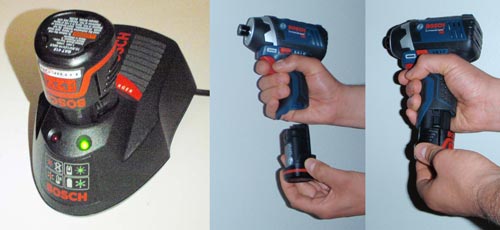 Bosch includes a smart, quick charger that can recharge the 12 volt battery in less than 30 minutes.  The battery charger knows when the battery is too hot to recharge and refuses to work until it is the battery is cool enough to not ruin it. I did find the batteries would last a relatively long time driving in small to medium sized screws but chewed through the battery very quickly when driving in long, thicker screws/bolts.
The battery loads into the impact driver like a clip into a small handgun (versus the big bulky batteries you see on the bottom of the handle of most cordless drills).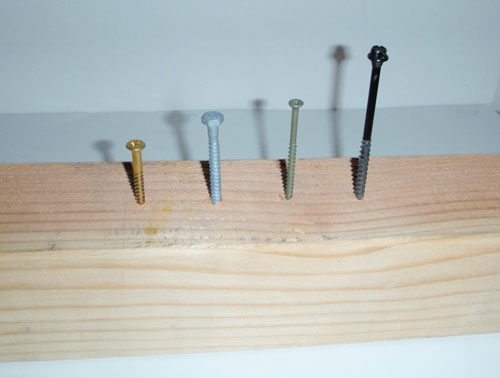 To illustrate how 'awesome' (the Gadgeteer Kid and I both agreed this is the appropriate term) the PS41-2A drives screws and lag bolts, we grabbed a handful (between two to six inches) from the garage. Once I set them in place, he proceeded to drive them into a standard 4×4 piece of wood.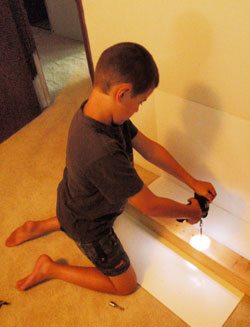 The Gadgeteer Kid was able to drive these various screws and bolts like a hot knife through butter….or there a bouts. For those of you who have never used an impact driver before, what makes them so much more effective than a typical drill is that they vibrate at a high rate and/or provide greater torque on several axises. Thus making the force you put on whatever you are trying to screw in or tighten so much more effective.

As you can see from this photo, all four were quickly and efficiently driven in to the block of wood. The longer, thicker six inch lag bolt took a bit longer than the rest but was still easy for my 8 (soon to be 9) year old to get the job done. That said, on those moderate sized projects, I was driving in a dozen or so 4 inch screws at a time. Towards the end of the project, the upper portion of the PS41 became pretty hot, not hot enough to burn you but definitely enough to notice. So warm, the smart battery charger would not recharge the battery until it cooled down for 10 minutes or so.
I grant you this is a Bosch ad but here is a video of the PS41-2A in action:
Bottomline, I love the PS41-2A from Bosch and would recommended to anyone needing a tool like this. The PS41-2A is an incredible tool that can be used in a very long list of applications. For its size and weight, it is ideal for quickly and effectively driving decent sized screws and lag bolts into things. It's weight (or lack there of) makes it easy to carry around and diminutive size enables it to get into tight places. It does not have the power to drive foot long, inch thick bolts into concrete but that is not what it is engineered to do. The Bosch's PS41-2A 12 volt lithium ion impact driver does a great job at what it was designed to do, to quickly and easily push small to medium screws into (more or less) whatever you need it to.

Product Information
Price:
Under $180 on the internet
Pros:

Small and lightweight
Powerful for its size
Good battery life
LED lighting
Power gauge
Nice carrying case
Warranty: ProVantage 3-year Protection Plan

Cons: