We use affiliate links. If you buy something through the links on this page, we may earn a commission at no cost to you. Learn more.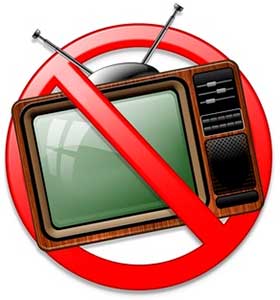 If you look up the term "couch potato" in the dictionary, you'll probably see my picture. I've always loved TV and easily get hooked on shows which I'll faithfully follow from the premier episode to its finale. I like sitcoms, movies, medical dramas, sci-fi, fantasy, talent shows, some reality shows, etc. At one point last year, Jeanne and I decided it was time to cut back on all of our TV watching, so we made a list of all the shows we watched and then picked 5 shows each to stick with. That worked for awhile, but as new shows started, we crept back up to too much time in front of the TV. Don't get me wrong, I'm not saying TV watching is bad. I enjoy it as a form of relaxation and it's fun to have favorite shows. But just like we sometimes need to go on a diet to improve our health, sometimes we need to go on a TV diet to improve our brain. 
As we were eating breakfast this past Saturday morning, I told Jeanne that I had an idea for an experiment that I wanted to do, but was sure she would probably not like the idea. She gave me a questioning look and then I told her I wanted to cut TV out for a whole month. She didn't even think about it and just said "ok". I was really surprised, but an "ok" was all I needed to put the plan into action. Saturday was 8/31, the end of the month. The experiment was to start the very next day of a holiday weekend. That night we watched a couple of shows and a movie, and at the end of the night, I turned off the TV and it hasn't been on since. I know it's early in the game, but so far we've had 2 full days without TV, and neither of us have felt even mild withdraw symptoms. I think the new Fall shows start this week and I don't even care. Something must is wrong with me!
I've already noticed some positive side effects to cutting out TV. First of all, we're eating at our kitchen table instead of on the couch in front of the TV. Our kitchen table has always been more of a storage (AKA clutter) platform than an eating surface, so that's a positive change. Eating in the kitchen also means that we're doing the dishes as soon we finish eating, so the kitchen is cleaner all of the time. But the most important thing I've noticed is all the extra time that I now have to work on articles, read and do other things. I'm actually feeling less stressed than I have in awhile. Who knew that TV causes stress 😉
There is one caveat to the plan though. Jeanne is allowed to watch recorded shows (HGTV shows) while she walks on the treadmill. She just turned it on a few minutes ago and said she felt like she's cheating.
Has anyone else done a TV detox or purge experiment? Were you able to stick with it, or did you fail? Share your experiences in the comments area.