We use affiliate links. If you buy something through the links on this page, we may earn a commission at no cost to you. Learn more.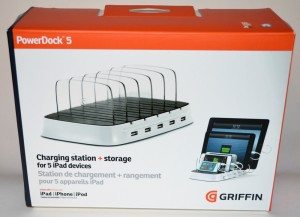 When you have a lot of gadgets, it can be hard to find a place to charge everything.  There are docks on the market that can charge multiple gadgets, but many of them seem to be just for Apple products.  What if you have only Android gadgets or a mixture various operating systems and types – phones, tablets, Bluetooth headsets, etc.  You could set up a surge protector full of USB chargers, but then you'll have gadgets laying everywhere as they charge.  The PowerDock 5 from Griffin offers a solution to store your gadgets neatly as they all charge from a single power source.  Although the box indicates the charger if for iPad/iPhone/iPod, it should actually work with most any USB-chargeable gadget.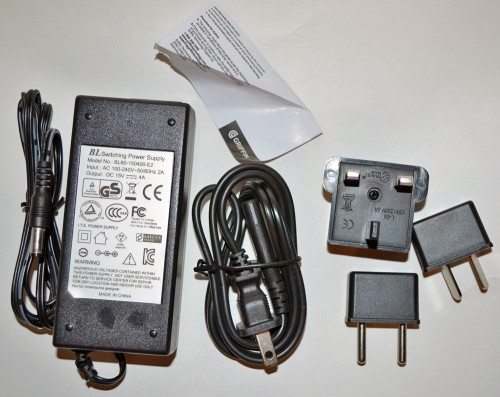 The first thing you'll notice is there are no USB charging cables included.  Since the PowerDock 5 is identified as a charging station for iOS devices, you'd think Griffin would have included at least a couple of the 30-pin cables, but no dice.  You'll have to supply your own cables, which isn't a huge problem since gadgets come with charging cables.  For this price, though, I expected a couple of cables.
You do get a power brick and a separate cable with a US-style plug.  There are three other international plugs included, but they seem to need a cable to attach them to the power brick.  Each of these plugs have identical ports on the back, which makes me think there should have been a cable included for them.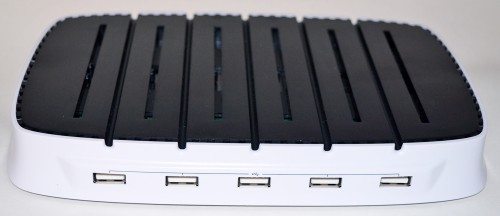 The PowerDock 5's base is about 7.75″ long X 4.6″ wide X 1″ tall.  It's made of hard plastics – black on the top and white on the sides.  There are no status lights or product branding on this charging base.
One side has five standard USB jacks.  Technical specs say that each of these jacks provide 5V at 2.1A, which is enough power to charge an iPad.  Griffin does say that these ports should work with most USB-chargeable devices, but they caution that some devices may charge slower than normal because they expect more power.  (Like Leah Hallet's Asus TF101 tablet that needed more power than the Eagle Tech Neptor Battery pack she recently reviewed could provide.)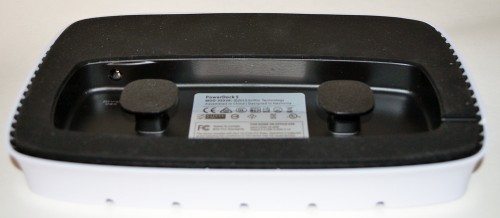 If you click to enlarge the above photo, you'll see a little groove in the bottom right side for the power cord to fit through.  At the upper left, you can just see the jack for the power supply.  The pegs in the middle are apparently to control extra length of the power cable.  You'll see how ironic this is later in the review.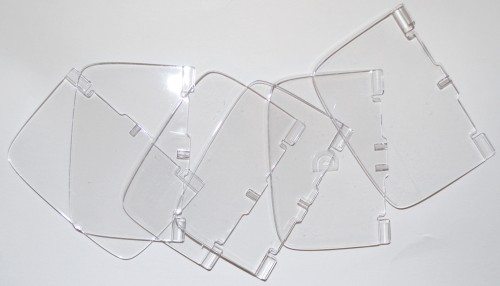 The PowerDock 5 promises to store your devices as they charge.  The package also contains 5 clear plastic plates that snap into grooves on the top of the dock to form backrests for the charging devices.  Five of the six are identical, but the 6th one fits in only the groove furthest away from the power cord channel.  This special panel is embossed with Griffin's logo.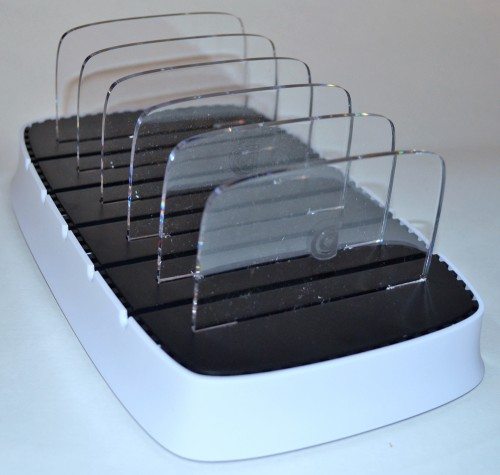 Here you see all the backplates in place.  There's about 0.75″ between the backplates, which is plenty of room to accommodate most iPad cases.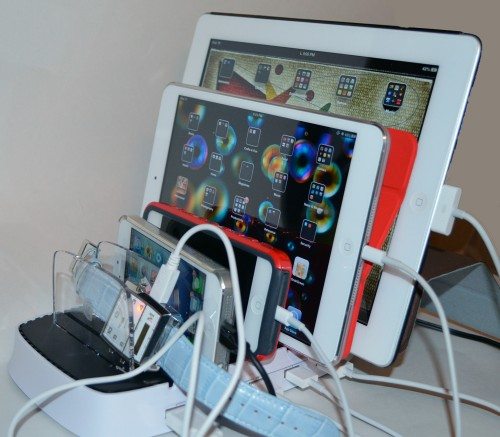 In my family, we have two 3rd-gen iPads, an iPad mini, three iPhone 5s, and a variety of iPods to try with the PowerDock 5.  I decided to do a couple of phones, a couple of iPads, and my Martian Watches G2G smart watch.  I gathered up cables for everything, and you can see that all the devices fit handily into their spaces.  All the USB jacks worked to power all the gadgets simultaneously.  If you click to enlarge the image, you can see the little lightning bolts on the battery icons on the iOS devices that indicate they are charging.  The red LED on the G2G watch shows it is also charging.  (The screen went dark on the red-cased iPhone before I could snap the picture, but it was also charging.)  It really is a nice, compact setup for charging multiple tablets, phones, and other devices.
The above image also shows you the main problem with this charging dock.  I have a little 4″ Amazon's Basics Lightning cable attached to the iPhone with the lighted screen.  It is just long enough to allow me to plug the phone in.  All the other cables are each a few feet long, and they make an unsightly clutter.  I could buy a variety of shorter charging cables to neaten this up, but the single Amazon Basics Lightning cable was $13.  The PowerDock 5 already cost $100, and I'm not thrilled about buying more cables just to make it look cleaner.  I could buy more of the Amazon cables to use with my iPhones, iPad mini, and iPod nanos, but I don't think they are long enough to reach the iPad mini's charging port.  My only cost-effective choice would be to find some way to corral the long cables.  It's a shame that there's no way to channel the extra length of these USB cables under the PowerDock 5 and use those pegs to control the extra length of these cables.
In any event, the PowerDock 5 does provide a place to simultaneously charge up to five devices from a single wall outlet.  Each device is held safely in its charging bay, and the bays are roomy enough that you don't have to remove the cases.  I just wish they included a few short charging cables – maybe a couple short 30-pin Apple cables and a couple short microUSB cables.  For $100, I did expect some charging cables, and including some short cables could go a long way toward creating a neater charging station.

Product Information
Price:
$99.99
Manufacturer:
Griffin Technology
Retailer:
Griffin Technology
Requirements:

USB-chargeable devices
Your own charging cables

Pros:

Five USB jacks and five charging bays
Bays fit even a cased, full-sized iPad
Each USB jack supplies 5V at 2.1A, so you can easily charge most tablets
Although it says it is optimized for Apple devices, you can charge most any USB-chargeable device

Cons:

Doesn't come with any charging cables
Seems a bit expensive since it doesn't include cables