We use affiliate links. If you buy something through the links on this page, we may earn a commission at no cost to you. Learn more.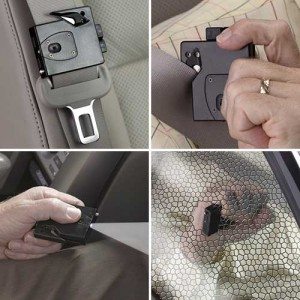 We've covered a few vehicle escape tools in the past and they all suffer from the same problem – the tool probably isn't close by when you actually need it. Although I haven't needed to use one, I do carry one in my gear bag. But if I was in an accident and trapped in my car, I'm not sure I'd rememeber it was there or if I'd have the ability to retreive it. The
CRKT ExiTool has been uniquely designed to solve that problem because it attaches directly to your seat belt with a simple folding clasp. The ExiTool features 3 tools: a seatbelt cutter, a small tungsten carbide window breaker point and an LED flashlight. The CRKT ExiTool has an MSRP of $26.99, but I found it on Amazon for less than $16 with Prime. I am planning to order 2 of them. One for me and my MINI and one for Jeanne and her Kia. Seems like a small price to pay for a tool that is always at the ready.
I've posted a quick review of the CRKT ExiTool.