We use affiliate links. If you buy something through the links on this page, we may earn a commission at no cost to you. Learn more.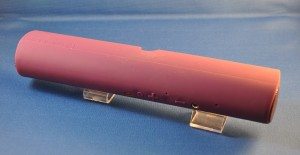 With the change in mobile listening habits from stored music to streaming and Apple's move from their 30-pin connector, we've seen a huge increase in wireless portable speakers. Used to be, everyone wanted an iPod or iPhone dock, but as Bluetooth has become more robust, so, too, have the speakers being offered. Today, you visit any electronics store in person or online, and you'll see an almost endless variety of sound-producing gadgets. Carbon Audio entered this crowded-yet-growing field a while before last year's holiday season with their Zooka, a stereo Bluetooth unit designed to clip onto the edge of a laptop or tablet.  It's designed to provide good stereo separation by having the speakers point out each end of the bazooka-like structure that gives the unit its name. I was sent one in a deep purple/wine color to test.
Note: Images can be clicked or tapped for a larger version.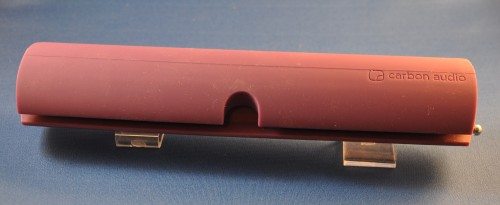 The minimalist box contains the actual speaker unit, a USB-to-microUSB cable for charging the internal battery, and a pictographic instructional card. The unit itself is a tube roughly the length of the long side of an iPad (almost 10 inches, a bit over 420 mm) and about the diameter of an elongated ping pong ball. It's covered in a soft, very touch-friendly rubber/silicone material that gives good grip without being too overly attractive to dust, dirt, and the like.
The first thing you'll probably notice is the slot (.25″ x .75″) running down one side of the unit. This will fit an iPad, the screen of most laptops, and probably other tablets as well. There is also a silver nub at one side that you'll probably think is a button, but it's a stored post, to allow the Zooka to serve as a stand for your tablet, phone, whatever. Just pull that silver knob out, and you'll find a threaded area at the bottom. This will screw into the socket on the Zooka's back, allowing it to support your device in a single position for reading, video chatting, or for whatever reason you'd like to prevent it from moving to another orientation.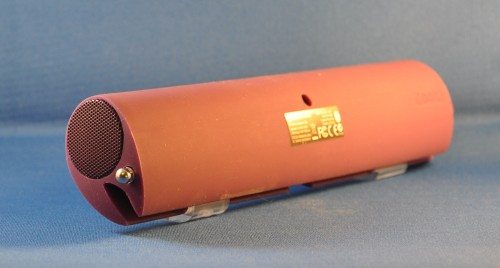 On the front is a notch that will serve different purposes depending on which device you're using it with. If using a laptop, your built-in webcam will use that notch to "see" through. If you're using an iPad, it will prevent the Home button or camera (if used in portrait orientation) from being covered up. In-low light situations, it's a great landmark for you to find which buttons are where.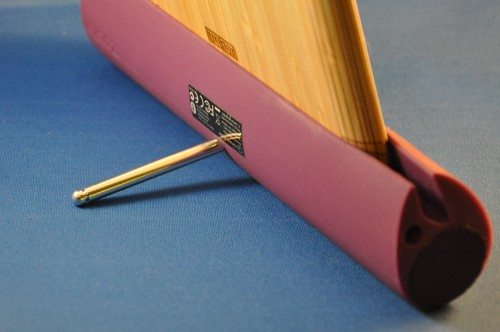 On the side opposite the slot, there are several buttons, lights, and other items. This is the business center of the device. In the center is the microUSB port for charging. Just to the right of this is the Bluetooth button, for enabling pairing. If using with a phone, this button also functions to answer or end calls.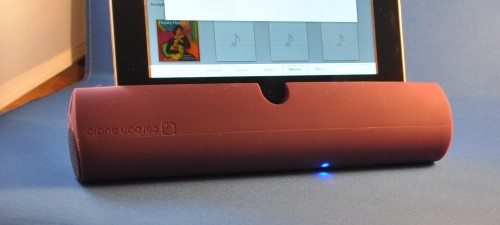 The next button is a large "+" button, with another round push button and a large "-" button following. The round button is the main power on-off button, and the others are for volume adjustment. Just past the volume-down button is an AUX in jack for those wanting to use a non-Bluetooth sound source. A little closer to the near end from this port is a round pinhole microphone, allowing you to use the Zooka as a hands-free speakerphone.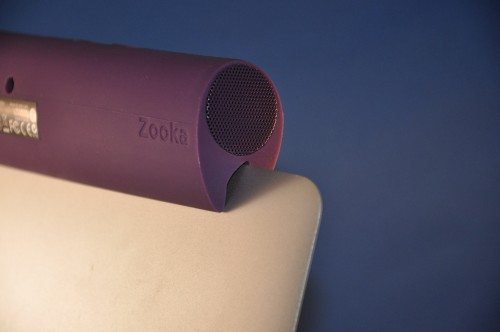 Using the Zooka is fairly straightforward – charge it up, pair it, and launch your music app of choice. In use, I found it sometimes lost Bluetooth connection, and you had to press the button when powering up the Zooka, but that's a small quibble. The fit was tight on my third generation iPad, even though I still have the Toast bamboo cover affixed. My wife's MacBook Air was very loose. It was too tight on my old MacBook Pro (pre-unibody), but my daughter's current generation MacBook Pro (without Retina) fit perfectly. Those are all the computers/tablets I had available for testing.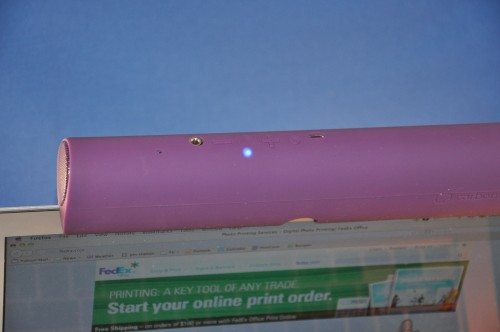 The sound will, of course, depend on the data source, but I found it to be full enough for use while at my kitchen counter or on the deck. I usually use a very small speaker (AvantTree) for these areas, but the Zooka is very much better in most respects. (Of course, it's also $100, to AvantTree's $30).
As I stated at the start, this is a very crowded market. Four years ago, this would have been the most amazing device ever for portable audio, but now, there are so many that the few irritations made me want to consider other options. (Check the links below for many options reviewed here on The Gadgeteer.)
What are the irritations? First, the device is a bit difficult to use. The buttons don't always click on first press. Plus, when it's in the "stand" mode for movies or Facetime with your iPad, the controls are all on the table. That means turning the volume up or down, pausing playback, or re-pairing the Bluetooth connection involves picking up the whole device, or accessing the software controls in the active program. Neither of these are trivial.
The threaded kickstand is nice and performs as designed, but why would you not use the same threading as on a camera tripod (which also happens to be on every lampshade that uses a standard finial) to add more functionality? And the battery life is OK, but I found several times when I had used it just a bit, turned it off, but it was dead in a day or two when I went to use it again. Using a battery technology that drains when not in use is something we've moved beyond, I thought.
All told, I give it three stars. It's a solid performer, with some really creative features, but the basics aren't as completely solved as on many of their competitors.
Product Information
Price:
$100
Manufacturer:
Carbon Audio
Retailer:
various online and in stores
Pros:

Unique shape and design
Decent sound

Cons:

Buttons hidden in one of the planned-use cases
Bluetooth connection not reliable
Battery drains when not in use