We use affiliate links. If you buy something through the links on this page, we may earn a commission at no cost to you. Learn more.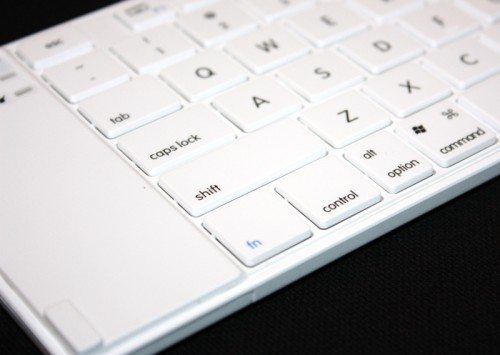 Bluetooth keyboards tend to come in two varieties: a case for a tablet you are using with a keyboard built in, or a universal Bluetooth keyboard that is not device-specific. The Neptor ET-KB300BF-WH Foldable Bluetooth Keyboard for Tablets & Smartphones by Eagle Tech, USA falls into the second category.   It's a portable keyboard that can be used with most Bluetooth-capable devices. Let's see how well it performs.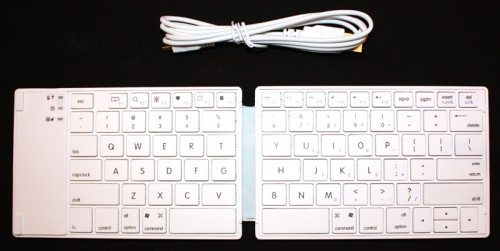 The keyboard is like most other Bluetooth keyboards in that it has an easy setup, and the top row of keys houses the tablet shortcuts such as the home, search, and mute buttons. A number-pad is usable via the number-lock key, which is similar to my laptop keyboard but different than the other Bluetooth keyboards I have reviewed. In fact, I am typing this review on this keyboard from my home computer, to show how versatile this little thing is.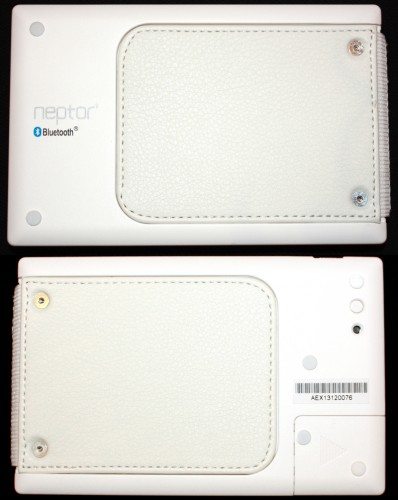 When folded, the keyboard is 6″ wide and 3.8″ high, but when opened up the keyboard is 12″ wide, with an inch of it being where the indicator lights are housed. The outside of the case has a leather and plastic exterior which is lightweight and easy to grip. Small silicone feet help keep the keyboard from shifting around when in use.  The battery unit, power, and Bluetooth connection buttons are on the back, while the front is kept simple with the Neptor logo.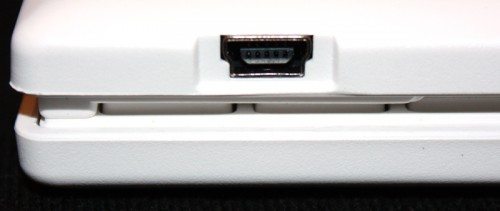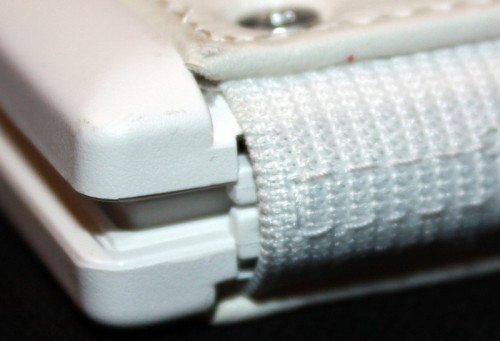 There is a micro-USB port on one side of the keyboard, otherwise it is basic white plastic until you reach the elastic fabric connecting the two halves. This is one of the two places where the style of the keyboard wasn't as good. With the plastic and leather, it looks great, but the elastic stands out and the stitching is pretty visible. Not a major flaw by any means, but style-wise, I think connecting the two sides with the leather would have been a much better (and possibly sturdier) design choice.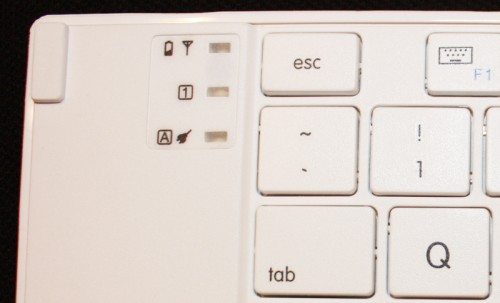 When opened, the keyboard itself measures just over 10.5 inches. This is due to there being a 1.5 inch wide area for the three indicator lights shown above. I am unsure why there is such a significant gap there and the extra half inch of blank white space could have been used to make the keyboard even bigger. Once again, not a big flaw, but another style aspect that could use some fine tuning. There is also a half-inch gap where the two halves of the keyboard come together, which took some getting used to.

Overall, I can see this being a good keyboard for someone who is looking for portability and does not want a case that has a keyboard. At first, I was not enamored by it, but I grew to like it, and my husband did as well. It was so easy to toss into my backpack, and it held up well.  After a month of casual use, the battery still does not need charging. The build quality is great, as being thrown around in my backpack for two trips and coming out unscathed showed me. I would recommend this keyboard if you do not want to use a traditional keyboard case, plus it's versatile and can be used with more than just one type of device, which can save the cost of buying a keyboard case for each tablet you may have in your household.
Product Information
Price:
$59.99
Manufacturer:
Eagle Tech, USA
Requirements:

- Bluetooth-capable device

Pros:

- Portable
- Lightweight
- Excellent tactile feel
- Long battery life

Cons:

- Gap between the two sides of the keyboard
- Too much unused space that could have been better utilized