We use affiliate links. If you buy something through the links on this page, we may earn a commission at no cost to you. Learn more.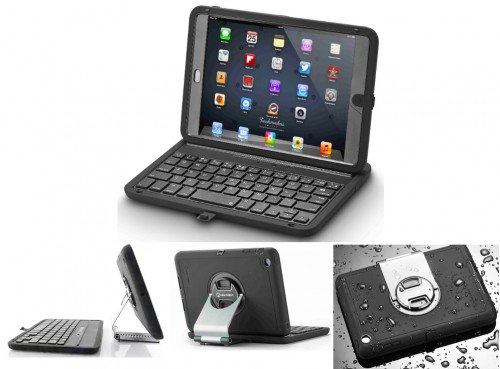 The Airbender Mini : NT31B protective keyboard case for iPad mini from NewTrent has a lot of features you expect in a keyboard case – and a lot that you don't expect.  The mini itself is housed in a rugged clamshell case with built-in screen protector and a silicone outer shell.  The case is a lot like the Hard Candy iPad Mini Shockdrop Rugged Case I reviewed last year, but the Airbender's clamshell case covers and protects more of the iPad mini than the Hard Candy case did.  You'll notice one of the images even shows water droplets all over the Airbender with iPad mini inside (click for a larger view), which implies water resistance to me, but I couldn't find anything about it in the specifications for the case.
The other half of the Airbender is a Bluetooth keyboard, and you'll notice the case is designed to allow a lot of leeway for adjusting the viewing angle of the iPad mini as you work or rotate it to a horizontal or vertical orientation.  You can even completely remove the top of the case from the keyboard and use the mini like a tiny monitor with the keyboard, or disconnect it from the stand and use the mini alone in the rugged case.  It weighs about 9 ounces, and it has a built-in Li-ion battery to power the keyboard.  And by the way, the Airbender case has magnets that operate the iPad mini's sleep/wake functions.
That's a lot of features for a keyboard case, and you'll probably find yourself wondering just how much something like this costs.  After all, the Hard Candy case I mentioned above is $50 by itself, and the Logitech Ultrathin Keyboard Cover I reviewed with the iPad mini is $80.  You may be as surprised as I was to see the complete Airbender Mini case and Bluetooth keyboard is available for $39.95.  That's a bargain for just a ruggedized cover for the iPad mini.