We use affiliate links. If you buy something through the links on this page, we may earn a commission at no cost to you. Learn more.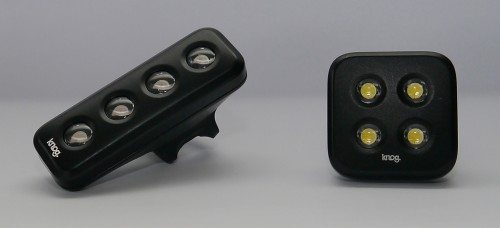 Having given up the cigarettes for almost 10 months now  and feeling heaps fitter,  I decided it was time for me to step up my fitness.  What started as walking to the bus stop just outside the house, turned into walking about 2 kilometres to another bus route, which turned into walking the whole 5 kilometre walk to work each day.  🙂 The trouble is I live at around 250 metres above sea level, and there's a set of steps going down that were playing havoc with me old knees.  What's the solution? Buy a bike 🙂  Now it's just coming into Winter down here, so sunset is around 4:40pm, so I have to ride home from work in the dark and lights are a necessity. Enter Knog, a collection of bicycle-related products designed by  industrial design company Catalyst based in Melbourne, Australia. (Just like the US Gadgeteers, I love promoting local companies 🙂 ) Knog was good enough to send me a Blinder 4 Standard and Blinder 4V for the front and rear of my bike.
This is my first bike in about 20 years, and boy have they changed.  So many choices depending on your usage. In the end, my main use was commuting and fitness riding; you (luckily) won't be seeing me racing around dressed in colourful Lycra 🙂  My choice in the end was a Trek Dual Sport 8.4 with 27 gears, hydraulic brakes – yes, technology has advanced even in bicycles.  Similarly the last set of lights I had on a bike were heavy plastic housing with filament bulbs and big 3LR12 batteries. With advances in technology, lights are now smaller, lighter, have better run time, and have much better brightness for their size. It's worth noting that for bike riding there's two types of lights: to see (to illuminate the track/road ahead of you) and be seen (allows other traffic to know you're there).  The Blinders are primarily to be seen, but the front Blinder will give you some illumination of the road ahead.
Packaging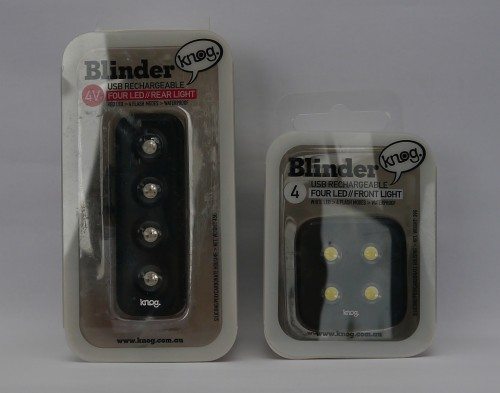 Packaging is nice and neat and not overdone.  It's pleasing to see Knog's packaging is environmentally friendly.  The plastic is PET and recyclable, the pulp packaging is made of 100% recycled sugarcane and is biodegradable, and even the ink is vegetable/soy based.
Design
Here are the Blinders against a more "traditional" type rear light.  While the "traditional" light uses 2 AAA batteries, the Blinders both have built-in rechargeable LiPO batteries.  You can see they're much more sleek and good-looking, at  26 x 76 x 62mm ( 1 x 3 x 2.5 in),  39g (1.4 oz)  for the 4V (rear) and 42 x 42 x 62mm (1.7 x 1.7 x 2.5 in) ,  39g (1.4 oz)  for the 4 (front).
Both use 4 high-power LEDs and are made with  UV-resistant industrial grade silicone, a polycarbonate housing, polycarbonate lens, hard-anodised aluminium fascia, and solid stainless steel MIM latch. They come in multiple colours to match your bike, and the front Blinders come in quite a few interesting patterns. The one I have is the Standard but they come in GT Stripe, Circle and other shapes as well.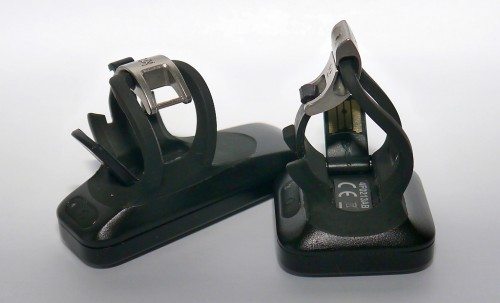 The Blinders have a silicone rubber strap with a closing mechanism much like a watch.  Built into them is a flip-out USB recharge connector.  The units are operated by a single switch; pressing the button for 0.75 secs fires the lights up (which stops they from accidentally firing if they're in your pocket or bag), and a quick press will cycle through the 5 modes on them: Steady, Fast Flash, Organic Flash Slow, Organic Flash Fast, or Eco-flash. The different modes will affect your battery life, and the burn times vary from 3 hours in steady to 50 hours in Eco-flash. The light even remembers the last mode you were in when you turned it off.
An LED on the switch shows when the batteries are becoming low and also shows the status while charge ( red – charging, green – charged). A 0.5 second long press will turn the lights off.  There's even a long-term storage mode which will "optimise" your battery for long-term storage.
Because the units use an internal battery, they're a completely sealed unit and are IP66 rated for water and dust. There are pictures of a Blinder in a glass of water on Knog's web site.
Recharge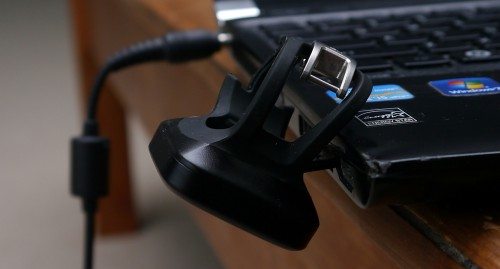 It's nice to have the USB connector built into the light. Flip it out and charge away. One issue with my laptop, however, is I can't actually rest the notebook and light flat on the table. You may have similar issues with a desktop, and you have to be choosy which USB ports you use. If you have a spare USB extension cable hanging around, you'll find it very useful. A full charge takes around 5 hours.
On the bike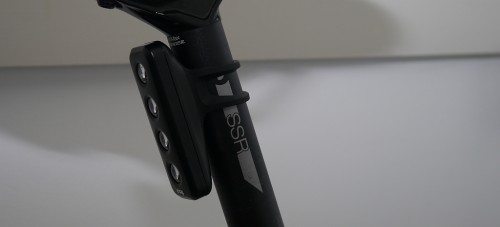 The Blinder 4V is designed to mount on your seat post.  Because of the angle of most seat posts, the Blinder optics direct the light up so that the light shines directly behind you rather than pointed at the ground.


The silicon straps allows you to mount the lights on any tube that's 22 – 32mm (.86 – 1.26 inches)  in diameter. The silicone  means that once mounted, you won't get any slippage and they stay where you place them.  The strap makes it easy to install or remove the lights, so if you've got multiple bikes, it's easy to swap between them.  If you are going to leave your bike in a public place, removing the lights to prevent theft is easy.  You can just throw them into your bag or pocket and easily reinstall on return.
In my opinion they look pretty good and very unobtrusive. 🙂
Let there be light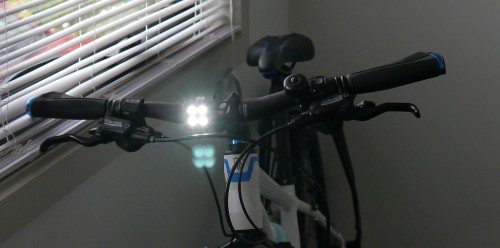 The Blinder 4 is manufacturer-rated at 80 lumen and visible over 800 metres.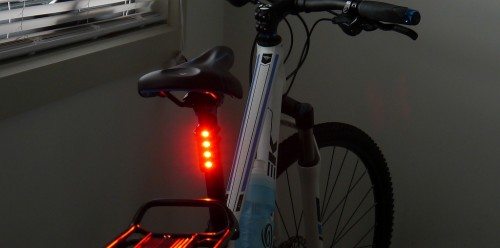 The Blinder 4V is rated at 44 lumens. Not as bright as the front Blinder, but then again you don't want to blind or mesmerize people behind you. 🙂
 Night shots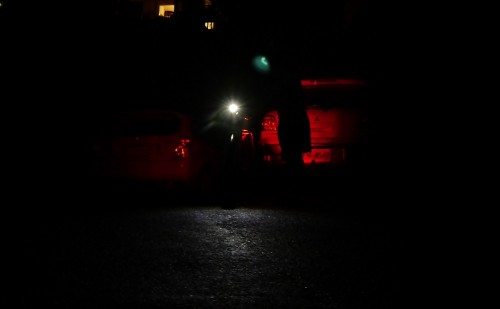 Taken at night with a slight drizzle in the air, here are both the rear and front lights on steady beam. The photos are taken at around 10 metres (30 feet), and I'm slightly downhill of the lights. They're definitely bright enough to get you noticed before that car's right on top of you, but of course having a flashing pattern is going to get you more noticed than the solid beam.
In practical use, even in eco-flash mode (alternating two LEDs at a time) the Blinder 4 will reflect off street signs way ahead of you. On steady beam, it'll light the way ahead of you, but you wouldn't want to be going too fast. At my slow commute speed with street lights around,  it's more than sufficient to let me see that pothole or grate just ahead of me with enough warning to go around it.
It's hard to capture in a photo exactly how bright these LEDs are, but suffice to say even looking at them directly in daylight will leave you seeing lights in your eyes for quite a while.
Conclusion
I do have a concern as to the longevity of the silicone strap – will it stretch in the long run so it doesn't fit properly after multiple installations and removals? Two other things to note is that it's not easy to operate the lights if you've got gloves on, and  the built in strap is made to fit around a circular post so you can't easily attached to other places like messenger bags or rack packs like "traditional" clip on blinkies. I have managed to fix this with my Timbuk2 Hunchback rack bag using a piece of broom handle. 🙂
The front Blinder isn't going to light your way, but it's not made for that. Both lights are made for urban commuting where you need to be visible to other vehicles on the road. (When I need to see where I'm going, I use my 200 lumen Spotlight Shifter 3 mounted on the front bars.. The multiple flashing modes allow you to maximise your visibility and give you some ability to "personalise" the lights. Because these are rechargeable, I normally run these even  during daylight hours just so I'm that little bit more visible.
$50 may seem expensive for a light for your bicycle, especially when you can buy lights out of China off Ebay for MUCH cheaper (the one in the picture above was less than $5).  However, when you consider the design, the quality of the build, the brightness of these light,s and the fact that you won't have to keep feeding these lights AAA batteries (and put the dead batteries into the environment), then that investment becomes a much better long-term value proposition.
For the (lack of) size, brightness, and pure looks, these will become permanent fixtures on my bike. 🙂
Updates 04/21/16
Still cycling and still using my original review Knog lights. In fact I like them so much I've purchased more of them for my (cough cough) other bikes. Batteries show no sign of deteriorating and the bands haven't snapped or stretched.
Source: The sample for this review was provided by Knog. Please visit their site for more info and Amazon to check prices and order.
Product Information
Price:
Each $44.95US
Manufacturer:
Knog
Retailer:
Amazon
Requirements:
Pros:

Small
Light
Bright
Sleek looking
Well built
Built-in, rechargeable battery
5 modes
Easily installed or removed

Cons:

USB charging position
Possibility the silicone might stretch?
Cannot operate with gloves on easily
Not easy to fit to a rack bag, messenger, or other places you'd strap a more traditional blinky
Easily removable :)