We use affiliate links. If you buy something through the links on this page, we may earn a commission at no cost to you. Learn more.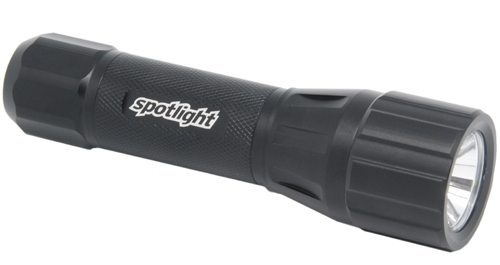 A while ago, I was sent a selection of personal flashlights from Spotlight ( see related items below). Out of the blue one day, a package arrived from Spotlight that neither Julie or I knew anything about.  Inside was their new Shifter 3 flashlight. It's nice when a review item arrives when you're expecting it, but it's even nicer when it just turns up randomly.  I just hope it doesn't happen again, as I've left the address they obviously have on record. :p
While best known for their small and pocketable flashlights, it looks like they're widening their market. I loved their smaller flashlights, so will this translate into the larger and more powerful unit? Read on after the break.
Physical specifications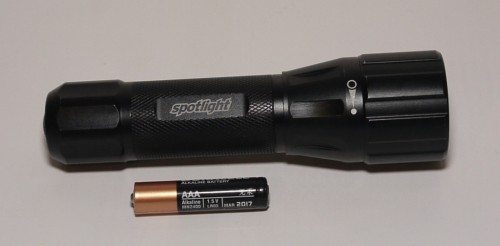 The Shifter 2  is 14cm (5.5″) long and weighs in at 156 grams (5.5 oz), so not that big or heavy. The Shifter range  name comes from the flashlight's ability to go from a wide beam to a tight beam by twisting the head assembly. The manufacturer states it has a 12:1 flood-to-spot ratio. You can see the graphic on the head assembly: twist left for wide and right for tight. From the spec sheet, the ANSI FL1 specs are 200 lumens, 200m range, 3.5 hours run time, and water resistant.
The flashlight is powered by 3 AAA cells (included), and the cells slot nicely into a loading mechanism which unscrews from the back. The individual cell slots aren't actually key coded like most battery holders; remember the negative (flat) side is aligned with the spring. Most of my other torches of this ilk use 18650 batteries; the nice thing about AAA batteries is that you should be able to purchase these off the shelf anywhere in the world should you quickly need replacements.
Reflector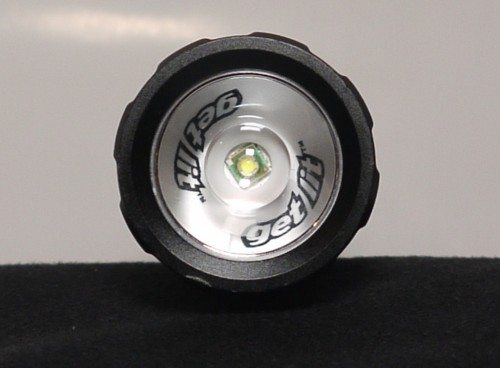 Here are the lens, LED and reflector in wide beam mode. The Shifter 3 uses Spotlight's 2 piece Reflector Lens System (RLS).  Nice touch with the graphics of their logo on the reflector. 🙂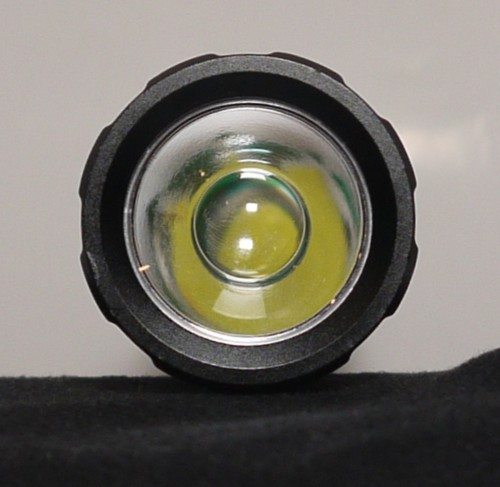 And here's the same assembly once you've turned the head and put it into tight beam mode.
Tail switch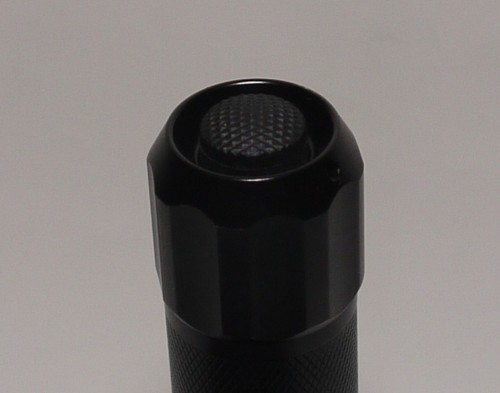 The tail switch is a nice rubber button to switch the flashlight between three modes: High, Low and Strobe.  Each mode is changed by quickly pressing the switch. The torch doesn't have a mode memory, so it starts in High mode every time you turn the light on.  The button itself sticks out from the base so you can't stand this unit on its tail. There's a small hard lanyard point on the tail, but no lanyard is supplied with the flash.
Beam Shots

Here's high beam in both the wide and tight beam.  My hallway is around 6m (18ft ) long.  (You can click on the picture for a bigger version.)  In wide mode, it's really bright, and the tight beam really does have a good bright center.

Here it is in low beam mode. You can see that in wide, the beam is much more "broken" and nowhere near as even as in high mode.  It's still pretty bright, but nowhere as "pure".  In low mode, there's not a lot of difference besides the brightness of the center spot. Here's my trailer, it's probably about 40 + metres away (120″) . You can see that the Spotlight in tight mode does an admirable job of lighting it it up, even at that distance.
Conclusion
I really like this flashlight. Hokay, it's not really a Gadgeteer torch in the sense that it will not easily fit on your keyring or in your pocket or be a lightweight addition to your gadget bag, but that's not the intended market for this sort of flashlight.  It's what I believe is known by flashlight addicts as a "thrower" – a bright flashlight with the ability to "throw" your light a long distance.  And for this purpose, it's a great torch.  The ability to go from spot to tight beam makes it even more versatile.
As mentioned above, I have similar torches based mainly around the 18xxx lithium battery standard, and this torch has the advantages of being able to use disposable cells rather than rechargeables, and you should be able to power up this light anywhere in the world with AAA cells. If you don't use and charge an 18xxx cell regularly, the cell will die, while disposable AAA cells should be good to go when you need them and easily replaceable when they die. You also don't get the electronic hum nor the same amount of heat build up that you get with 18XXX models.
This is in my bedside table for when we have power outs and when I have to walk through bush land in the dark.  It's a nice addition to the 12V Spotlight range.
Product Information
Price:
$54.95
Manufacturer:
Spotlight
Retailer:
Summit Distribution
Pros:

Versatile shiftable beam
Light in weight
Use inernationally available AAA disposable cells
Bright
3 power modes

Cons:

No lanyard supplied
Won't tailstand
Doesn't remember last power mode