We use affiliate links. If you buy something through the links on this page, we may earn a commission at no cost to you. Learn more.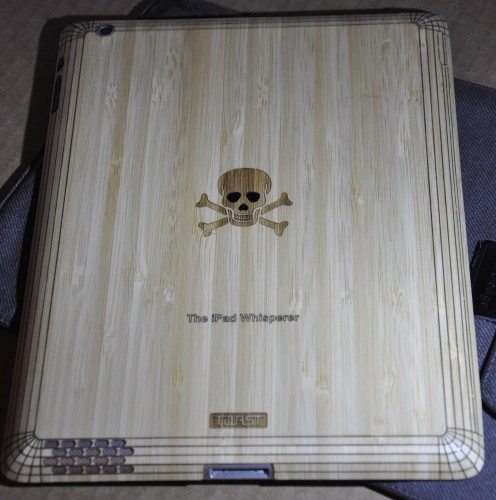 Why is it we feel a need to cover over our gadgets? Designers spend thousands of hours perfecting the look and feel of the enclosures for these little pieces of glass, aluminum, and plastic, and yet, we cover them up in the name of protecting something we'll almost never see. My first iPad rarely went anywhere without a case, but when I got my "new" iPad last March, I went native. I do carry it in a Javoedge slipcase, but use it "naked" most of the time. Lately, though, I've tired of always feeling the cold metal on the back of my iPad and was thinking about some sort of case or cover. So when Julie offered the team a chance to review the Toast wooden iPad cover, I was right there in the front row with my hand up screaming "Me! Me! Pick me!" It was quite embarrassing, so she took pity on me and let me review it.
Click images for larger size.
The Toast covers are very thin veneers of wood, laser scored and affixed to a 3M adhesive that allows them to adhere and adjust to the curves of your device. They are made for many of the most popular devices on the market. I chose to have them send me one for my third Generation iPad in bamboo, but they also have walnut and a bleached ash wood. There are several designs available, so due to my location just a few hours west of the scene of Blackbeard's final battle in North Carolina's Outer Banks, I went with the Jolly Roger motif. It arrived in just a day or two.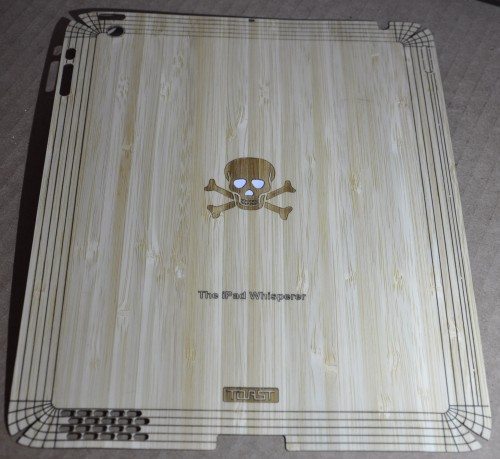 The details of the case can be seen in the photos here. Forethought and precision are the two things that kept going through my mind as I prepared my iPad, smoothed on the veneer, and then folded down the laser-scored flaps over the curved edges.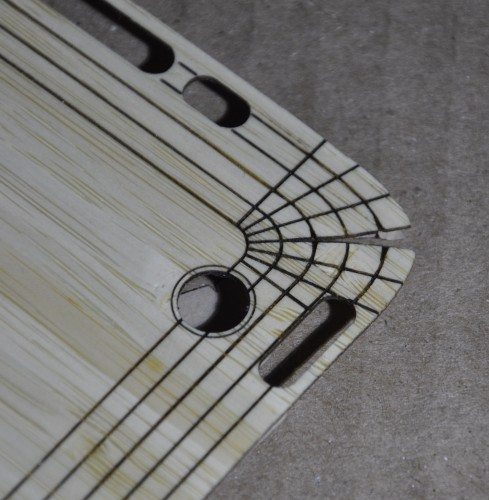 The holes for the eyes and nose are cut out, and positioned to be right over the Apple, which means they glint slightly when you move your iPad around. Nice touch.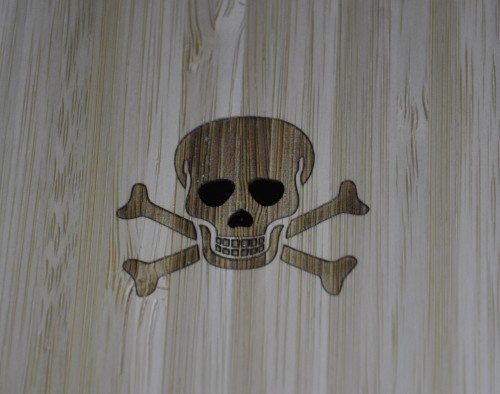 I've left it on for several weeks now, and continue to get comments from colleagues and complete strangers about it. Just last week at brunch, one of the wait staff came over to the Lovely Bride and me and asked about both my JavoEdge case and the Toast cover. When I showed her the Jolly Roger, (which was hidden by the stand), I thought she would faint! She just gushed over them, and even wrote down the website info for both. And this was in a nice French café, where we were sitting at the bar, not in a food court or a coffee shop. When presenting, my class gives me oohs and ahhs if I tilt it up for them to see. All my colleagues at work think its quite nice.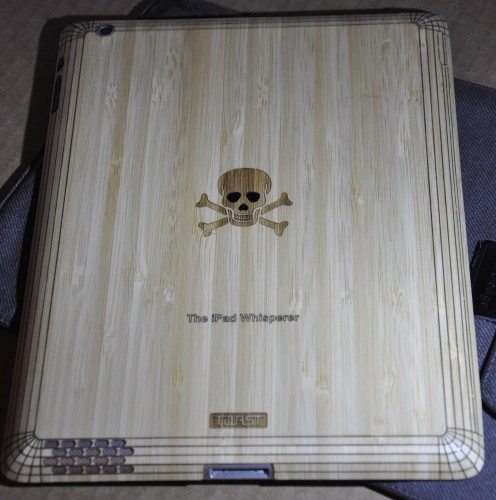 Installation is a breeze: you just make sure the back of your iPad is clean, place it glass side down on a sturdy surface with the volume buttons facing you. Peel a small part (less than half, more than a third) of the backing from the side of your Toast cover with the volume button cutouts.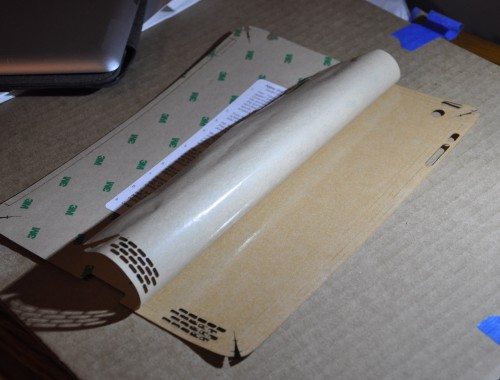 Place the edge with the volume cutouts on, make sure it's straight all the way across, and press lightly to adhere it.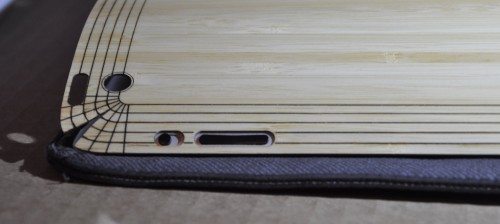 Work your way back across the back (forget the top and bottom for the moment), smoothing as you go. Unpeel the backing as you need to. Once you get to the end, make sure the end folds down and is aligned with the edge there. If it's crooked, you can peel it up if you've not pressed too hard. If it's OK, press down more firmly along the edges, and then bend the top and bottom into place.

This is the point where you will be amazed at the accuracy and the design of the lines burned to allow the wood to bend around your device. The seam where each corner meets looks just like the radial burns around it, making the whole cover look like it's carved out of a single piece of wood, rather than a bent veneer. The precision is amazing.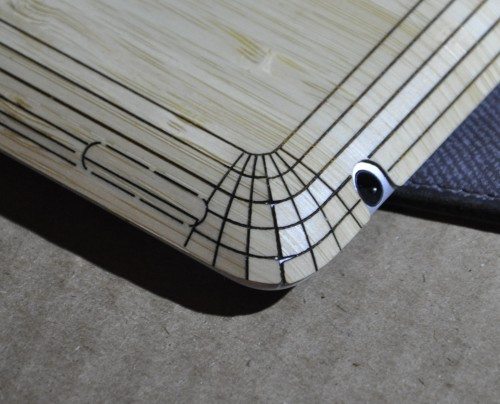 Once it's stuck in place, you'll need to monitor the edges for a few days to make sure they don't try to unstick. After a while, however, it'll stay on and just be beautiful.
For $50, the covers are a bit expensive, but getting a piece of artwork that is this unique and attractive is worth it. As stated earlier, it never ceases to attract attention when I'm using my iPad in public, so this is either a drawback or a plus, depending on how you feel about being approached by strangers. I give this one a solid five stars – I can find no fault with it at all!
Product Information
Price:
$55 as shown. Plain is $45; custom text adds $5, as does design.
Manufacturer:
Toast, Inc.
Pros:

Beautiful.
Unique.
Well-engineered.
May draw undue attention when used in public.

Cons:

May draw undue attention when used in public.