We use affiliate links. If you buy something through the links on this page, we may earn a commission at no cost to you. Learn more.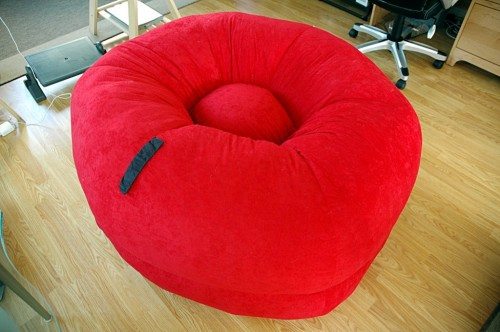 The Sumo Emperor beanbag chair is certainly aptly named. This is a big beanbag chair from SumoLounge. How big? Really big. Like, massive. It's just a beanbag chair, so this isn't going to be the longest review ever. Did I mention it was big? Oh, and it comes in Red, or red. Yep, it's a big red beanbag chair.
Unboxing
Yes, this gigantic beanbag chair arrives in a box. I came home from work to find this big box on the front porch. I don't envy the FedEx guy (these ship from SumoLounge via FedEx, for free) having to drag it to the door. Lifting the box is possible – but you can also just flip it end over end to get it inside. It's not like the beanbag is going to break.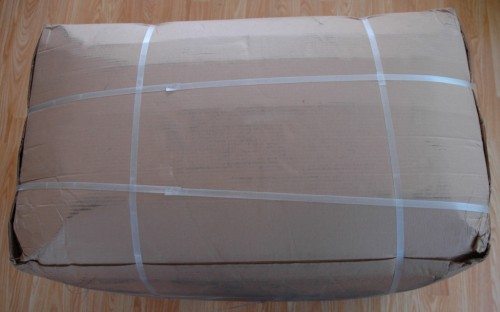 The secret to stuffing a 5'5″ wide, 4″5″ wide, 4″5″ tall beanbag into a box that's 55″ x 25″ is to compress it and vacuum seal it in a bag.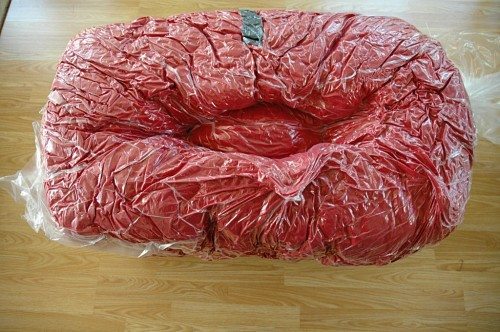 Once you cut it free from the bag, it expands to its full size. I wish I had shot a video of that, it was pretty impressive.
Installing The Bag
Installation is simple. Find a room that has nearly 6′ of free floor space. Drag bag into space. Marvel as dog instantly claims it as his new "napping spot".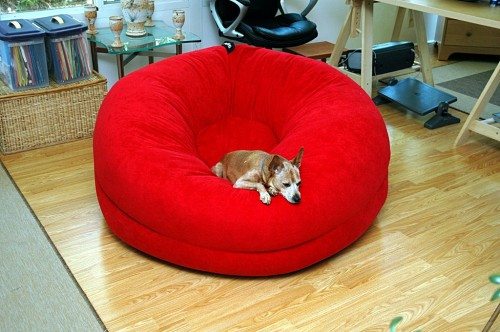 Room for two. Or three.
In addition to the dog (who still pretty much lives in this thing now), my teenager claimed "Bob" (after Bob the tomato, from Veggie Tales) as her personal study space within minutes of arriving home from school. I've managed to spend several hours in the Sumo Emperor – it's a very comfortable beanbag even for the more mature set, while teens and under take to it like a duck to water. And did I mention dogs really like it?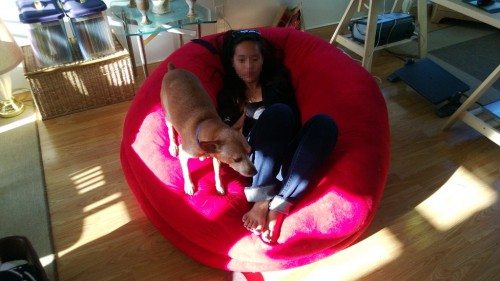 Materials, Compression
The outside, in addition to being very red, is made of ballistic nylon.  This gives it a smooth, plush cloth feel while keeping it "wipe down with a cloth" cleanable.  The plush finish does pick up dog hairs.  (Did I mention dogs love these things?)  The filler is "little white foam balls" of virgin polystyrene.  They do compress (obviously, based on the shipping container!) and will compress over time with use.  Even with the limited use the review unit saw, it's noticeably flatter in the second picture, above (with dog) after several weeks vs. the initial unboxing photo near the top.   Sumo sells replacement/refill bags of beads for $50 a bag, should you wish to refill the beanbag.  A little fluffing restores most of the lift after use, but over time, those wee balls of foam will get squished, and that's the only way to restore them.
Summary
Husband (me): "Love it. Nap in it. Read in it."
Daughter (teen) : "BOB IS MINE."
Dog: "zzzzzz"
Wife: "Um… we're not keeping that, are we?"
That pretty much sums it up. If you have a big area you can dedicate to a large red tomato, the Sumo Emperor is going to be awesome. Seriously, it's a really nice, massive beanbag chair. In California 6′ of floor space is roughly 20% of your total home square footage – the beanbag lived out on our porch for the review. The porch is 30'x 12′, and the Sumo took up about 1/6th of it. Well, not quite, but it seems like it. It was easy to keep clean, and could be dragged around by the kid. It's not cheap (at $249), but it is both comfortable and durable. It's actually made in the USA, too.

Product Information
Price:
$249; $50 for replacement bag of filler
Manufacturer:
Sumo
Requirements:

6 feet of clear floor space
Someone (or Somedog) to sit on it

Pros:

So Red It's Almost Cool
Comfortable
Roomy
Soft
Easy to clean
Attracts Dogs

Cons:

Huge
Massive
Able to pull smaller moons into orbit
Filler compresses over time
Heavy, too