We use affiliate links. If you buy something through the links on this page, we may earn a commission at no cost to you. Learn more.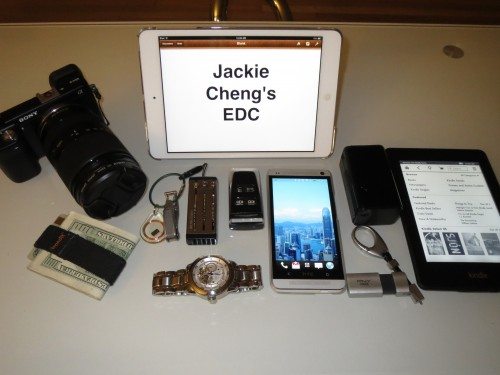 My EDC is actually pretty light compared to a few years back when I carried extra things like a laptop and loads of paperwork.  I have 3 businesses in 3 different locations so it wasn't ideal to always have to carry so many things around, even though the car would be the one carrying it.  So a few years back, I decided to have my businesses go paperless, and that changed everything!  Now I just use my iPad mini with LTE to VPN into the corporate servers to access everything, including security systems, audio/visual, security cameras, and all the files that I need.
Apple iPad mini 64GB with LTE – Does everything that I would ever need on the road.  Complete access to the corporate servers with full control of the smart office.  We even have a custom corporate app that we designed to streamline everything.
Sony NEX 6 with 18-200mm telephoto lens – I recently sold my NEX 5 and upgraded to the NEX 6 because of the added features of a standard hot shoe and electronic viewfinder.  Also, the new 18-200mm telephoto lens takes amazing photos!
Bandit wallet – I've used this many years, but they have discontinued making it.  Simple and works great!
NFC key fob – Used to access doors and login to systems in the office.
Gerber keychain multi-tool – I picked this because of the small size, and it has been useful in many occasions.
Keyport – Holds 6 keys in a sturdy and light slider case.  I also backed their version 2 design on Kickstarter.  Can't wait to get the new one!
Aston Martin Vantage 2013 crystal key – vrrrmmmm vrrrrmmm
Bulova Mechanical Watch – Self winding so no batteries are needed…ever!
HTC One Developer Edition – My first real Android phone.  Works amazingly well so far and definitely an upgrade from my iPhone 4S.  Got the developer edition because I didn't want the AT&T branding and bloatware, plus it came with both factory SIM and bootloader unlocked!
PNY 128GB USB Flash Drive – I put 3 partitions in this USB drive: 1) Ubuntu for quick bootup to access internet and mail; 2) Mini Windows XP for Windows proprietary applications; and 3) data drive for all other things.
TYLT PowerPlant – Comes with 5,200 mAH to keep my electronics all charged throughout the day.
Kindle PaperWhite 3G – I enjoy reading when I relax, and this Kindle is the best one for it so far.