We use affiliate links. If you buy something through the links on this page, we may earn a commission at no cost to you. Learn more.
I have not one standard geek bag, but three! I have a favorite for work, a different one for days off, and, if I'm taking my lunch to work, I have my required condiment and tools selection. Let's start with the last mentioned – my lunch kit.
For a wedding present several decades ago, my Lovely Bride and I were gifted with a combination salt shaker and pepper mill. We've taken to only having this type pepper/salt dispenser for the past three decades, and it's a hard habit to break. So, one of the things in my lunch kit is a pepper mill. I added a salt grinder, just because the larger chunks are more readily tasted, and some hot sauce (Tabasco original red, of course!). Add in two implements of consumption (a Titanium spork from REI and an Opinel Number 7 wooden-handled folding knife), an insulated bag, travel coffee mug, and water bottle, and you've got the whole kit. Great for chopping up a salad, wolfing down homemade chicken and quinoa crock-pot recipes, or whatever leftovers have been haunting the fridge, plus cutting into fresh oranges or kiwis to keep this geek nourished.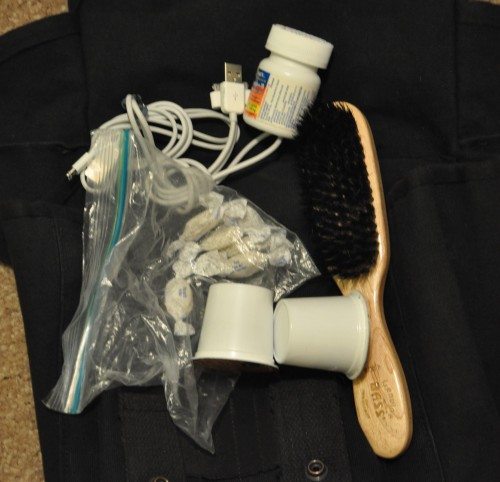 In addition to my lunch bag, on work days I traditionally carry a Rothco Canvas Map Case, which I have yet to publish a review of. This has been my trusty field bag for about a year, and I think may turn out to be best-in-class for my needs.  Into it I can fit bottles of pain reliever, cough drops, hairbrush, random cables for work, K-cups for the break room coffee maker, as well as my two trusty items – a Cocoon 9×7 Grid-It and my third-generation 64 GB iPad.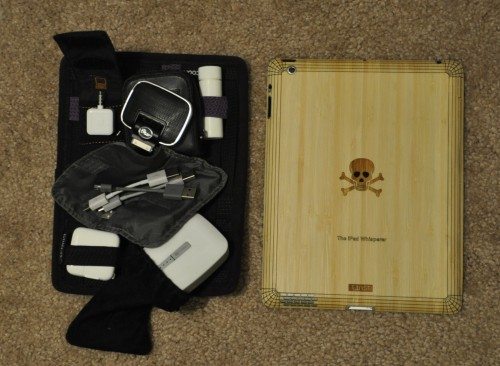 The Cocoon lets me easily transfer most stuff between my work bag and my day-off bag, which is a Tom Bihn Medium Cafe bag. The Cocoon holds cables for almost anything, in the form of the Incase USB Mini cable kit. I also have an Apple iPad charger strapped in, along with a few small cases containing a Square dongle, a Blue MikeyD, and an iPad Camera Connection kit.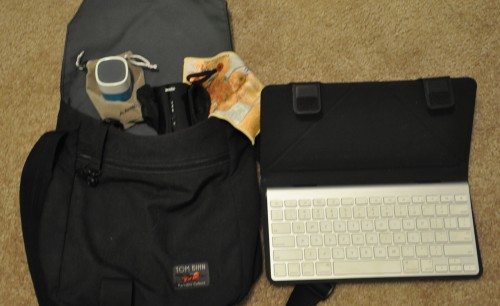 The Cafe Bag keeps this and my iPad safe, and has room for the InCase Origami Workstation, which holds the Apple Bluetooth keyboard that I usually carry along for writing on the run. My day-off bag also usually has my Avantree Bluetooth speaker and a Tekkeon battery backup.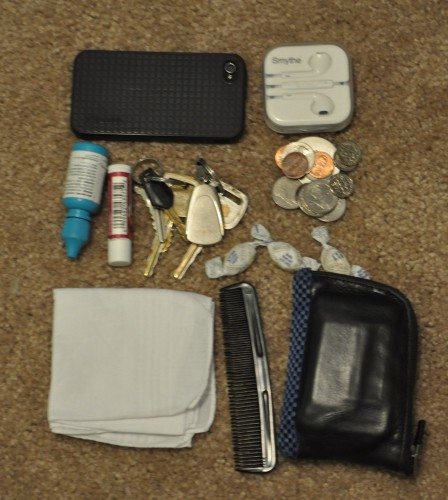 Being the Southern Gentleman that I am, I've carried a pocket knife on my person since grade school. My current model is a Victorinox Swiss Army knife "Deluxe Tinker" model, which I carry along with keys on a split-ring, along with eye drops, chapstick, comb, and handkerchief. A few Christmases back, Julie sent us a nice Waterfield wallet, which I still carry with cash, cards, and receipts. I also carry my Apple Earpods in their case and my trusty iPhone 4s in its Speck Pixelskin HD case.