We use affiliate links. If you buy something through the links on this page, we may earn a commission at no cost to you. Learn more.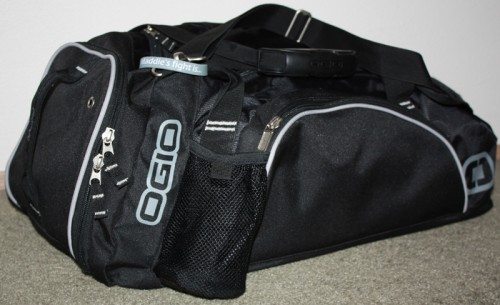 Others have posted their everyday carry bags, so I thought I would post mine as well. However, I am a homemaker who focuses on karate, so my EDC bag is much different than my fellow Gadgeteers.
I do not have a backpack or special bag for everyday; I just use my purse. It's boring and holds basics, so not worth writing about.  Since I go to karate several times a week, Julie thought it would be interesting for you all to see my everyday karate carry bag, since it's the closest thing I have to a true EDC bag. So, here it is!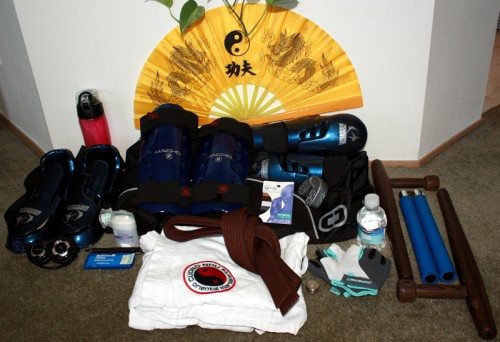 OGIO Gymbo Duffel Bag – Sadly, it's discontinued, but it's simple with three pockets and a water bottle holder. I wish the side pocket was a little bigger so I could separate my uniform from my gear, but it does its job well.
Random water bottle – I lost my water bottle and this was given to me to replace it. I would welcome some good ideas for a replacement!
Macho kick, punch, and shin guards – Extra padding so I do not hurt my sparring partners on accident.
Cheap 99 cent mouth guard and case. Who would have thought the cheapest one fit best?
Tonfas, nunchaku, and fan – These weapons change based on what I am working on. I also have a set of sais that I take along.
Lightweight Century karate uniform (gi) and belt – I choose the lightweight over heavyweight because of the fabric. The lightweight just feels better to me.
Deodorant, Band-Aids, extra water, and hair ties – These are in case I forget something at home. All but the Band-Aids are vital every day!
Kinovo BTH220 Bluetooth headphones – These are great while lifting weights. No cords to get caught in, and cheap, so easily replaceable.
Rejuvenation Women's Pro power gloves (size small) – I must keep my delicate hands from getting calluses when lifting weights, and these were the only ones small enough for my hands.
Relic watch with timer and pulse reader – This isn't used much since I do not do spin class often, but when I do spin, its nice to be able to check my pulse and how far along we are.
A pen – No paper though, which I found quite amusing. I must have taken the notepad out a while ago for some reason.
Spare change – The dojo offers snacks and Gatorade for purchase, which I take advantage of now and then.
MultiSac purse – Included inside: iPhone 5, pills, Apple earbuds, wallet, pen, scrap paper, and if I am lucky, there may be money in there.
The weapons, uniform, Macho sparring gear, and mouth guard are all in the main pocket of the duffel bag. The secondary pocket, which is supposed to be used for dirty items or shoes, I use for easy access to my purse, watch, deodorant, and extra water.  The smallest pouch holds the pen, change, Band-Aids, and hair ties. Like I said above, I would love one more storage area for my uniform so I can keep it separate from the sparring gear. I do like the reinforced plastic handle on the bag, though, since sometimes the bag can get a little heavy with my weapons.
So that is it! I tend to keep my gadgets safe at home so they do not get lost or stolen, and I definitely could afford to upgrade a few things – such as my water bottle and headphones. When going out, I only try to bring things I will actually use, so that is why my EDC bag is much different and much lighter on the gadgets.