We use affiliate links. If you buy something through the links on this page, we may earn a commission at no cost to you. Learn more.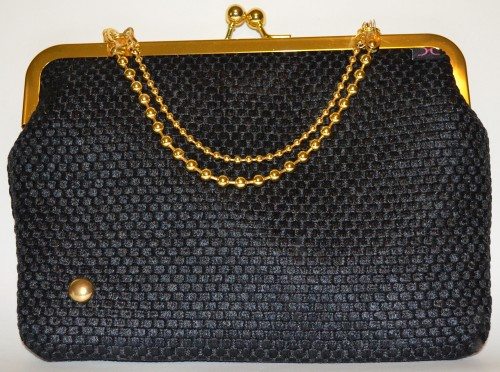 Most cases for tech gear have a certain "look".  Whether it's made of fabric or leather, you can usually tell at a glance that the bag or case contains tech gear inside.  That's fine, if you don't mind having a bag that advertises "expensive gear in here!"  If you prefer to camouflage your gear a bit or have a bag that enhances your "look" for the day, you might prefer a bag that looks more like a handbag than a gear bag.  (Of course, a bag that matches your outfit is going to appeal mostly to the ladies.)  As I said in an earlier news post, Duchess Case is an an Israel-based company that makes a line of cases for women that they say was inspired by "granny wallets".  Their cases do look more like a clutch purse than a gear bag.  I was selected to try out their iPad mini Case.
Click any image for an enlarged view.

Duchess Case bags are handmade in their workshop located in Jaffa.  They say "we take care in every single stage in research, design, cutting, sewing, packing & shipping of our handmade products", and it shows.  The bag I received is beautifully made, without a single loose thread in sight.  The hardware is shiny and clean and works smoothly.
The bag measures 9.6″ wide X 7.25″ tall X 1.2″ thick at the biggest points.  It weighs 6 ounces on my digital kitchen scale.  Although it has "iPad mini" in the name, Duchess says the bag will also work with "Galaxy Tab 2 7.0″, Nexus 7, Kindle, Kindle Keyboard 3G, Kindle Fire/HD, and other 7″ tablets."
At the time I was selected, the iPad mini case was only available in the black fabric with goldtone metal you see here.  They have other colors available now, and you get to select goldtone or nickel hardware, too.  The information on the Duchess website says the black bag has a cotton exterior, but the fabric has a high sheen, and I would have guessed it was a synthetic fiber.  The fabric has a "brick paver" texture to it, with little, rectangular areas of smooth fibers, rather like floaters in a satin fabric.  It almost looks like the bag design has been embroidered on.
The front of the bag is shown in the lead photo.  You can see the bag has a kisslock closure, just like a lot of purses used to use.  This closure works easily, and makes a satisfying "snick", so you know you've got it closed properly.  A couple of chains hang down the front and give the appearance of a double pearl necklace.  According to information that came with the bag, these chains are purely decorative.  You shouldn't carry your bag by these chains; carry it as a clutch in your hands.
The gold stud at the bottom left is also purely decorative.  I can't feel any trace of it from the inside of the bag, so you don't need to worry that the metal will scratch your iPad mini.
The only branding on the exterior is the small label you see in the picture just above.  It's unobtrusive and doesn't detract from the looks of the bag.
Never miss one of our posts again. Sent MON, WED, and FRI with the latest gadget reviews and news!
The glossy fabric gives the bag a sophisticated look, rather like an evening clutch.  This bag could even be used as an evening clutch when you don't need to carry your iPad mini.  It may not work with a "prom" look (my daughter's prom is this weekend, so I've got prom accessories on the brain!), but it would look great with a sophisticated evening suit.  (You could even take your iPad mini on your evening out in case you get bored!)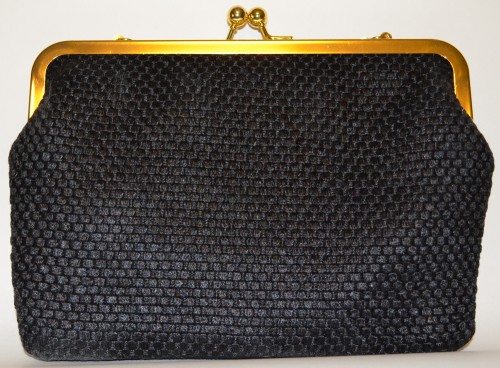 The back of the case is completely plain.  There are no external pockets to carry any accessories.  A lot of tablet sleeves don't have external pockets, so I don't think this is a problem at all.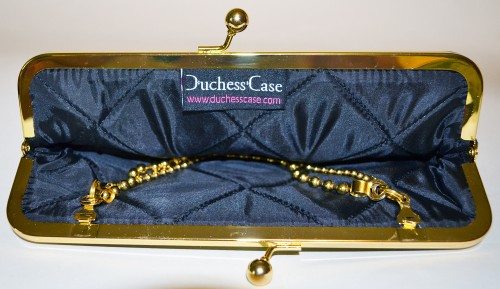 Inside the bag is a quilted, padded fabric that cushions the iPad.  It should be enough to protect the iPad mini against slight bumps.  There's a large label inside the bag.  You'll also note that I picture the decorative chains stowed inside the bag in this photo.  Just like a lot of clutch bags with chain handles, the Duchess case can store the chains inside if you don't wish to display them.  I personally would never store the chains inside when I have an iPad in there.  I wouldn't want to risk having the metal attachment pieces scratch my mini.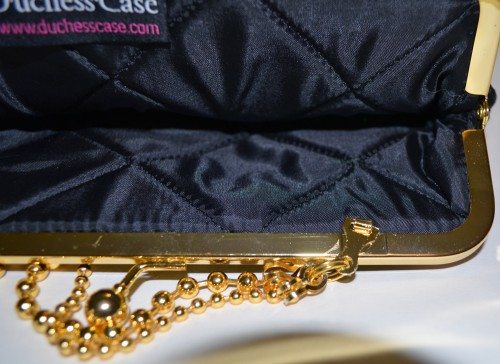 Here you can see the slight groove in the metal frame that allows the kisslock to close securely even when the chains are flipped outside the bag.
These chains are sturdy, and the attachment pieces hold the chain ends securely.  The attachment pieces are hooked onto split rings instead of the normal jump rings that don't always close securely.  It all seems strong enough to use as a bag handle, and I'll admit that I actually carried the bag by the chains a couple of times.  I'm not sure why I'm not supposed to use the chains as a handle, but I guess I'll just use the chains as decorations on the outside of the bag to be safe.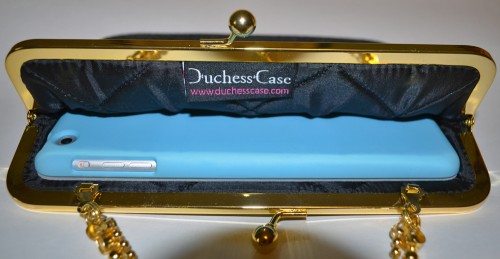 You can see that my iPad mini in its KHOMO Super Slim Smart Case just fits inside the Duchess Case.  The case snaps closed, but I don't think a case even slightly bigger than the KHOMO would fit inside.  Of course, a naked iPad mini fits easily.   There's probably enough room in the bottom of the case that I could also fit in a charging cable or even a small, thin wallet, but I don't like to carry things in the same compartment as my iPad.
The Duchess Case iPad mini Case fits the iPad mini perfectly.  It's sturdy and well-made, and it's padded enough to protect your iPad mini as you carry it in your hands or even in a bigger bag that isn't over-stuffed with heavy gear.  It's for the woman who wants to carry a case that's not at all "manly" or even "unisex" looking.  It's pretty enough that you could even carry it as an evening clutch.  I just wish the chains weren't just decorative.  A shoulder chain would also be a nice option, for those times you need to keep your hands free.
Product Information
Price:
$72.00
Manufacturer:
Duchess Case
Retailer:
Duchess Case
Pros:

Fits an iPad mini in a thin case
Attractive case; doesn't look like a business case, but fits into a business environment
Can be carried as a clutch purse when you don't need an iPad case

Cons:

Can't carry it by the chains - they are purely decorative