We use affiliate links. If you buy something through the links on this page, we may earn a commission at no cost to you. Learn more.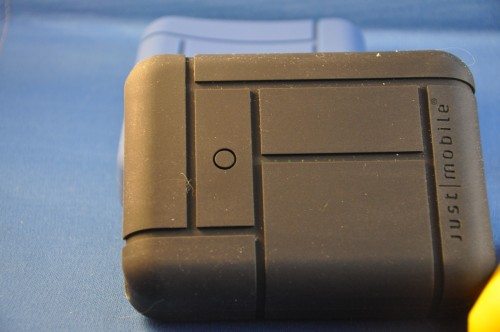 A new entrant into the crowded field of portable power supplies has recently arrived from a trusted mobile vendor – Just Mobile.  It sports some unique features without missing any of the standard items. The Gum Max Duo (GMD) is Just Mobile's  top-of-the-line USB charger, and it packs quite a wallop: 11.2 Amp/hours of power! Let's take a closer look.
All of the photos in this post can be clicked on for a higher resolution version.
First off, I should explain the name. The "Gum" comes from the included rubber covering. The "Max," I'm guessing, is that it's the most charge for its size on the market – we'll see if that's true further on. And the "Duo" means that the two standard USB ports actually provide two different amperages – 1 amp (as you'd get from an iPhone charger) and 2.4 amps (as from an iPad charger). While these ports can charge any USB devices, I'm just using the conventions as printed on the box – "the supercharged backup battery for iPhone and iPad." The lettering is a bit faint, but the amperage ratings for each port are indicated above them.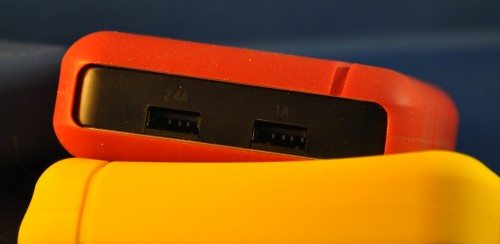 There's very little inside the box: the device itself (silvery sleek, but covered in a removable black rubber skin), a few printed materials, and a single USB to microUSB cable about 10″ long. The GMD isn't much at first glance, but then you pick it up, all 11.9 ounces of it. It's a weighty piece of tech, and its heft tells you that you're not going to have to worry about it breaking. The gum rubber skin (which comes in black, but is also available in blue, red, and yellow) covers all but the front two ports and the rear charging port. The button has a pass-through knob molded into the skin, and the LEDs shine through a thinner part of the skins. The skin is not really protection so much as grip and texture. The slick surface of the unit is a bit much like holding a hunk of glass, but the Gum case makes it easy to pull from a bag, and keeps it from sliding around on a seat or dashboard.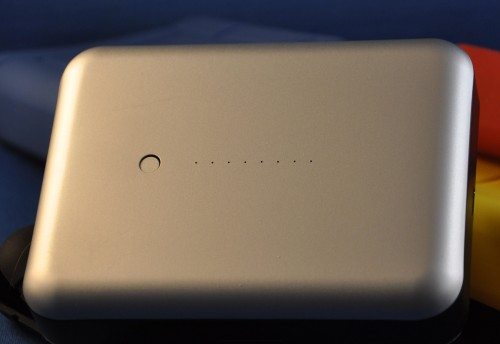 The included cable is a standard USB-to-microUSB, which I find kind of funny, since this device is targeted squarely at Apple device owners, and no portable Apple products use the microUSB port. (The AppleTV has one, but it's only used if normal setup fails.) If you have any other type of USB device, chances are it'll use this plug, and you will only have to bring this cable along to charge the GDM itself or to top up your device from the GDM. If you're really using it with an iOS device, you'll need the USB cable that came with that device to charge from the GDM.
Gadget rechargers are the next new thing for every company in the world to make, it seems. I have seen them from the size of a small tin of mints to larger than a standard card deck, and those that must be plugged in or that only hold regular batteries to get the proper amount of power. I've even seen some that are "hardened" for outdoor use. But, as many here on the Gadgeteer team can attest, they are quite handy to have, and having more than one for various forays out into the world makes sense – lighter weight for short trips or a single device, bigger ones for longer trips or more devices, etc.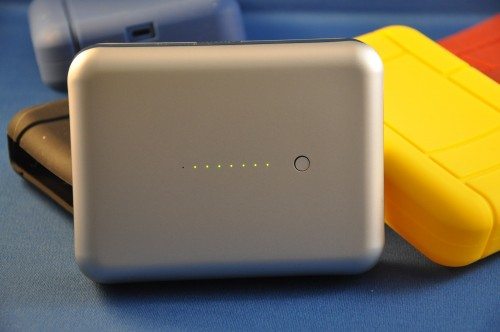 In use, I found the Gum Duo Max almost impossible to drain in a normal day, or even a normal week. I can deplete my phone before quitting time most days, and if I have evening plans, I need to make sure I recharge at lunch or just after work. Having a powerhouse like the Gum Duo Max is nice, especially since it'll charge both my iPhone and my iPad – at the same time. For the devices I tested, (my iPhone 4s, my wife's 3Gs, a Bluetooth speaker, my daughter's iPhone 4s, and my 3rd Generation iPad) the recharge times seemed about the same as when plugged into their factory chargers. My daughter was helping us with some cleaning one evening, and said "My phone's dead." I plugged her 4s into the GDM, and in less than an hour it went from under 10% to over 95% charged. That  cost me one LED of the eight on the GDM's power scale. You just plug the device into the GDM, press the small power button and make sure those LEDs show there's a charge, and you're done. Soon the LEDs go out, but it still charges until you unplug it. Even with both ports in use, it still seemed to deliver a great charge to the devices connected.
I especially liked the reliability of the charge on the GDM. Some batteries lose their charge after a few days of not being used, but the Just Mobile device kept a full charge, even when not used for a week or more. That's an important point for a back-up battery. You want to know it's going to be ready, even if you don't use it for a few days or so.
After a few weeks of constant use, I have found that, heavy and bulky though it is, the Gum Duo Max has earned a permanent place in my travel kit. It's not needed in my limited day-to-day travels, but I now keep it in the car for emergency and travel use. On those days I forget to charge during the day, and need a boost in the evenings, it's there and ready. When I travel out of town, I know it'll be there to accompany me off the grid, keeping my electronic goodies full of juice and ready to perform.
Updates 04/23/15
I reviewed this two years ago, and have used it constantly the entire time. I'm currently spending two weeks in Italy, and it's sitting out in the car, while I'm in town, enjoying a leisurely Sunday lunch. Still lasts for weeks without needing a charge if I don't use it, but can easily charge up an iPad or phone or whatever multiple times without running it down. I don't think I've ever gotten it below 50%, come to think of it! Yes, it's heavy, and it's not tiny, but it's well worth the weight.
Five stars – heavy-duty Gadgeteers all need this thing!
Product Information
Price:
$130
Manufacturer:
Just Mobile, LLC
Retailer:
various online and in stores
Requirements:

USB charger, and a device that needs a USB charger.

Pros:

Powerful and long-lasting.
Small (if heavy) form-factor for the amount of power.
Eight LEDs show how much power is left - not just one or two.

Cons:

A bit pricey (half of a subsidized top-of-the-line phone).
Heavy.