The Gadgeteer is supported by readers like you! If you buy something through links on our site, we may earn an affiliate commission. Thank you! Learn more.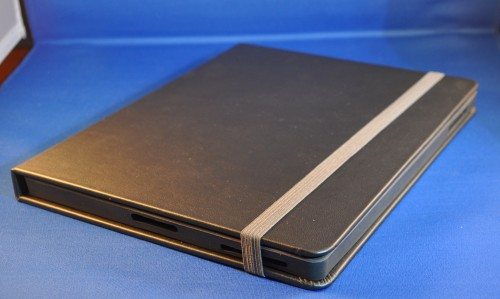 Like it or not, iPads have become ubiquitous. We see them everywhere, in food courts in the hands of toddlers, in schools, as cash registers in coffee shops and restaurants, and in that last bastion of low tech, the business boardroom. I read the other day that somewhere north of 90% of all Fortune 500 businesses were deploying or have deployed iPads. In formal business settings, that bright flowery case or that ruggedized military spec case is going to be quite out of place. For this reason, the folks at iDreamcase have recently added the iDreamcase for iPad 2/3/4 to their line of protective cases. They offered one to the team, and I was chosen to review it. I was sent a black leather model, with a camera hole on the back.
All images in the review can be clicked for larger sizes.
The iDreamCase comes in your choice of five colors: Crimson, Ivory, Sand, Burgundy, and Steel. In hand, the case is very lightly textured, with a soft, satiny feel. An elastic strap is affixed under your iPad, and circles around each side to hold the front cover closed. Despite fully covering and cushioning an iPad, the iDreamCase is somewhat lighter and smaller than their competition. (Their competition has been represented here and elsewhere: the Dodo case, the BookBook Case, the Beacon Case, etc. See the Related Links for The Gadgeteer's reviews of some of these cases.) The binding is handcrafted in San Francisco, and it shows many details that only a master craftsperson brings to bear.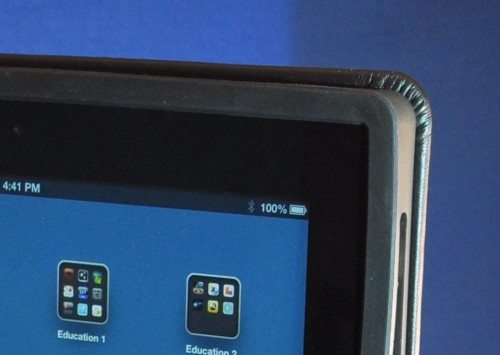 The lining (inside the front flap) is made from the same material as the outside and is tightly glued into place. On the right side is a soft, pliable rubber gasket that holds the iPad very securely. It's not the easiest thing to get the iPad into (there are even instructions!), but once it's in there, it is protected and secure. There are openings molded into the gasket for all the buttons and ports on your iPad. Here's where I began to have issues with the case. The gasket that holds the iPad in place is flat on the sides. It attaches to the base of the case at a right angle. Because of the iPad's design, its back slopes away from the edge. With all buttons and ports on that angled edge, this means that the ports are more guesstimates about where the switch will be. While you can usually get the button or port in line, it can lead to frustration if the microphone is covered or you can't quite flip that side switch.
Another niggle I have with the ports is the camera hole. From what I can tell, the hole is just that – a hole drilled or punched through the back of a completed case. This means that the raw edges are exposed during use to wear and tear, rather than being finished like the rest of the edges.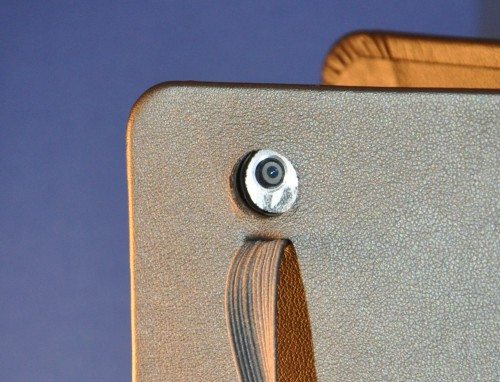 If your use of the iPad is going to entail taking notes, typing emails, or otherwise doing more than reading or watching, you're going to find that this case, like it's competition, has little going for it in typing angles. It's a case, it looks good, and you can open it like a book and read/watch stuff on your iPad with it on. Like many who buy an iPad thinking "this is a content consumption device," you may be in for a surprise though, as you start actively researching and writing with it. And, at that time, this case may start to be an irritation. It'll still be well made, still look good, but it'll drive you crazy when you're trying to type and it's flat on a table, rather than at an angle.
No one I know walks out of their home with a naked iPad. Most have some type of folding cover or case. Some, like me, have just a padded envelope that we pull our device from, preferring to use it as designed. Some of my customers come in for help and have trouble freeing their iPad from some massive, multi-piece plastic and rubber monstrosity that has tripled the size and weight of the device in their hands. The iDreamCase, in a way, is a cross between all of those. It's protective, it looks good, and it lets you use the iPad almost transparently (with a bit of hassle through the rubber gasket). If you're heading toward a business meeting, the iDreamCase can help make a good impression, but it's a little more difficult to use than other cases. If you're cool with that, it's easily 4 stars. Otherwise, – well, your mileage will vary.
Support The Gadgeteer
:
The Gadgeteer is supported by readers like you! If you buy something through the links on our site, we may earn a small affiliate commission. Thank you! Learn more.
Product Information
Price:
starts at $60
Manufacturer:
iDreamCase
Requirements:
Pros:

Well made.
Smaller and lighter than many folio cases.
Protects iPad in transit and in use.

Cons:

Can't use easily in typing mode.
Camera hole edges are rough and unfinished.