We use affiliate links. If you buy something through the links on this page, we may earn a commission at no cost to you. Learn more.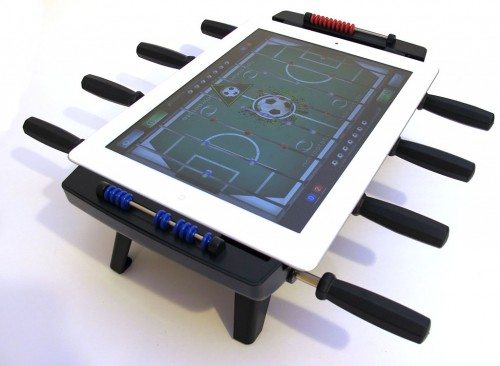 I enjoy playing games on my iPad, but when it comes to action style games, I miss not having physical controls. Virtual controls are adequate for some games, but for others, they just don't cut it. That's why I was excited to accept an offer to review the New Potato Technologies Foosball table. This device turns your iPad into a table soccer game, complete with rods and score keeping beads. 
Note: Images can be clicked to view a larger size.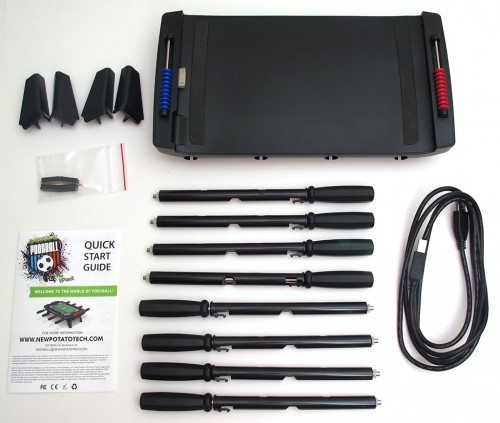 Included in the package
Foosball table
4 table legs
8 rods
USB A-B charge cable
Quick start guide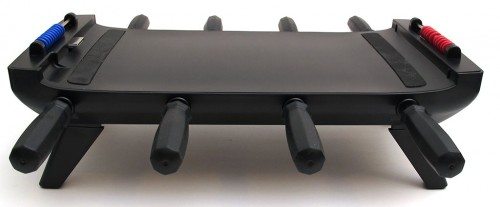 Before you can start playing, there is a little bit of assembly required. The 4 legs snap into the bottom of the table and the rods need to be inserted into the slots. Everything can be disassembled for storage.

The 2 axis control rods have metal bars and elastomer handles which easily snap into the provided slots.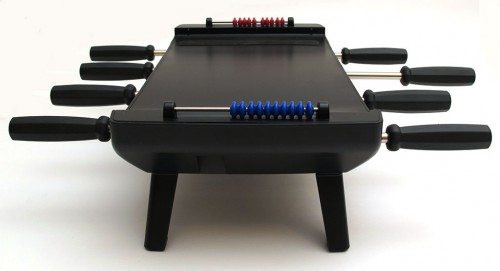 The foosball table is powered by your iPad, so no batteries or external power is required. There is a USB connector built into the table so that you can use it as a charge and sync dock if desired.
The iPad connects to the table through a 30 pin dock connector, so that means the latest iPad version with the Lightning connector is not compatible with this device. Note: the earphone jack is blocked while the iPad is inserted into the table. The power/wake button is also partially  blocked, but still accessible.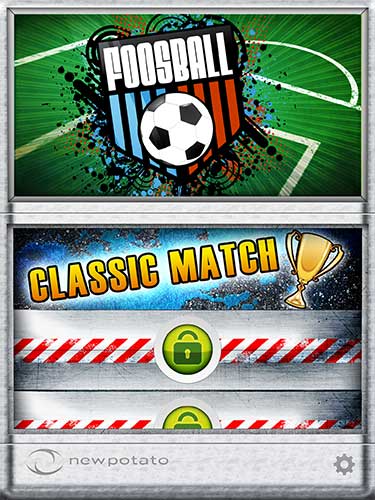 After the table is setup, the next step is to install the free Foosball app which allows 1-4 person play. This app will not allow for virtual control and is not playable without the New Potato Technologies Foosball table.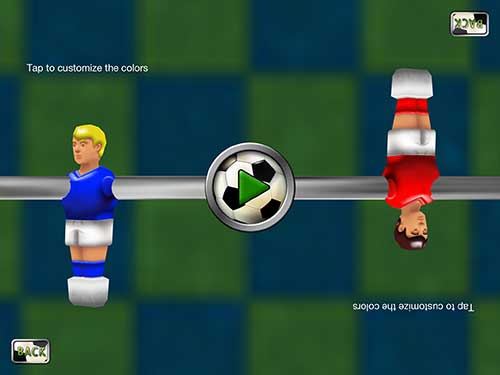 The app is simple to use and understand. You can choose your team's colors…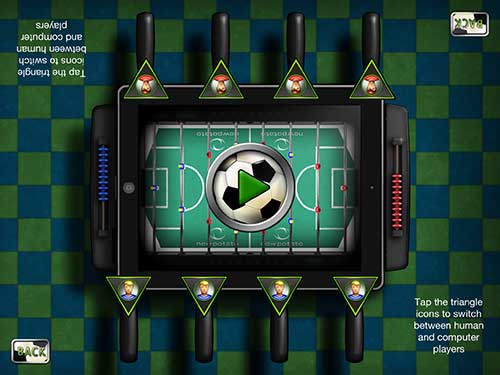 And how many human or computer players you would like to have on your team. In the image above, all the players are human.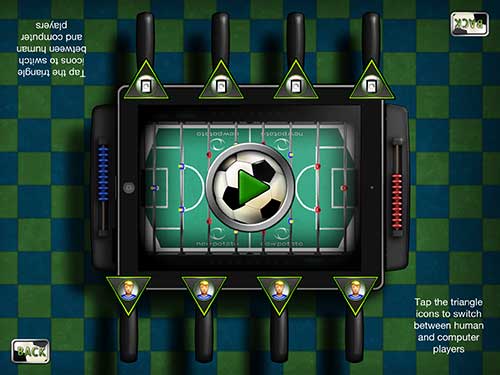 Here one team is human and the opposing team is made up of computer players. Although you can have 1-4 people playing at once, This is a small table, so in my opinion it works best with 1-2 people.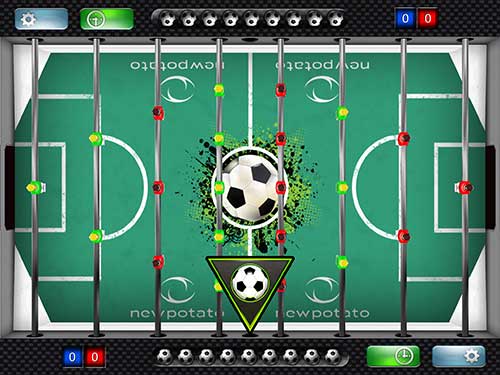 I'm not a soccer or foosball expert, but the object of the game is to get your ball past the opposing team's goalie, scoring more points than your opponent and winning the game. Sounds easy right?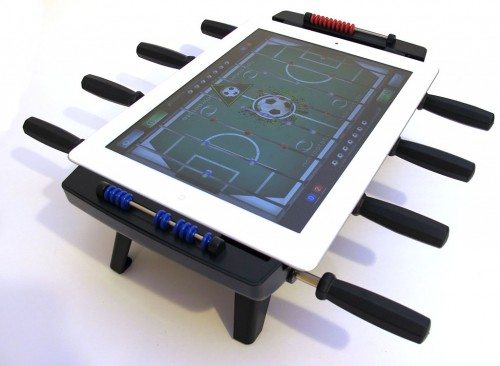 It's actually a bit harder than you would imagine. But I think it's just a matter of practice. The 2-axis controls work very well. That means that you can pull the rods in and out to move your players back and forth, as well as rotating the rods to pivot the players. You spend a lot of time moving the rods back and forth to block your opponent from getting a goal. Rotating the rods allows you to kick the soccer ball.
Although there are physical scoring beads on each end of the foosball table, the app itself also displays the score in real time.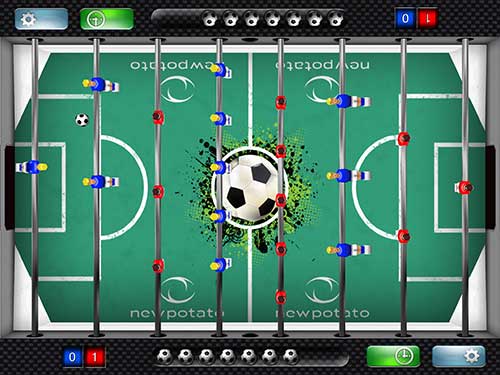 I've played this game by myself against 4 computer players and with another person. Both ways are equally fun. I can imagine the foosball table being a popular party game or as a much smaller and less expensive alternative to a full sized foosball table.
The New Potato Technologies Foosball table is well made, easy to use and makes a fun iPad accessory.

Product Information
Price:
$99.99
Manufacturer:
New Potato Technologies
Requirements:

iPad, iPad 2nd Gen, iPad 3rd Gen running iOS 5.0 (or higher)

Pros:

Easy to setup
Fun to play
Batteries/AC power not required
Can play against another human or the computer

Cons: