We use affiliate links. If you buy something through the links on this page, we may earn a commission at no cost to you. Learn more.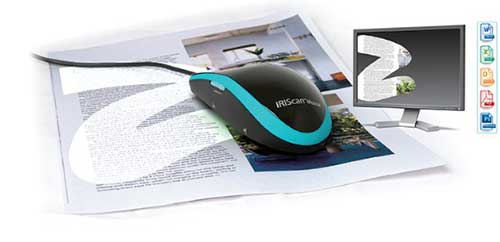 If you're like me, you might not be able to remember the last time you used a fax machine.  I do still need to scan a document every now and then though, so the I.R.I.S. IRIScan Mouse looks like it might be an interesting alternative to a stand alone scanner. First of all, it functions like an traditional USB mouse, but when you need to make a scan, you just press a button and swipe the mouse back and forth across the document.
"IRIScan Mouse users can turn any printed documents into editable, digitized scans with a click of the mouse," said Jean-Marc Fontaine, Director of Sales and Operations, Americas at I.R.I.S. "The IRIScan Mouse is the perfect solution for anyone looking for a simple way to scan anything into their computer. In just a few mouse swipes, a signed contract, excerpts from a book, pictures, receipts and more are instantly recreated on your computer screen without ever removing your hand from the Mouse. The IRIScan Mouse is an incredible time saving tool."
The IRIScan Mouse will scan in 400 DPI and the text and images will appear on the computer screen in real time. OCR technology will allow you to drag and drop the text into Microsoft Office (Word, Excel, Outlook, etc.). At this time, the IRIScan Mouse is only compatible with Windows machines and is priced at $79.