We use affiliate links. If you buy something through the links on this page, we may earn a commission at no cost to you. Learn more.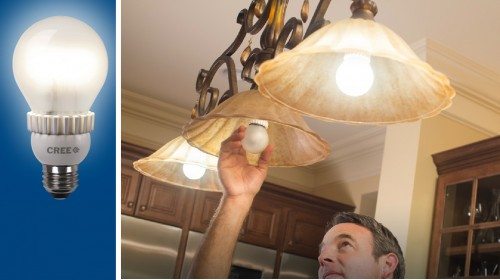 The title of this article is Cree's slogan for their newly released LED light bulbs.  These bulbs look like the normal incandescent bulbs we're used to seeing, so your light fixtures will look like they have normal bulbs in them.  Cree says their "innovative bulb is illuminated by Cree LED Filament Tower™ Technology and provides a compact optically balanced light source within a real glass bulb to deliver consumers the warm light they love and want. Boasting a shape that looks like a traditional light bulb, Cree LED bulbs can be placed in most lighting fixtures in the home."  Unlike traditional incandescents, the Cree bulbs produce the equivalent illumination produced by a traditional 60W bulb but use only 9.5W of power; a 6W Cree bulb that's equivalent to a 40W traditional bulb is also available.  They are warrantied for 10 years and produce 25,000 hours of light – compared to 1000 hours from a typical incandescent.  Unlike some CFLs, the Cree bulbs are instant-on.
The bulbs are available in a 60W-equivalent warm white (color temp 2700K), a 60W-equivalent daylight (color temp 5000K), and a 40W-equivalent warm white (color temp 2700K).  The 40W warm white bulb has a predicted energy cost of about $0.72 per year and has a lifetime savings of $94; the 60W warm white energy cost is $1.14 per year and saves $139 over it's lifetime; and the 60W daylight bulb uses about $1.08 of energy per year with a lifetime savings of $140.
The bulbs are mercury-free, dimmable, and made of safety glass.  Cree bulbs are available exclusively at Home Depot and cost $9.97 for the warm white 40-watt replacement, $12.97 for the 60-watt warm white replacement, and $13.97 for the 60-watt day light.