We use affiliate links. If you buy something through the links on this page, we may earn a commission at no cost to you. Learn more.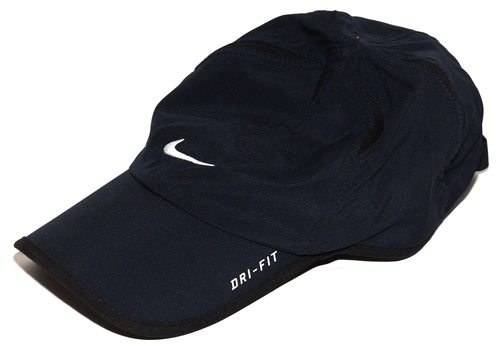 You may be wondering why I am showing a picture of a Nike Dri-Fit baseball hat as my intro image for this review. I agree most hats are not very high tech or gadgety. But in this case, looks can be deceiving. While this review is in some minor part about the hat you see, it is more about the technology the folks at Max Virtual have retrofitted it with. Their Cynaps system is a wireless Bluetooth bone-conduction headset that can be integrated into headgear to listen to your music and take your calls without wires or the need for anything in your ears. I have heard a multitude of opinions on how well this technology works and am glad I have the opportunity to try it out for myself.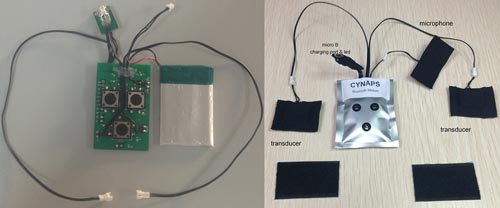 The Cynaps project began as a crowd-funding effort on Indiegogo.com, where they raised over $45,000 of funding to begin their endeavor.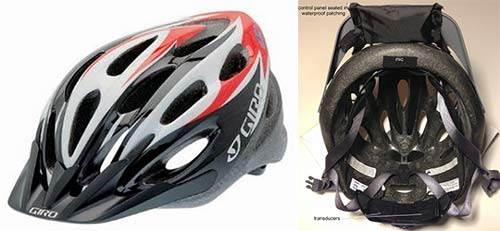 The Cynaps technology is not tied to any single type of headwear; they have integrated it into baseball caps (their Standard cotton model and the Nike Dri-Fit), a Gyro bike helmet, and a rumored running cap. You can also purchase just the connectivity hardware to put in your own gear (DIY). I can definitely see this technology working pretty slick integrated into a motorcycle helmet as well.
Tech Specs:
Battery: 1000mAh
Talk time: 6-10 hours, standby time: 30+ days
Charging time: 3-4 hours
Microphone:  Sensitivity: -36 to -46dB; Impedance: 2.2K ohm; Max Current consumption: 0.5mA; Frequency response: 100 to 10,000Hz
Transducers (each): 0.8W normal, 1.5W max; Resonant Frequency: 16 +/- 0.5 kHz; Frequency: 300-19000 Hz
USB Battery Backup: 2600mAh, 5V 1000mA USB output
Car Charger: 5V 500mA USB output
Headlight Batteries:  Model CR1620 (2 installed in each light)
The physics behind the tech:
"Bone conduction is the conduction of sound through the bones of the skull. Two types of bone conduction are recognized. In compressional bone conduction, high-pitched sounds cause the segments of the skull to vibrate individually. The vibrations, by compressing the bony case of the inner ear, stimulate the sensory cells that are involved in perceiving sound waves in the air. In inertial bone conduction, low-pitched sounds vibrate the entire skull, causing it to move while the suspended sensory parts of the inner ear remain at rest. The effect is the perception of sound, just as if airborne compressional waves were moving those sensory parts while the skull was stationary." – copyright Encyclopedia Britannica online
Sean reviewed the Finis SwiMP3v2, an underwater MP3 player, a few years ago that used similar-bone conduction technology to listen to music while swimming. But instead of Bluetooth, the MP3 player was built into the device itself.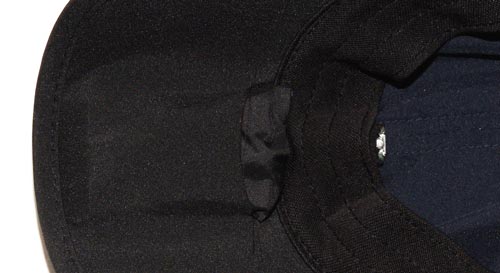 Max Virtual sent me a pre-production sample of their modified Dri-Fit hat for this review. I am assuming there will be a bit more polish on the production version. However, the hat I received is completely functional. The motherboard and battery are sewn into the bill of the cap with the microUSB charging port and LED indicator light positioned behind the inside rim. The motherboard has a control panel/set of buttons that enables you to answer calls, adjust volume and toggle music selection.

The built-in battery is rated at 1000mA, with a theoretical standby time of 30+ days. According to Max Virtual, the battery inside the device promises between 6 and 10 hours of talking and listening to music per charge. I easily got 4-5 exercise events before I recharged the hat. As expected, when using my iPhone, the battery level/status was displayed in the upper right corner of the screen.

Initially the microUSB port and LED light assembly caused discomfort against my forehead but I got better at situating the cap on my head so that I rarely noticed it was there.

The transducers are located on/stitched into the back left and right corners of the rim of the cap. The transducers are meant to be pressed against back of your skull on the bones behind your ear.
Sound Quality/Experience:

Fortunately in our family, we have three different length/thicknesses of hair to test how the bone conduction works. I shave my head, make the Gadgeteer Kid keep his hair at a medium length, and my wife's hair is thick and long. I was skeptical that the hat would work with long/thick hair. But according to both my wife and the GK, it worked just fine and they were able to hear music in their head. One comment of note: during the family's testing of the Cynaps system, my wife developed a headache that caused her to stop using the hat.
With how bone conduction works, what you hear sounds different than what most of us are used to. For me, the Cynaps Dri-Fit system sounds like a slightly muffled, distorted set of speakers inside your skull. I could definitely hear music in my head, but it was not high-quality sound like a nice set of headphones or high-end pair of earphones would give you. That said, as a relatively avid runner and biker, I can see the clear benefit to using this technology while doing either. The sound quality the Cynaps produces may not appeal to many audiophiles. However, being able to wirelessly listen to my motivational music while pounding pavement while still being able to hear ambient sounds around me is a huge plus. This is especially useful for joggers or bicyclists, not only from a safety standpoint, but not having to constantly adjust whatever shaped buds they have stuffed in their ear only adds to the Zen of exercise.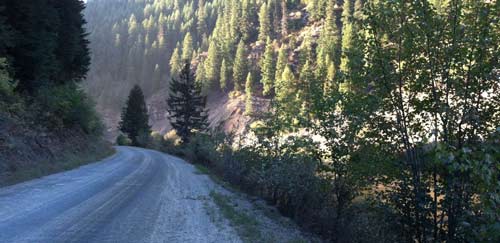 Because you are still hearing via your ears as well, I would not recommend the Cynaps system in loud environments. The ambient noise and music via bone conduction definitely get in the way of each other and sound muddled. I usually run on old, little used roads or along trails (aka not very noisy), where the music is loud and clear enough to be enjoyed while traffic is able to be heard. I did not like using the Cynaps system in the gym (or on a loud running machine) where I would prefer to block out the many noises and conversations going on around me.
Call Quality/Experience:
The Cynaps call quality is surprisingly good both on my end and to those I was talking to. I called several folks who were surprised that I was using the system and at how clear it sounded on their end.
Bottom Line:
The self-install (DIY) kit with all the electronics you need to fit the system into your own hat or helmet costs $50. If you do not want to install the electronics yourself, you can order their Standard cotton or Nike Dri-Fit baseball hat with all the electronic components pre-installed for $60 and $79, respectively. So from a cost perspective, the Cynaps system costs approximately as much as a moderately upper-end set of earbuds.
Max Virtual only warranties their Cynaps products for 3 months, which is too short of a time period in my opinion. I have run and seriously sweated in my Cynaps enabled Dri-Fit hat a half dozen times, and it continues to operate. I worry that my sweat and Seattle's dumping rain will kill the electronics, but that has yet to happen.
I have mixed feelings about the Cynaps.  The sound it produces is adequate, but not great, and it  does not work well in loud environments. Having no wires flopping around or earbuds jammed in your ears are both big pluses for me. If you are a runner and/or biker, it is nice (and safer) being able to hear what is going on around you or zipping by at 60 mph. There are definitely pluses and minuses to this product for sure. That said, I am considering buying one of their self-install kits (or potentially dissecting my Dri-Fit hat 😀 ) to put in my bike helmet for this year's commuting.

Product Information
Price:
Self-Install ($50) / Cotton Cap ($60) / Dri-Fit Cap ($79)
Manufacturer:
Max Virtual
Requirements:

- Bluetooth-enabled device

Pros:

- Wireless streaming
- Enables you to hear ambient sounds while listening to music
- Good call quality
- Nothing in/on your ears

Cons:

- Mediocre sound quality
- Does not work well in loud environments
- Only a 3 month warranty