We use affiliate links. If you buy something through the links on this page, we may earn a commission at no cost to you. Learn more.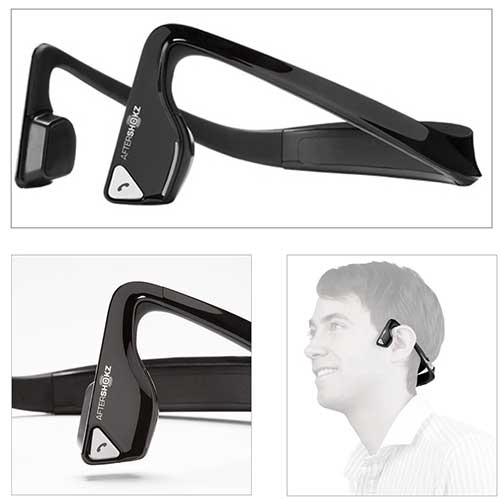 I work in an office environment in IT. I often have people come to my desk to ask questions and I talk to my co-workers next to me in my cube quad. Wearing in or over ear headphones isn't an option for me for two reasons. One, I don't like in-ear style earphones in the first place, and reason two is that I don't like the cut off feeling that over ear headphones provide. That's why the AfterShokz Bluez open ear wireless Bluetooth headphones look interesting to me. They sit in front of your ears instead of in your ears and use open ear bone conduction technology to let you hear the sound.
Unlike conventional Bluetooth headphones and earbuds that use the eardrums to transmit sound, Aftershokz Bluez headphones utilize patent pending bone conduction technology to deliver sound through the listener's cheekbones to the inner ear. This enables anyone using them to make/take phone calls and stay connected to both what they are listening to and the outside world – from warning sounds outdoors while walking or driving to a nearby colleague in an office setting.
You can use the Bluez headphones to listen to music and make/receive calls with your paired smartphone. They are priced at $119.95 which includes a deluxe hard storage case.