We use affiliate links. If you buy something through the links on this page, we may earn a commission at no cost to you. Learn more.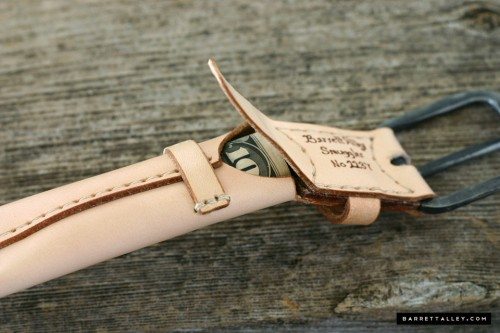 Carrying cash and worried about pickpockets? Need to smuggle that micro-fiche past those foreign border guards? (oops micro-fiche… am I showing my age?)  The Smuggler's Belt from Barrett Alley may be your friend.   It's made of 10 oz (4 mm) US vegetable-tanned cowhide, 1.25″ (3 cm) wide and hand-cut and sewn in Texas and has an individually hand-forged iron buckle.  Each is signed and numbered and has a lifetime guarantee.  The hidden pocket measures 3 cm x 9 cm (1″ x 3.5″) and can only be accessed when the belt is removed.
Because each belt is handmade, you can be assured of a perfect fit, though I'm not sure how much money you'll have left to put in the belt since the cost is $245.