We use affiliate links. If you buy something through the links on this page, we may earn a commission at no cost to you. Learn more.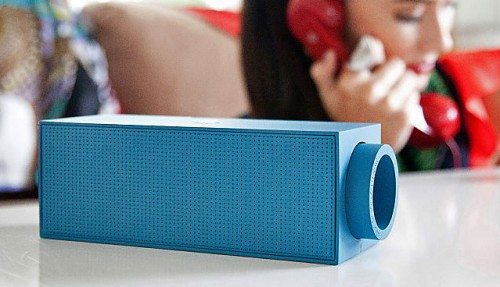 The portable speaker market is getting more and more crowded … and more interesting as well. Jambox, FoxL, Scosche, JBL, Braven, and a host of others are competing for your wallet and coming up with some twists in design and/or features to grab your attention. Native Union is a company you may not have heard of, but they have an interesting and unusual array of accessories for a gadget-filled life. They also make portable, wireless speakers with unique styling. Their latest is the Switch, a Bluetooth speaker that can be used either vertically or horizontally.
This boxy, elongated speaker has an oversized volume/on-off knob and that's about it – at least all that is visible, anyway. Hidden behind a flap are the usual ports: USB, audio in and headphone. The design is minimalist in the extreme. And also quite pretty.
The audio is said to rival the Jambox, meaning that it sounds bigger than it is. Only a review can determine that. However with its lower price and impressive design, Native Union's Switch may just be different enough to well, make a switch.
The Switch comes in red, blue, black, white and gray. It sells for $149.99 US and is available now.