We use affiliate links. If you buy something through the links on this page, we may earn a commission at no cost to you. Learn more.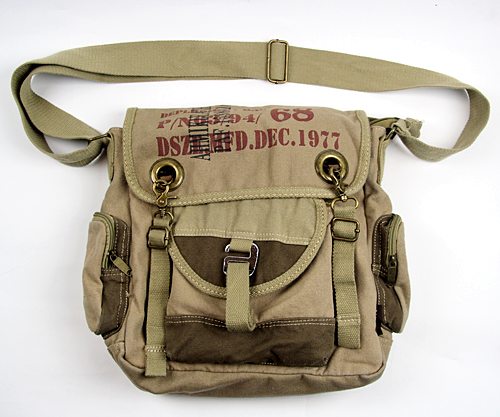 From the days of high school, through community college, til the end of college and when  I got my first real job after graduating college, I was an avid fan of the backpack. Not too much these days though… At my current job,  a backpack just doesn't feel professional enough for me.  Who am I kidding?  I don't feel like a backpack is fashionable enough for me…
When I first received the Army Courier Vintage Bike Messenger bag from Serbags, I thought it seemed kind of small. (The specs for this bag are 12.5″ x 12″ x 4.5″. ) But I realized I was comparing it to my Case Logic messenger bag, which is designed for laptops ranging from 15.6″-17″  inches – so naturally it is a wider bag than this Courier messenger bag. After filling the Serbag with my daily work essentials, it seems like a fairly roomy bag. 
With that being said, I typically use the bag for work, so I carry things like a portable phone charger, some work folders, a small bottle of hand sanitizer, a leather notebook handcrafted by Julie Strietelmeier, a case with my Plantronics BackBeat 906 Bluetooth headphones, some magazines, and a B&H catalog.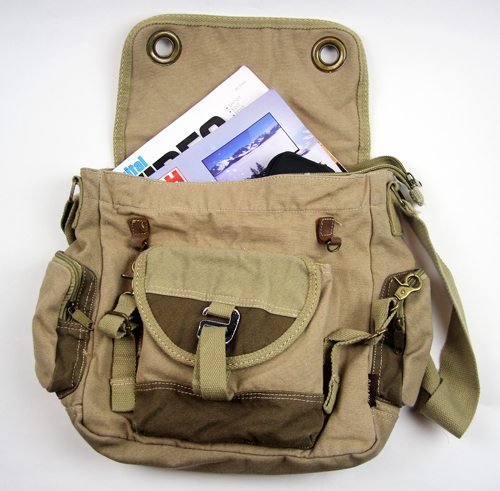 This canvas messenger bag has three external pockets, one on the front and two on each side. Inside are one zippered pocket and two open pockets.
The bag has the typical flap, as many messenger bags do. Unfortunately, that's all it was, just a flap. I wished the flap had an additional zippered pocket on it. You can never have enough pockets.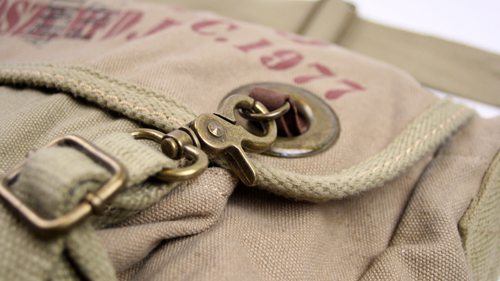 The flap is held down on either side by a metal ring on a leather strip which is inserted through a metal grommet and secured by a metal clasp. Keep in mind that if you are in a hurry and need to run out with your bag latched shut, attaching the clasps to the rings is not very time friendly. It can take some time to thread the leather strips through the grommets on the flap and latch the clasps.  Taking the time to latch the clasps can get frustrating when you have to delicately thread the rings through the metal holes to latch it. So I would just leave the flap unlatched and run out.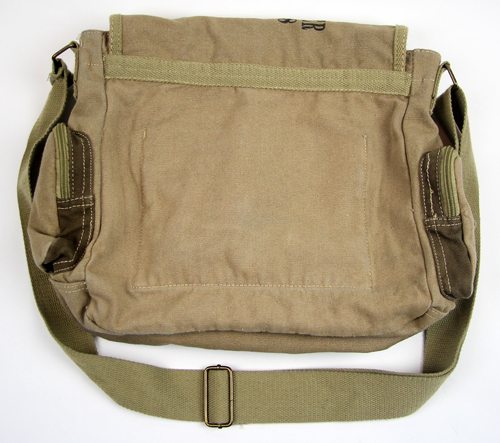 Easily latching a bag may not be important to others, or even necessary, but to me it's the little things like that that can make or break a product. I guess it's a habit I have. Like pushing  my chair in after I eat or putting the cap back on a pen or hanging my keys on the hook. It's just feels complete to do it.
However, all is not lost. Don't think that your personal belongings or other items could spill out if the flap is not secured down, because the bag also has a sturdy zipper to keep it shut. You could leave the clasps unattached, but then you run the risk of the straps dangling and swinging around; they swing pretty freely since the clasps have a good weight to them. But if that doesn't bother you then you're good to go.
The bag has a shoulder strap that can be adjusted to a desired length. It is made of a mixed cotton canvas that is soft and pliable, but it feels sturdy enough to carry various items and weight. The bag expands to accommodate bulky items that will fit inside it.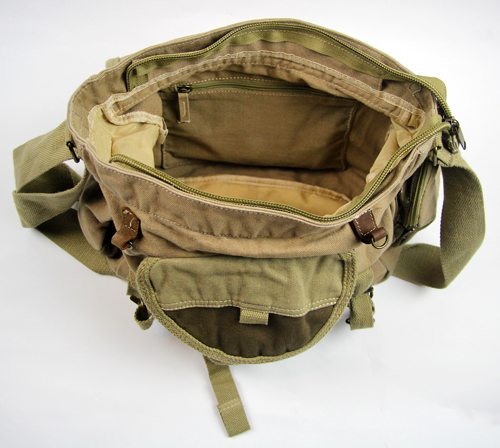 A downside to this bag is the fact that you have to hand wash it. I prefer to throw bags in the washer to clean them. And you can't even put this one in the dryer, if you do hand wash it.
Because of my lifestyle, I just don't have the extra time to hand wash something like this bag and let it air dry if I need to clean it. Believe me, I wish I did have that time. I mean, I would hand wash my clothes and leave them to dry on a string in the back yard on a warm spring day. Maybe not.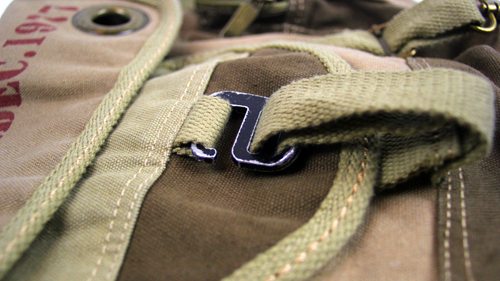 All in all, the Army Courier Messenger Bike bag is fashionable with its neutral, warm canvas tones, so it should go with any ensemble.  It is functional, with an ample amount of pockets and bag space. Although, for me, it has a few trivial issues, but nothing that should hinder the performance and function it was designed for.
Speaking of designs, Serbag has a ton of other designs and models that may better suit you if you desire a messenger bag with a different set up of pockets.
Update 02/19/15
I still use this bag as my camera gear bag when I am out on shoots. Whether at concerts or just doing portraits. It didn't start out as a camera bag, it just ended up that way. This bag has been a workhorse for me. I did come to realize that I could add some padding on the bottom of the bag on the inside for a some extra padding. Although, I always have it slung over my shoulder, I do often place it on the floor so the padding could offer some support for my gear on a hard surface. Even though it's not truly a camera bag I do love the pockets and the room it offers when I stash some gear in it. I can get to my stuff easily and with little effort. It's a great run and gun bag.

Product Information
Price:
$42.99
Retailer:
Serbags
Pros:

Sturdy canvas material.
Expanding interior.
Adjustable shoulder strap.
Zippered main compartment.

Cons:

Cumbersome clasp attachment.
Can't machine wash.
Could use pocket on flap.