We use affiliate links. If you buy something through the links on this page, we may earn a commission at no cost to you. Learn more.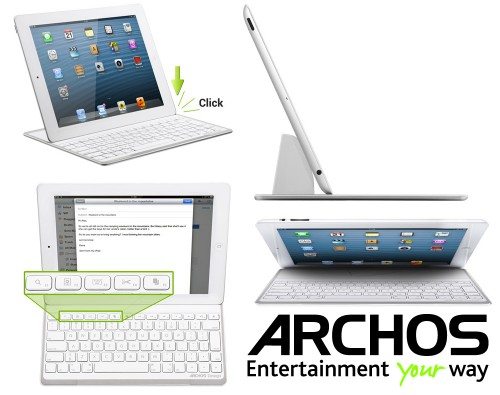 Normally when I find a new product from Archos, it's an Android tablet.  This time, they have a Bluetooth keyboard for us.  The Ultrathin Bluetooth Keyboard for iPad works with the iPad 2 and the 3rd- and 4th-gen iPads.  At 9.48″ x 7.32″ x 0.2″, it's not much thicker than a Smart Cover; it weighs 0.5 pounds. There's a rechargeable lithium-polymer battery inside that Archos says will give you months of typing time between charges, and the exterior is made of brushed aluminum with white keys.  The keyboard uses a variety of magnets to attach it to the iPad for three functions.  In typing stand mode, magnets dock the iPad securely to the keyboard; a supports lifts up from the keyboard to support the iPad at various angles.  Magnets allow the keyboard to close over the screen to protect the iPad when it's not in use.  And finally, magnets in the keyboard operate the sleep/wake function of the iPad.
Unlike another ultra-thin keyboard I tried, the Archos keyboard has separate, actual keys, not just active regions on a flat panel.  It connects to your iPad via Bluetooth.  It's a QWERTY keyboard with function keys for some of the most used iOS commands.  It will be available in March and will sell for $79.