The Gadgeteer is supported by readers like you! If you buy something through links on our site, we may earn an affiliate commission at no cost to you. Thank you! Learn more.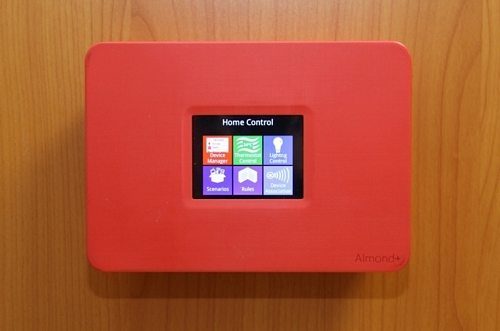 We live in a world now where the advancements in tablet devices allows them to replace the home PC. The problem with this new trend is that home wireless networking has not kept up with the influx of these tablet devices, and most routers still require a wired PC for setup and administration. The Almond+, an 802.11ac touchscreen WiFi router, is trying to change that. The Almond+ is a current Kickstarter project by Securifi. The Almond+ is a WiFi router with a built-in touch screen, the first of its kind according to the web page, that will allow users to set up and maintain a home WiFi network, thus eliminating the need for a PC. But the Almond+ is more; it is also built to be a home automation interface using Z-Wave and ZigBee smart sensor products. Features of the Almond+ include: Gigabit Ethernet, 2.4 and 5 GHz, touch screen, ZigBee and Z-Wave interface.
Almond+ will be actively seeking funding on Kickstarter until March 9, 2013 and is slated to ship in September 2013. Pledges start at $95.00 for a black Almond+ to $129.00 for a Almond+ in either pearl white, green, sky blue, or funky red.