We use affiliate links. If you buy something through the links on this page, we may earn a commission at no cost to you. Learn more.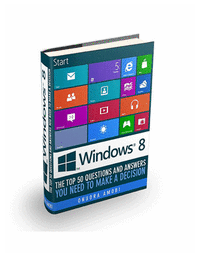 The Windows 8: 50 Questions and Answers You Need to Make a Decision eBook, normally sells for $9.95, but it is available for free from now until Tuesday, January 22nd at midnight.
With this latest version of Microsoft's operating system, Windows 8 has introduced significant changes that are focused on enhancing user experience and supporting mobile devices/tablets. The new changes includes a touchscreen capable interface, improved security features, online services (including a Windows store) and new technologies such as cloud computing.

The book breaks down each aspect of the system by defining the features in layman terms and providing enough detail to make an informed decision on the differences between other solutions and its previous versions. If you're interested in the new Windows 8 operating system, this guide is a one-stop destination for all your inquires.
There are a few hoops to jump through to get this guide, but it helps The Gadgeteer to earn some some affiliate fees that can help us to bring you more cool product reviews.