We use affiliate links. If you buy something through the links on this page, we may earn a commission at no cost to you. Learn more.
This post brought to you by LifeKeep. All opinions are 100% mine.

Do you store data "in the Cloud"?  So, how many accounts do you have?  Do you remember all of them and their passwords?  If not, you have orphaned data out there.  Is your data secure?  Does your account provider flood your screen with ads or perhaps collect data about you?  If thinking about these questions makes you realize that you need a better method of making your important files available and keeping them safe, then read on to learn about LifeKeep, "your secure and personal cloud account to keep all your digital Life for the long term… and beyond!"
I have a couple of Cloud accounts I've set up, but I tend to forget my passwords and usernames for things.  I keep a database file with some of my Cloud accounts and their passwords in them (other accounts, too), but it's not secured, and it's not always with me when I need it.  What I need is a place to store those passwords that I can keep with me at all times, but I don't want to keep an unsecured list of my accounts and login information on my iPhone.  I also don't want to store it in a Cloud-based account and then find out they have been hacked, leaving all my accounts vulnerable.
LifeKeep offers you a way to keep all your data in one place and protects your "personal Cloud" using AES-256 encryption technologies.  AES-256 encryption is considered to be the most secure method of mathematical encryption, and the U.S. Committee on National Security Systems called it "worthy of securing 'top secret' classified documents.  This encryption method has been adopted by the US Government.  LifeKeep secures your personal vault of data on their servers in Switzerland, not on your device where it's vulnerable if your device is lost or stolen.  All you need to do is create a free LifeKeep account to begin archiving and accessing your important data.
LifeKeep allows you to store all your data in a single location.  You can store photos and videos, documents, medical information, passwords, credit card numbers, all your digital data, including a snapshot of the receipt of your business luncheon.  Your sensitive information, like credit card numbers and passwords, are protected with an extra layer of protection; you'll need a PIN to access that information even after you've logged into your account.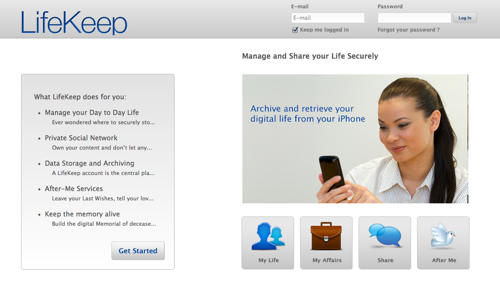 You can access all your data simply by logging into your account anywhere you have access to the internet via a browser.  More importantly, you can also access your account via 4G using the free LifeKeep app
.  You'll have access to business or personal documents, photos, medical records, or insurance information at any time.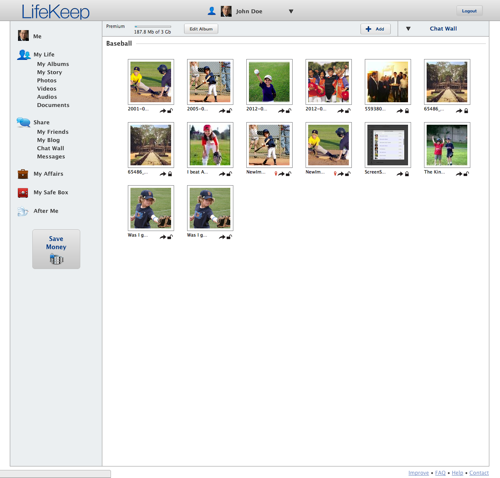 LifeKeep not only stores your photos, it can segregate them into albums and even let you share them with friends. You can create a truly private blog to share your life's events with just an invited list of friends or chat securely with them.  If you ever find yourself in a dangerous situation, you can press LifeKeep's Panic button from the iPhone app, and your phone will automatically call the police and send an SOS to your designated contact with your geographical location.
LifeKeeper secures your data for access now, and it ensures that you'll always have access to your files.  They will be automatically converted to new formats as they are accepted as standards.  LifeKeep protects you even after your death.  You can leave behind end-of-life instructions, last messages to loved ones, information about accounts and life insurance policies, even a map to where you hid the gold.
Go to the LifeKeeper website to learn more about their services.  Create your own free LifeKeep account  and consolidate all your digital data in your personal vault.  You'll lose the ads and gain security and ease of access.