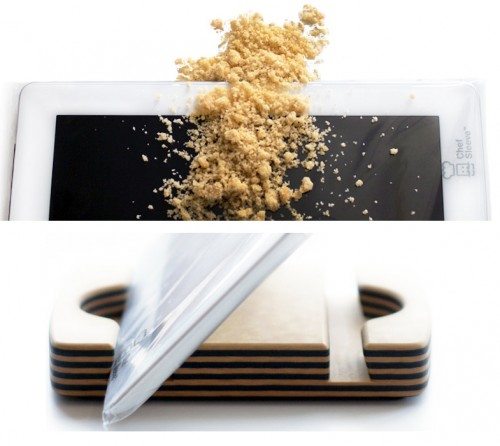 If you like to have your iPad in the kitchen while you cook, you know the hazards of protecting it.  Whether you're using a recipe in an ebook, following directions on a cooking show, or just listening to music or watching a video, you need to protect the iPad from spills.  Chef Sleeve has two products to keep your iPad high and dry in the kitchen.  First up is the Chef Sleeve Disposable iPad Sleeve.  It's shown in the top photo, but it's hard to see – just as it should be.  You'll hardly know it's there until you notice the small Chef Sleeve logo , seen at the top right.  The sleeves are made of their exclusive, FDA-approved EcoTouch HD film that ensures virtually no interference with the touchscreen's performance.  The sleeves have a resealable strip and they're 100% recyclable, too.  A pack of 25 Chef Sleeves is $19.99.  They are available in a size to fit the iPhone (3GS, 4, 4S) and iPod touch, too.  That's the dry part; now for the high part. The Dishwasher Safe iPad Stand, shown in the lower photo, is made of  "multiple layers of Forest Stewardship Council (FSC) certified wood fibers, compressed with a food-safe resin and a process that leaves a low carbon footprint."  The stand works with the iPad 2 or new iPad, and it has two viewing angles.  It can be hand-washed or even thrown safely into the dishwasher.  The Dishwasher Safe iPad Stand is $34.99.  Both products are available at your local Target stores.
Support The Gadgeteer
:
We may earn a small affiliate commission from purchases made from buying through links on our site. As an Amazon Associate I earn from qualifying purchases. Learn more.