We use affiliate links. If you buy something through the links on this page, we may earn a commission at no cost to you. Learn more.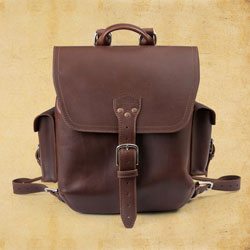 We've reviewed quite a few Saddleback Leather Company bags over the years. Known for their durability and last forever construction, Saddleback bags have never been considered soft and comfy. At least till now. Their new Simple Backpack features lighter weight softer leather and is currently available in a 14″ size with a 17″ size available next year. You can choose from Saddleback's regular color offerings of Carbon Black, Chestnut, Dark Coffee Brown and Tobacco Brown. It's called the Simple Backpack for a reason. Other than the side pockets, the main compartment has no organization. It's just one large storage area. This bag is priced at $498, so save your pennies.
Note: The links to Saddleback Leather Company on this page are affiliate links. If you use one of these links to make a purchase, we will earn a small percentage of the sale, so we appreciate it if you click through.