We use affiliate links. If you buy something through the links on this page, we may earn a commission at no cost to you. Learn more.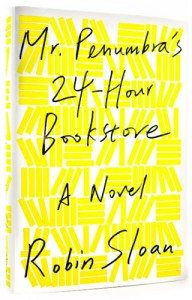 Happy Sunday morning everyone. Since buying the new Amazon Kindle Paperwhite ebook reader (review coming soon), I've been toying with the idea of starting a Gadgeteer book club. I'm not sure if you all will have an interest in this sort of thing, but we can consider this an experiment and see if it turns into anything worth continuing.
I love to read but seem to hardly ever make time to do it. When I do make time, I have trouble finding books that excite me enough to drag me into the story. Lucky for me, I found a book that has done that and I wanted to share it with all of you. It's Mr. Penumbra's 24-Hour Bookstore by Robin Sloan. I'm only 30% finished with it, but I know if you enjoy visiting The Gadgeteer, you're the type of person that will also enjoy this book. It combines adventure, mystery, fantasy, a little romance and geekiness into a fast moving story that I can't seem to put down.  It's set in San Francisco at a (you guessed it…) 24-hour bookstore. But it's no ordinary bookstore. It's more like a library where strange characters come to check out the even stranger books. I really don't want to give any more of the story. If you're interested in reading this book and discussing it in a couple of weeks, go to your local bookstore, library or Amazon and grab a copy.  Then we can meet back here in 2 weeks (is that enough time?) and talk about it, suggest other books that we might like to try next, etc.
If you've already read this book, please don't leave spoiler comments. But do let me know what you think of the book club idea  🙂