We use affiliate links. If you buy something through the links on this page, we may earn a commission at no cost to you. Learn more.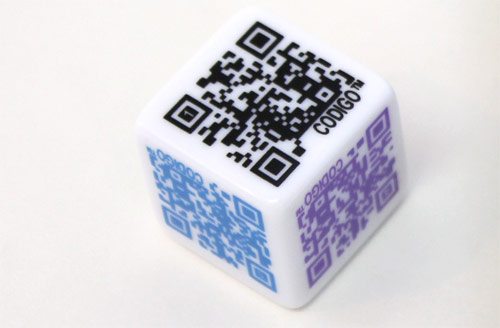 I love to play games. And I love technology. So when I saw the Codigo Cube, I just had to try it.  What is this cube? Why are there QR codes on all sides?  What happens if I scan one of those QR codes? How can this be a game?  Would it be fun?? So many questions.  Let's find out what I discovered. 
What's needed to play
Codigo Cube is optimized for the iPhone and iPad. For Android, you must have at least version 2.2.2 and have a 5+ megapixel auto focus camera. Any QR code reader is supposed to work, but QR code readers vary greatly. I tried several that I already had and none worked as well as the one that Codigo provides, which can be found at http://codigocube.com/Reader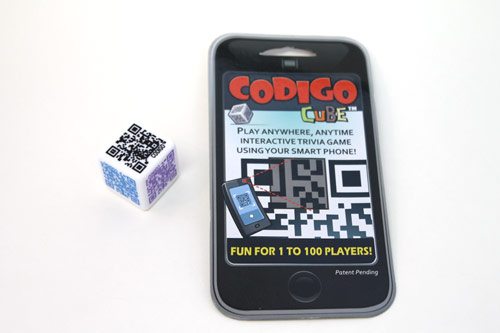 How to play
Ok, here is how it works.   You open the app and scan any side of the die, which has a QR code on each side and each code is a different color.  After you scan the die, it opens up the game main screen on your phone where you start the game. Your first choice is to pick the game you want to play from 3 choices: Quick Play, Pick Six, or Random Six.  After you have picked your game you then get to pick how many players you want to play (up to 100 players). Now you get to decide the details of the game you chose.
If you chose Quick Play, all players play the same 6 categories: Geography, sports, entertainment, general knowledge, history and science.  If you play Pick Six then you get to choose from 12 categories which include the 6 above, and the additional six categories of world religion, famous quotes, food and drink, strange and bizarre, business, and geekology. You also get to pick your difficulty level from easy, medium or difficult. You can also play Random Six, where the app picks the 6 categories for you.
Never miss one of our posts again. Sent MON, WED, and FRI with the latest gadget reviews and news!
Now you are ready to play! The game is simple. Scan the die. Answer the question. If you get it right, then you roll again. As long as you keep guessing right, you keep rolling. The goal is to answer right for all 6 sides of the die. If you roll a color that you have already answered correctly, you don't get any extra points for guessing correctly again, but you do get to keep rolling. When you guess incorrectly, the next person gets to roll.  That's pretty much it. The app keeps track of which questions each player has guessed correctly and tells you who wins. The buttons on the screen where you pick your answer are nice and big, so even big fat fingers should have no problem!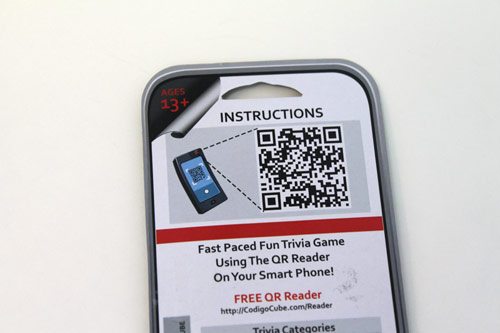 Tips
Don't exit the app during the game or it ends and you have to start over, which is a bummer if you are well into the game.  Also, holding the dice in your hand and moving it around in your hand is sometimes the best way to get it to scan.  Also, make sure that there aren't any shadows on the face of the die as you scan. Scanning the QR code was the most time consuming part of the game honestly, as some folks had a problem scanning until they figured out how to do it.
What did my kids think?
So I played the game once with 2 players, and I answered each question for both players.  I set the game to medium difficulty and I was surprised that I missed several questions.  It took me about 15 min. to finish the game that way. So the questions aren't 'gimmies' by any stretch.  Think Trivial Pursuit!  But the real test was going to be my kids and their friends. These are digital natives mind you. They play games on XBox, iPod Touch, and Android tablets and phones all day long. To my surprise, they knew what QR codes were, so they were immediately intrigued by the die.
The kids who played were aged 12-16. We played the game all the way through and I would say that their excitement level on a scale of 1-10 (with 10 being ecstatic) was about a 6. So at least in my house this game isn't going to be a replacement for XBox 360.  Having said that, this game isn't supposed to replace an XBox 360 and I think there is a place for this game.  Specifically, in the car on road trips.  I can't think of a better game for the car. I could also see us playing this game on vacation where we made it a part of another game, for example, whoever wins the game gets the extra cookies. You know, something with food involved!  I could also see this being a great game for a drinking game!  Yes, I just said that.  Well, it would!
For the price of under $10 I think this game is worth it. You can find out more at http://codigocube.com  Now I have to figure out where to store this little sucker where I don't lose it. And that's probably going to be hard around my house!
Product Information
Price:
< $10
Manufacturer:
Codigo
Requirements:

Any iOS device, or an Android with 2.2.2 (min) and a 5 megapixel auto-focus camera.

Pros:

Challenging questions
Great price
Huge number of players

Cons:

Don't lose that die!
Most fun in certain situations