We use affiliate links. If you buy something through the links on this page, we may earn a commission at no cost to you. Learn more.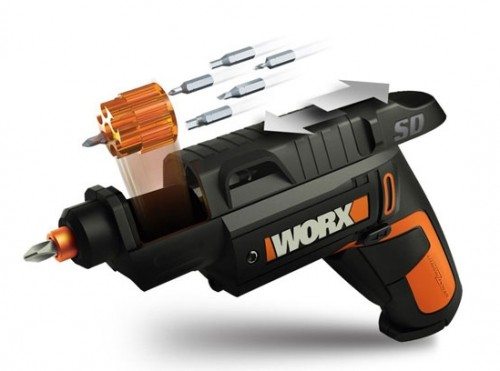 One of the biggest pains with using drills and power screwdrivers is having to change bits all the time, however Worx has come up with a neat solution.  The Worx SD Power screwdriver is powered by a 4V Li-Ion battery and comes with a handy LED work light.  It's big selling point is the six cylinder chamber that allows you to easily swap between different drill bits. It's easy to quickly change bits by chambering the correct one via a revolving cylinder, and it comes with 2 rapid-reload cartridges to give you easy access to 12 different bits.
This is what Logan 3 or Joseph Dredd would  use if they weren't "enforcers" and were instead DIY handymen. (Sorry folks, you'll have to read the original book or comic to get this reference. 🙂 )
Available for preorder from Amazon for $50.