We use affiliate links. If you buy something through the links on this page, we may earn a commission at no cost to you. Learn more.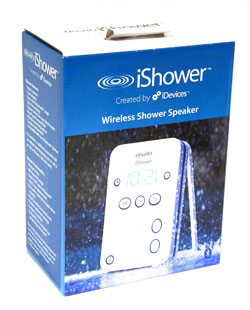 I definitely enjoy listening to music. While I would not classify myself as an audiophile, I do prefer listening to my music more often than not. I have speaker systems and earphones strategically placed throughout my home, garage, car, and work so that when I want to plug in, I can with little effort. I would say the shower/bathroom is one of my weakest locations in the house for listening to music.  I do not want to damage my smartphone due to moisture, so I usually just dock my iPhone in my Altec Lansing Boombox located a room away, turn the volume up loud, and just play it through the walls – a habit the rest of my family does not encourage. But thanks to iDevices new Bluetooth-enabled, water-resistant speaker system, the iShower, I can hopefully resolve this 'issue' of bothering the Fam. 😉
The iShower is a Bluetooth-enabled, water-resistant speaker system that is compatible/pair-able with most of today's smartphones and tablets, including a majority of iOS and Android devices. The iShower was originally announced at the end of 2011 and was suppose to be released the following March. After a nearly six month delay, iDevices finally began shipping the iShower late this summer. I do admit I have been looking forward to reviewing this speaker system since the day it was announced.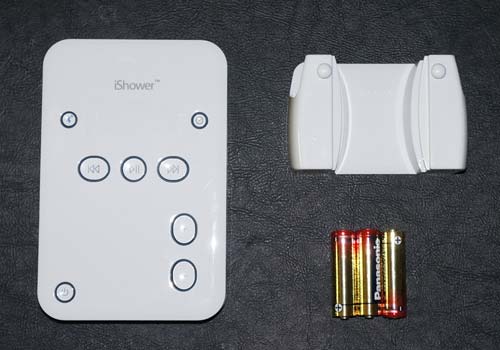 iDevices includes the iShower, Grab-n-Go Mount, and three (3) AA batteries.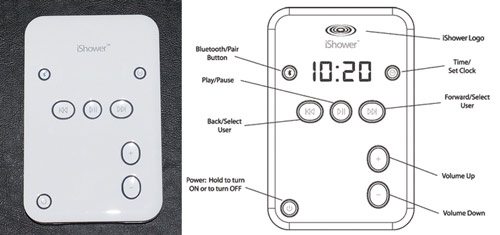 As you can see, the iShower has a rounded-corner rectangular shape with eight (8) watertight buttons and a blue four-character display on its front face. The buttons allow you to pair, turn on/off, start/pause, skip forward/reverse, volume up/down, and ping the clock.
The case is made of a hard glossy plastic reminiscent of the old white MacBooks, Apple mice, and early iPods. The iShower has a solid, well built feel to it.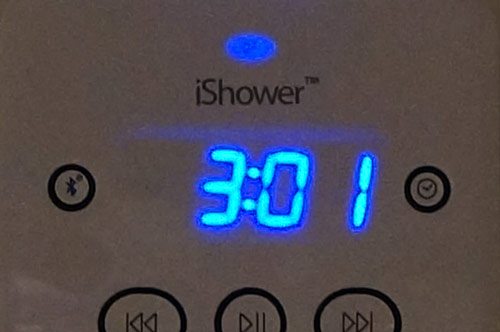 The display not only tells you the iShowers status but the time as well.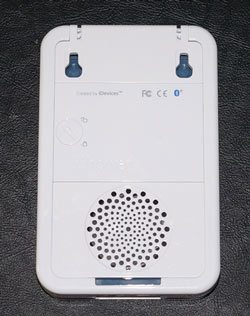 iShower has a single speaker grill on the back of the device. There is not any stereo separation, but it sounds good enough over the shower noise. The audio becomes a bit distorted when you crank the volume up all the way. However, set at moderate level, the system sounds pretty good overall.
Also on its back is the AA battery compartment, two mounting points, and a flip-out plastic hook/stand.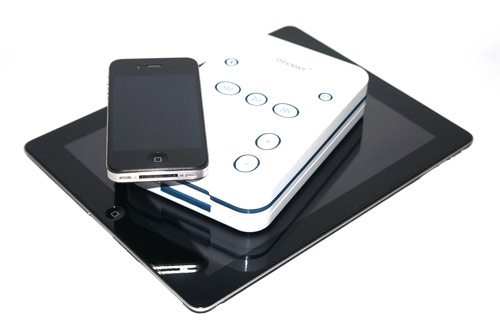 The pairing process is a bit more complex than between a smartphone and Bluetooth earpiece. But after a quick glance at the instructions, I had my iPhone and iPad talking with the iShower. For those households with multiple smart devices, the iShower can pair with up to five (5) devices, so each person can listen to their own playlists or stream music from a service or app such as Pandora. Once paired, all you need to do as you enter the bathroom, hot tub, sauna, etc is turn on the iShower and choose User one through five.  It will connect and automatically begin playing the last song/playlist you were listening to. Another well thought out feature of the iShower is that the device automatically deactivates/turns itself off after five (5) minutes of inactivity.
According to iDevices, the iShower should last up to 15 hours on a new set of batteries. Actual operating times may be less than that, depending on the batteries you use, volume level you choose, and potentially the distance between the iShower and device streaming to it. When the original batteries run out of juice, I plan on replacing them with high capacity rechargeables, which should theoretically give extended life between re-chargings. Depending on how long you shower, you should not have to swap batteries that often. I have been using it for over a month on its first set of batteries.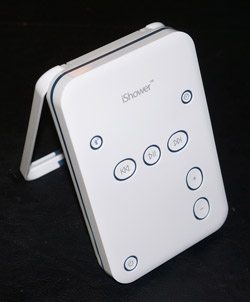 As mentioned above, the iShower has a built in kickstand enabling it to stand upright in your….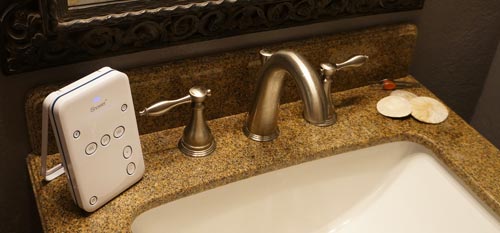 …..bathroom, poolside, hot tub, etc.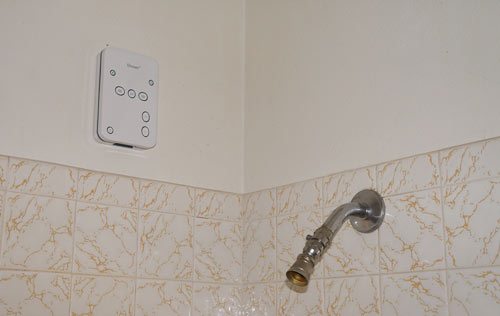 The iShower can be installed either temporarily or permanently a multitude of ways. You can hang it from the shower head via its stand/hook, use the included Grab-n-Go mount, or as I did, with just a couple of screws in the drywall.
I really like the iShower but do have two suggestions for iDevices if they ever decide to create the iShower 2.0.  The first is to add the ability to control the playlist/artist/album via the device.  The second is to add stereo speakers/sound. That said, the iShower is a solid device that fulfills its mission of wirelessly bringing your music to wet/damp/soggy places while safely leaving your smartphone out of harms way (up to 200ft). The iShower costs $99.99 and is available from its website.  Silly iName aside, the iShower is a great, well done device.
Product Information
Price:
$99.99
Manufacturer:
iShower Inc.
Requirements:

- Bluetooth enabled smart-device

Pros:

- Well made
- Can pair with 5 Bluetooth enabled devices
- Water resistant
- 200ft range
- Good clear sound quality
- Automatically connects and starts music when turned on

Cons: