We use affiliate links. If you buy something through the links on this page, we may earn a commission at no cost to you. Learn more.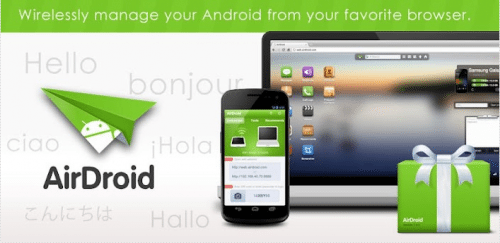 One of the most painful things about owning a smartphone or a tablet is administering the device.  Even though Android doesn't require any restrictive, proprietary iSoftware 😛 to do these functions, it can still be a long and convoluted process to download files or side-load apps to your device.  Normally this involves cables, SD cards, cloud storage, or emailing yourself files – not the most effective way of doing things.  AirDroid from Sand Studio gets around this issue, amongst others.
Login
When you start up AirDroid on your device, you'll be greeted with the above screen (click on any picture to get the big picture 🙂 ) .  It does include some useful tools (top tool menu option), like the ability to see and kill running processes or uninstall applications, but personally I wouldn't be using this application just for that functionality.
It gives you an IP address to point your browser to to connect to your device and also a passcode. Your tablet and browser must be on the same network, so it's not going to work for true remote access.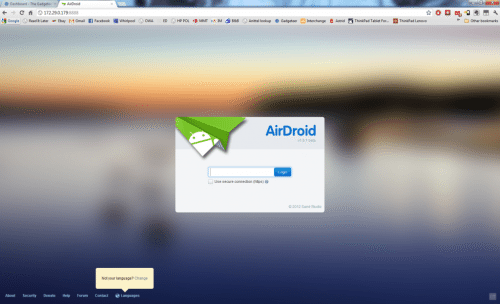 When you point your browser to the indicated IP address you'll be see the above screen.  There's an option for secure https connection, should you feel it necessary when you're on a public or corporate network. AirDroid recommends IE, Chrome, Firefox, or Safari as your browser. All you need to do is type in the passcode from your device. If you are not worried about the security of having different passcodes everytime you open the app, then you can set a pre-defined passcode easily.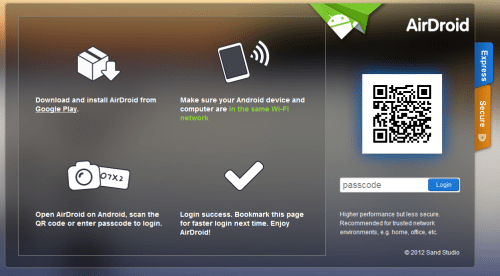 Another way to activate is to go to web.airdroid.com where you can still input the passcode, or you can also use your device to read a QR Code to auto connect. Note that using the QR Code there's a tab for Express and a separate tab and QR Code for Secure.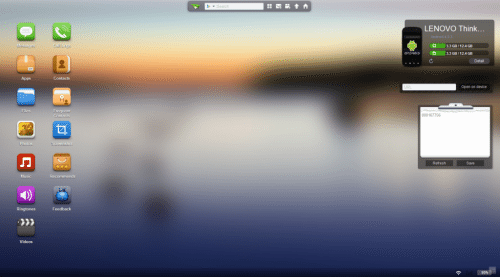 Once you're put in the correct passcode, you'll see the above screen.  You can see down the left side all the options you have to manage your device.
Device Overview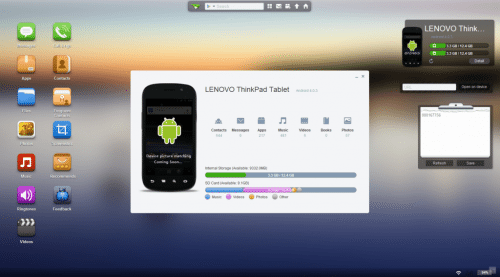 The overview screen can be quite useful, if say you're running out of space and want to know where all the space is being taken up.
File Management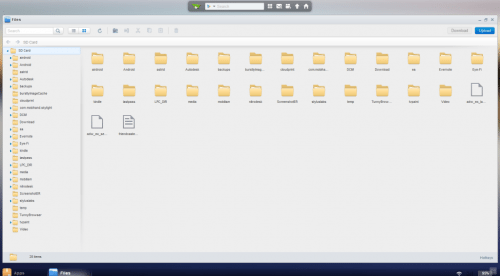 File transfer both ways is easily done via the browser interface.  You can either use upload/download dialogues or drop-and-drag works as well. Much easier than mucking around with cables, USB ADB Drivers, cloud storage or email.
Application Management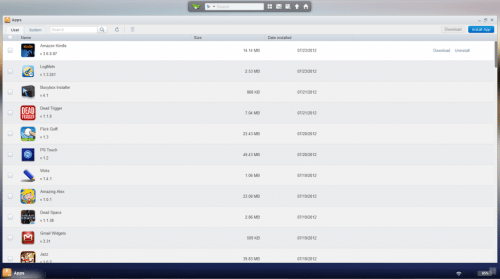 You can manage your apps via the web interface and can use it to backup your APKs or uninstall an application.  You will of course have to use your device to finish the uninstallation.  It's easy to side-load APKs via the install option; just point the browser to the correct APK, and the file will be downloaded to your device for installation.
Music and Video Management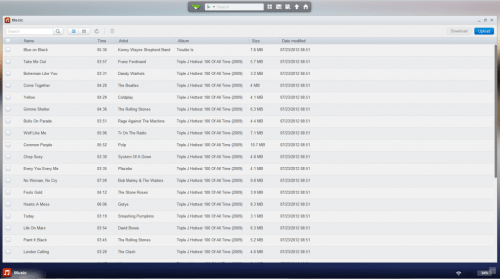 Using AirDroid, you can manage all your videos and music.  It's very easy to set music from your playlist as a notification or ringtone.  In addition you can stream these items from your phone/tablet to your browser as well. Music works really easily, however video does require Quicktime to be installed and is quite restrictive about what video formats are actually supported for playing in the browser.
Screen Shots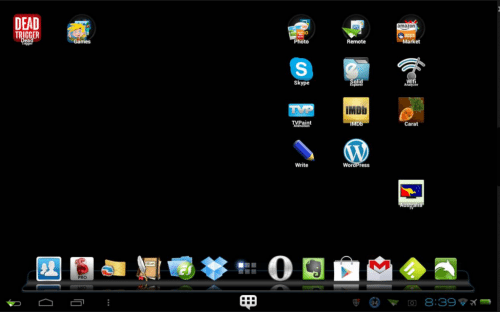 Using AirDroid you can easily "emulate" your desktop in your browser and use the snipping tool to get your screenshots, though you will need root access.  In addition you could actually use this function to record a screencast using a desktop program, should you want to.
Smartphones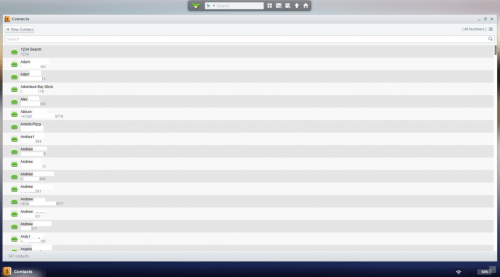 Above I've really only concentrated on how AirDroid can help you manage your files and app.  It also allows you to administer things on your smartphone as well. This isn't an overly new concept, as there's been similar programs for "dumb phones" from Nokia and Sony Ericsson, amongst others, for ages.  From a phone perspective, AirDroid can be used to do things like manage your call logs or your contacts, or to be able to send an SMS, all via your browser interface. Quite handy when you're in the office and in a large SMS text exchange with one or more people.  It's always going to be quicker typing on a physical keyboard than an onscreen one.
 Conclusion
AirDroid really is a useful tool to have in your Android toolkit.   It makes management and transfer of files and applications much easier by allowing you to perform multiple functions easily, all from a standard browser window using WiFi. This is certainly one application that's worth its price ( free 🙂 )
Do note though that if you use a WiFi scheduler like Juice Defender, you'll have to login everytime the app turns off your WiFi or remember to turn off your manager while you want to be connected.
Product Information
Price:
Free
Manufacturer:
Sand Studio
Requirements:

Android 2.1 or later device
IE 8 + / Chrome 12+ / Firefox 3.6+/Safari 5.0+
WiFi network

Pros:

Manage call logs and phone functions.
Easily manage and transfer files via WiFi
Easily manage applications
Ability to do screenshots or record screens ( requires root )
Send SMS via your browser

Cons:

Video playback is limited