We use affiliate links. If you buy something through the links on this page, we may earn a commission at no cost to you. Learn more.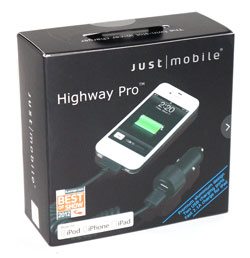 Earlier this year I reviewed Just|Mobile's 12 volt, single USB port car charger, called the Highway. A very well made, nice looking device/car accessory for charging your tech while motoring down the road. That is fine for those of us who only need to charge a single device at a time. But realizing that more and more folks are taking their iPads/tablets with them as well, Just|Mobile has created a dual port version of their mobile charger, called the Highway Pro.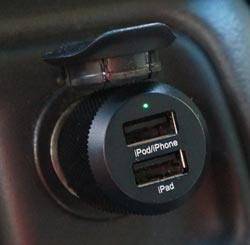 Like the original Highway, the Highway Pro is well made and nice looking. But instead of a single USB port, the Pro has a 2.1A output for tablets/high-power devices plus a 1A output for smartphones and other standard USB devices. Both ports have fused surge protection to hopefully keep your tech-devices from being fried if your car's electrical system hiccups.
As I stated above, other than the number of ports, the Highway and Highway Pro are nearly identical. The male end of the device is made of a rigid hard plastic with spring-loaded pressure points for holding it in the 12 volt power port of your vehicle. The part of the Pro that is seen has a metal knurled pattern machined into it for looks, quality, and better grip-ability. Just|Mobile has integrated a green micro-LED to let you know when the Highway Pro is powered up.

Features:

2 USB ports
2.1A output for tablets & high-power devices
1A output for smartphones & standard USB devices
Fused for surge protection
Green micro-LED
Apple certified – Works with iPod, iPhone & iPad
Dimension:
2.9 x 2.9 x 6.1cm
1.14 x 1.14 x 2.4in

The Highway Pro is available in silver aluminum or powder-coated black. Just|Mobile includes an Apple-certified coiled charging cable for your iOS devices. But you will need another charging cable to charge two devices at once; and that is the point isn't it?  Also like the Highway, the Pro is not cheap….ringing in at just under $40.  I grant you it is a lot for this type of accessory, but less expensive (aka $5) chargers are most likely not Apple-blessed, fused, and/or look nearly this good.
Product Information
Price:
$39.95
Manufacturer:
Just|Mobile
Pros:

- Looks good
- Dual USB ports
- Great build quality
- Small form-factor
- Fused for surge protection
- Green micro-LED
- Apple certified

Cons:

- Expensive
- Only includes one USB cord