We use affiliate links. If you buy something through the links on this page, we may earn a commission at no cost to you. Learn more.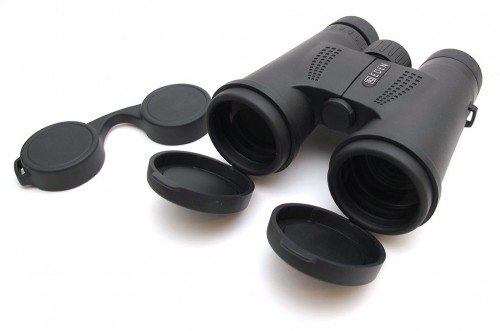 Living in the woods of Southern Indiana, we see all sorts of wildlife on a regular basis. Deer, raccoons, coyotes and birds to name a few. Although I don't consider myself an actual bird watcher, I do have an above average knowledge about birds. Back when we were kids, my sister and I would bird watch from our bed room windows. We kept track of the birds we saw by writing down the date and time we saw them in spiral bound notebooks. We would be so excited when we saw a new bird for the first time. I can remember shrieking when we saw our first Pileated Woodpecker. Ahhh, memories… Back in those days we just looked out our windows to see birds, but now I live in a wooded area and sometimes need something a bit more powerful than my eyes to help me see them.
I've never been able to comfortably use binoculars due to wearing glasses. I even commented on that fact in a post back in 2008. Erik from the Eden UK based outdoor shop saw that post earlier this year and contacted me. He offered to send me a pair of their Eden Quality XP 8x42mm binoculars to try because he said people who wear glasses often comment that they are easy to use. I happily accepted his offer and have been using the Eden binoculars for a few months now.
Note: Click the images in this review to see a larger view.
I have to be honest and start out by letting you know that I am not an expert when it comes to binoculars. These are actually the first pair that I've been able to see out of. I hesitated to call this a review because I have so little experience with gadgets of this category. That said, I hope the information I do offer is helpful.
Product Specifications:
Magnification: 8 x
Diameter of the objective: 42 mm
Prism system: Roof
Prism glass: BAK-4
Coatings: Prism: Dielectric phase-correction, lenses FMC for optimal light transmission and colour rendition
Focus system: Central
Field of view 129 metres wide at a distance of 1,000 metres (=387 feet at 1,000 yards, = 7,4°)
Exit pupil: 5,3 mm
Twilight factor (Zeiss method): 18,3
Eye relief:18 mm
Near focus: 1.2 m
Body material: Carbon fibre reinforced PPS
Tripod mountable
Weight: 660 grams
Dimensions: 145 x 120 x 55 mm
Accessories: case, carry strap, objective protection covers, cleaning cloth
Eye cup: Twist up, suitable for glasses wearers
Waterproof/fogproof: Yes
Warranty: 25 years on material and construction defects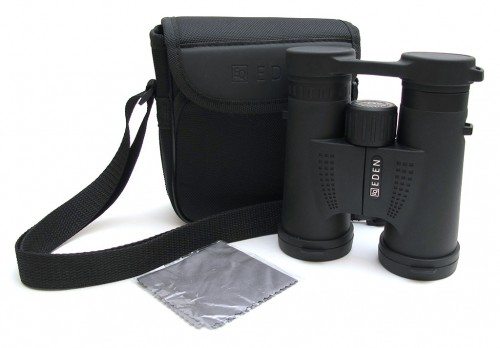 Package Contents
These binoculars come with a nicely padded canvas case with a shoulder strap. Also included is a lens cleaning cloth and a neck strap (not pictured).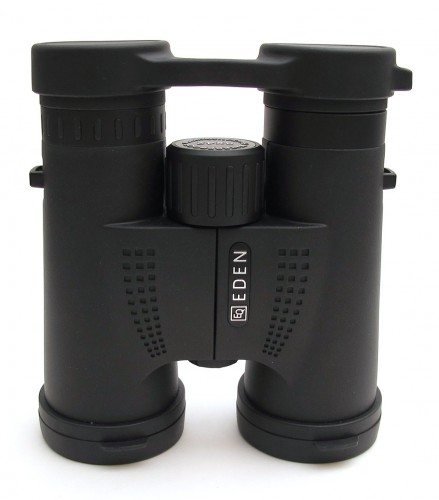 The Eden binoculars have rubber caps that protect both ends of the lens when you're not using them. You can completely remove these caps and discard them if you like. Although I like the protection they provide, I find that it takes a few seconds too many to remove them when you're trying to quickly see something. Wildlife has an annoying habit of not waiting around patiently for you to focus in on them. That reminds me of a funny story that kind of relates to this topic…
A couple months ago, I got an early morning text from Jeanne saying that she thought someone was trying to break into our house.  I called her and got the story.
She was getting ready for work (I leave before she does) and started hearing banging noises. She looked out the front windows and didn't see anyone in the drive way or at the door. The noises continued, so she finally opened the front door and could tell that the noises were coming from the back of the house. So she walked along the side of the house and as she got near the back corner, she saw some feathers sticking out. When she got closer she saw that it was a male turkey with his feathers all spread out pecking on the french doors of our walk out basement. Apparently he had seen his reflection in the glass and thought it was a rival that he needed to battle.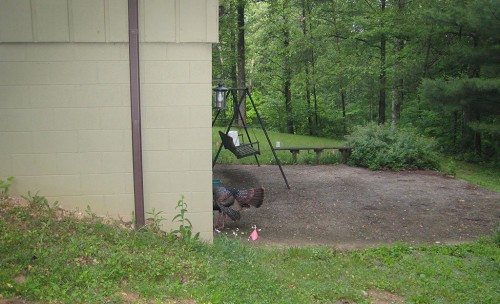 She was able to snap a quick picture before he heard her and ran off in the other direction. Just another day in the woods of Brown County, Indiana. 🙂
Ok, back to the review…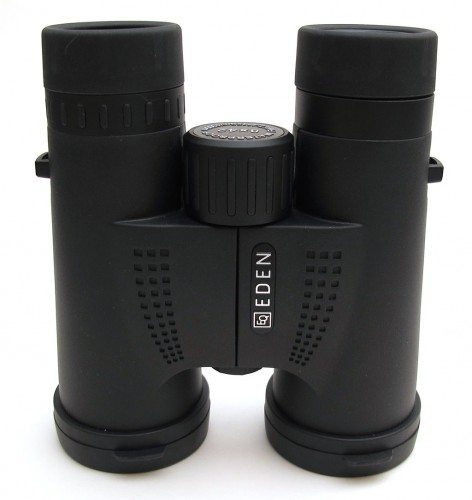 The Eden binoculars are compact and stand a little over 5.5 inches tall. They have a rubberized coating that gives them excellent grip ability. Loops on the the sides offer an attachment point for the included neck strap.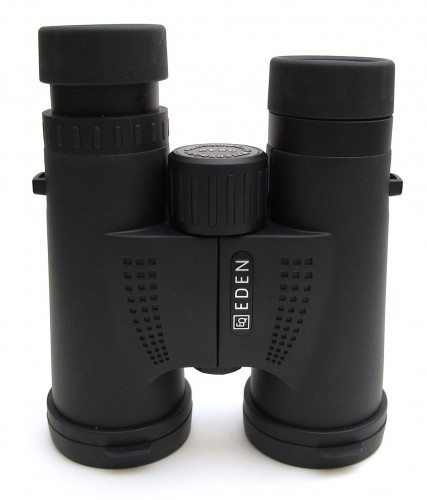 There are two features that allows these binoculars to be comfortable for people who wear glasses (and those who don't). One of these features is the dioptric correction ring. You can see this ring in the image above. It's the marked ring on the right eye piece. The dioptre correction is used to adjust the difference in the visual acuity of a person's eyes. For instance, if your left eye has a strength of –2 and your right eye a strength of –4, the dioptre correction will compensate for these differences.
The other feature important to eye glass wearers are the adjustable rubber eye relief cups. If you look at the picture above, the eye cup on the left is completely extended, while the eye cup on the eye cup on the right is fully seated. These binoculars offer 18mm eye relief, while most other binoculars only offer 16mm. Here is some info from Eden's site that explains how this feature is important.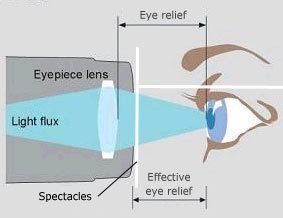 Eye relief is the distance between the ocular lens and the exit pupil. Eye relief is particularly important for people who wear glasses because their eyes are situated further from the eye piece than people who do not wear glasses. This means that eyeglass wearers require a longer eye relief so that they can see the entire field of view. A comfortable eye relief distance for eyeglass wearers is about 16 mm. Of course, eyeglass wearers do not necessarily have to wear their glasses when looking through binoculars. The dioptric correction system combined with the focusing ability of the binoculars always renders a clear and crisp image. Obviously, this means that you have to constantly put on your glasses and remove them. It is a just question of deciding for yourself what works best for you in your own situation.

Eyeglass wearers may decide to opt for High Eye Point binoculars. These binoculars ensure that the entire field of view is visible from a greater distance. For eyeglass wearers, not only is the eye relief an important consideration, but also the so-called effective eye relief. This is the eye relief minus the projecting part of the lens hoods. This effective eye relief must therefore be great enough to be able to bridge the distance between the glasses and the eyes.
Like other binoculars, you can adjust how close or far apart the lenses are. Here we see the max distance.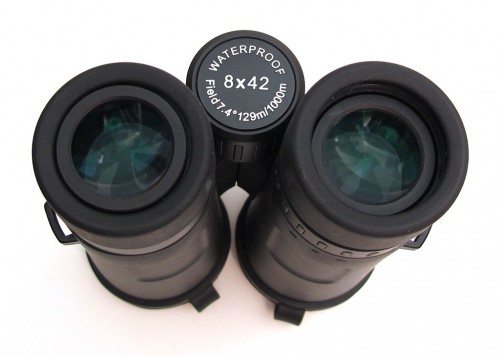 And here is the minimum distance. Making this adjustment is as easy as rotating the two halves in towards each other.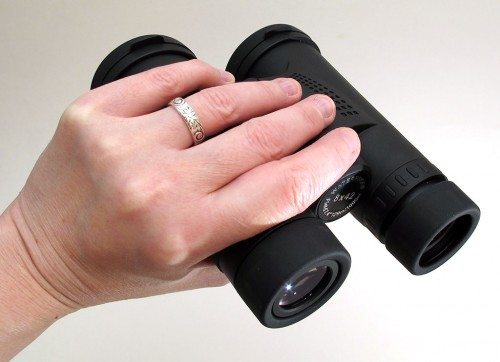 The Eden binoculars feel very comfortable in hand. They are solid, have a nice weight and the rubber coating adds a lot of grip.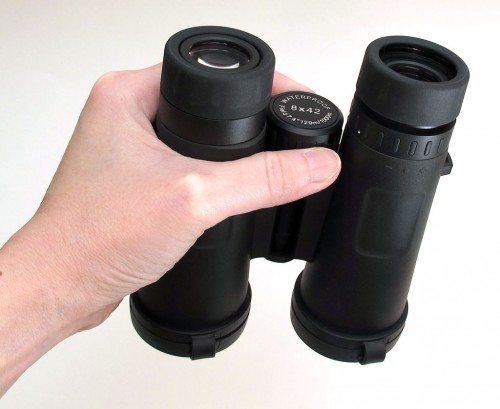 Focusing is quick and easy with the center focus wheel, even while holding the binoculars with one hand.
Like I mentioned above, I'm not going to pretend that I know a lot about optics. All I can tell you is that these are the first binoculars that I have been able to comfortably see out of. I just love them. The view they offer is big, bright and sharp. In the past I have had trouble even zeroing in on a tree branch or area of my yard where I want to focus. With these binoculars, they almost feel like an extension of my eyes and I can quickly find the subject matter I want to view without causing eye strain after a few minutes.
I don't have any other binoculars to compare to these Eden bins, but I have to say that they feel solid and rugged. The focus wheel, eye caps and dioptric correction ring all have a quality feel.  Eden even offers a 25 year guarantee, which is crazy… in a good way.
I know I'll be using these binoculars for years and years to come.
Product Information
Price:
€ 279,00 (US $343.20)
Manufacturer:
Eden
Pros:

Comfortable to see through even with glasses
Sharp and bright image
25 year warranty

Cons: