We use affiliate links. If you buy something through the links on this page, we may earn a commission at no cost to you. Learn more.

If you are a tech-loving snowboard or ski fanatic, the Recon MOD HUD. The engineers at Recon Instruments have created a heads-up display that can be integrated into Recon Ready goggles, enabling the wearer to see real-time telemetry as they are zipping down the slopes. The tiny color LCD screen sits just below your right eye displaying current speed, altitude, distance, time of day, duration of run, temperature, to name just some of the features of these high-tech goggles.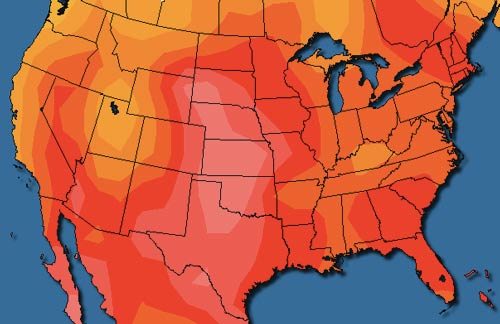 Some of you might be wondering why we are reviewing a pair of ski goggles during the sweltering heat of the summer (at least those here in the Northern Hemisphere). As with most things, it is all about timing.  These high-tech ski goggles arrived on my doorstep extremely late in the season. Thankfully I got them to Steve (who volunteered to try them out due to my skiing career ending years/decades ago), a friend in Colorado, while the resorts were still open and operational. Steve is a big ski enthusiast and agreed to give them a try and let us know his thoughts/impressions. So, between the two of us, you should definitely be getting a multifaceted review out of the deal.  And instead of being six months late, let's consider this review extremely early and ahead of the curve for the 2012/13 ski season.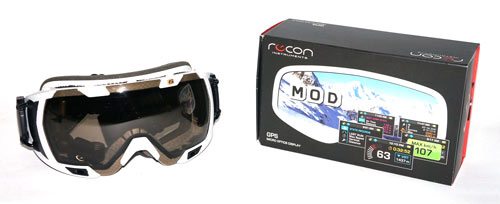 Package Contents: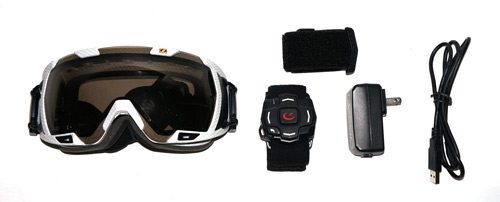 Recon MOD device (Recon Instruments included a pair of Zeal Z3 goggles for this review)
Wireless D-pad remote control
Extra strap
MicroUSB cable
USB plug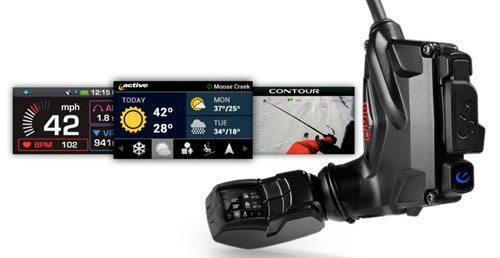 Recon Instruments sells two versions of their ski goggles HUD: the MOD & MOD Live.
Features:
MOD can display the following information:
Speed
Temperature
Altitude
Vertical decent
Chronograph
Airtime
Distance jumped
Time
Location
MOD LIVE (based on the Android operating system) connects with your mobile phone via Bluetooth, providing additional features:
View music play-lists
Buddy Tracking
Caller ID
Text messaging
Wireless compatibility with some video cameras
Heart rate monitors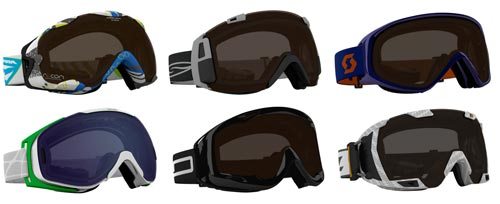 The Recon Mod device can fit into a multitude of MOD-ready goggles including:
ALPINA R-TECH HM
SMITH Recon I/O
SCOTT NAV-R-2
UVEX G.GL
BRIKO Veloce
ZEAL Z3 GPS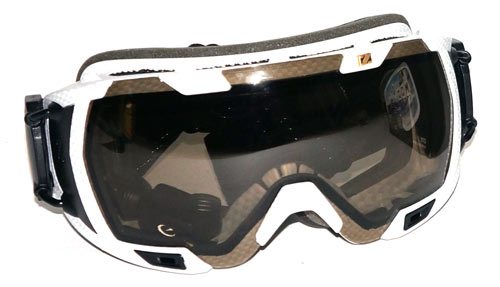 We were sent a pre-assembled pair of Zeal Z3 goggles for this review. Here is a YouTube video of the installation process. Recon Instruments have several how-to install videos for the various brands of goggles. Based on the Zeal Z3 I received, the integration of the Recon MOD and goggles is seamless; they look as if they had been created as a single unit/device – very well, professionally done.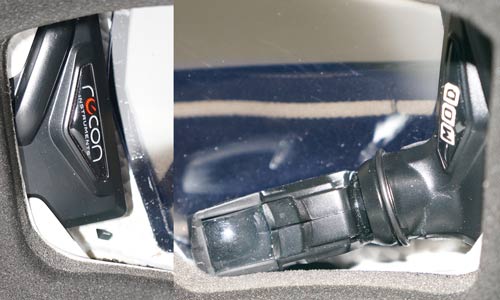 The lower right corner of the goggles contain the small LCD display. The tiny screen is mounted to a small boom which can be adjusted to the optimal angle for your eye to give you the best viewing experience. The battery and GPS receiver are fitted into the left side of the goggles.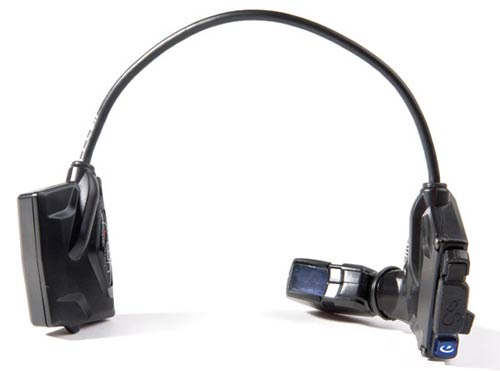 The two halves are connected by a wire that is recessed along the top of the goggles.  On the goggles exterior/MOD's right side/edge is the power button and microUSB port used to recharging the device and connecting it to your computer.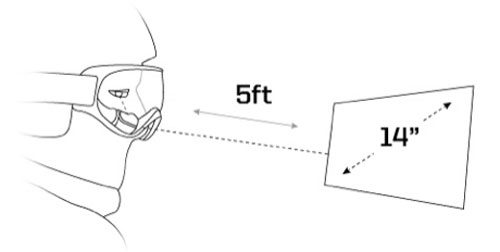 The LCD's prism technology makes all your stats and data appear as though you are looking at a fourteen inch screen from a distance of five feet.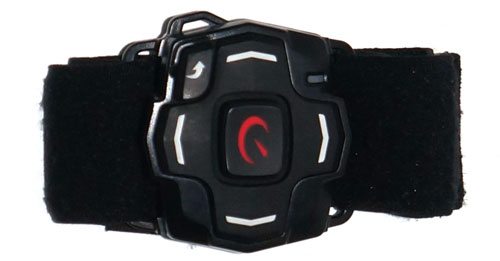 The battery-powered remote enables you to navigate through the Mod/Mod Live's menus effortlessly while shushing down the slopes. The large 4-way D-pad remote can be attached to the goggles' headband, your arm, wrist or elsewhere on your person. The remote's buttons are 'glove compatible' and easy to use when wearing ski gloves.
Software:
Recon Instruments also provides computer software, Recon HQ, for transferring, analyzing, and sharing your data/stats/telemetry. The Recon HQ software is a free application for your PC or Mac. They also have created a mobile app (that can be used with MOD Live devices), currently only for Android smartphones, enabling you to see who is phoning you, read text messages, reply with canned messages, control your music playlist, and once you have finished your run, you can instantly view the run overlaid on Google Maps. Recon Instruments is currently developing an equivalent app for the iPhone, hopefully out by the 2012/13 ski season.
OVERALL IMPRESSIONS: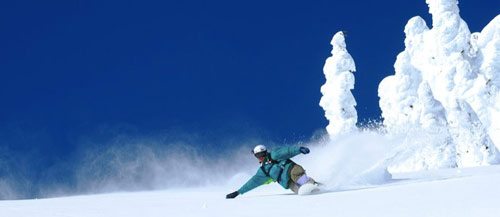 Steve's Impression:
First of all, the Recon MOD goggles are super cool, really. A data geek will go crazy with so much information available. The MOD has a small display that is visible in the lower right corner of the goggle that is easy to see and doesn't block your vision of oncoming bumps. I was concerned that I wouldn't be able to read the display with my poor near vision, but it wasn't a problem at all. I was wearing Zeal SPPX goggles with the MOD. But let's back up a bit. When you open the box, there are some instructions included to guide you through putting the MOD system in the goggles. There is a Bluetooth remote wristband, which allows you to move through menus and access all of the data at the tip of your finger. How did the Zeal goggles feel on the slopes? First and foremost, I want comfortable goggles, and these are. With a double layer foam and silicon striping on the elastic band that grabs your helmet, they felt good on my face all day long. My test was at Mt. Bachelor, OR, on a bluebird day with lots of corn snow. The lens was perfect for the bright sky, and the MOD system was a blast to play with. The top bar shows the time and battery charge level.  It was nice to have the time so handy, and the MOD system has great battery life. There are four pages of data including: current altitude, max altitude, total vertical feet, number of runs, Lat/Long, current/max/min temperature, max/average speed, best/last run time, and long/short runs. It was great to see the elevation, how much vertical we skied, and the number of runs. And of course, as a speed freak, I loved the max speed and run time features. A racer will cherish the speed features, especially the run time. The only negative of the Recon MOD was the temperature was affected by my body heat and was always reading high. If you wore the wristband over a shirt or jacket it would probably help. Overall I enjoyed the goggles and the MOD system, if I had the money for this gadget I would be all over it.
Dave's Impression:
Not to be left out, I wanted to give the Recon MOD goggles a try for myself. So, I put the top down on my convertible, pushed the on button and gave them a go – looking like quite the dork driving down the road with them on – no, no really. 😀 It took the built-in GPS a couple of minutes to find a good signal and lock onto the satellites, but after that it stayed connected the entire time. During my drive, I compared the car's data with what the Recon MOD was telling me. The speed and temperature were surprisingly close. I did not have them on as long as Steve did and was definitely not exerting myself either, so my body heat did not affect the MOD's temp sensor.
Controlling the Recon MOD with the wireless remote was very intuitive. Navigating through the various screens and data was quick and easy. The Recon MOD LCD screen is clear, bright, and well defined. I really wish I had this type of integrated tech back when I use to ski.
Future Enhancements:
Recon Instruments has recently released an SDK (software development kit) to make it easier for designers/developers to create applications for the Recon MOD/MOD Live giving the device even greater functionality.
As I mentioned above, Recon Instruments has promised an iOS app soon.
Our Hopes:
We were discussing all of the potential uses this kind of tech could have; from bicycle glasses to motorcycle helmets to mountaineering gear to who knows what else. Seems like ski/snowboarding goggles are tip of the iceberg in heads-up displays for extreme sports.
Bottom Line Cost:
The MOD Unit retails for $299 while the MOD Live unit goes for $399. Those costs are strictly for the devices themselves, and you will need to purchase one of the specially designed goggles mentioned above. Goggles bump the overall cost by approximately $100 or more. From the quality, function and cost point of view the total MOD system is not cheaply made nor inexpensive. But worth it if you like this kind of real-time data/telemetry, connectivity, and media control in one easy to manipulate, well-made device.
To conclude this review, below are several YouTube highlight videos from Recon Instruments to see the Recon MOD's in action:
Jump Feature:
Speed Feature:
Buddy Tracking Feature:

Product Information
Price:
Recon MOD $299 / MOD Live $399
Manufacturer:
Recon Instruments
Requirements:

- MOD-enabled/ready goggles

Pros:

- Real-time telemetry/data
- Well made/engineered
- LCD is clear and bright
- Fits seamless into (six) MOD-ready goggles
- Battery lasts for an entire day of skiing
- Recon HQ software is both PC & Mac compatible

Cons:

- Expensive
- Temperature sensor can be affected by body heat